Jonathan Sturges House ("The Cottage")
Introduction
The main section (on the right) of this Gothic Revival house dates to 1840. It was designed by architect Joseph Collins Wells, who was only in his twenties at the time, as a summer home for Jonathan Sturges, a wealthy businessman. Later additions were built in 1846, 1883, and 1890.
Images
Jonathan Sturges House: this Gothic Revival cottage features a veranda with latticed trim.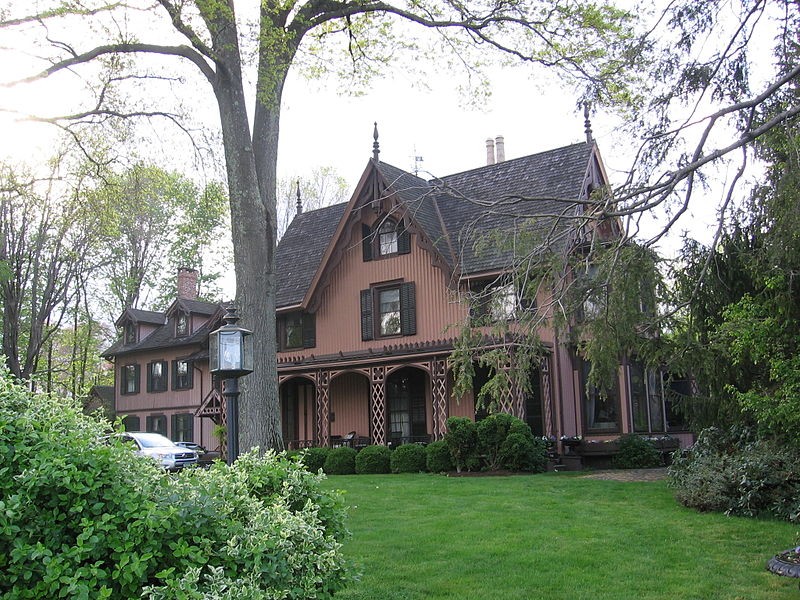 Backstory and Context
Jonathan Sturges
Sturges (1802-1874) was a prominent grocery merchant, the founder of the New York Bank of Commerce, and the director of Illinois Central and New York, New Haven & Hartford Railroads. Sturges was an avid supporter of the arts and acted as patron for multiple painters.

Joseph Collins Wells
Born in England in 1814, Wells moved to the United States and practiced architecture from 1839-1860 in New York City and the surrounding area, becoming a founding member of the American Institute of Architects in 1857. Other buildings designed by Wells include:
- Henry C. Bowen House (Roseland Cottage), Woodstock, CT
- The Reefs, Newport, RI
- First Presbyterian Church, New York, NY

The House
The Sturges House is one of the oldest Gothic Revival homes in the country. its design is notable not only in and of itself, but also in its connection to its natural surroundings. As Kate Ohno explains, "Important elements of the Gothic Revival house during this period included the placement of the building on its site in such a way so as to take advantage of its picturesque qualities, and the integration of the structure with the natural world outside its walls through the placement of windows, doors, and verandas. The design of the surrounding landscape and the placement of the outbuildings were considered to be of equal importance to the design of the house" (7).



Sources
"Jonathan Sturges House." Local Historic District and Property Commissions in Connecticut. Accessed February 22, 2017. http://lhdct.org/district/jonathan-sturges-house.

"Joseph Collins Wells, Architect [1814-1860]." Living Places. Accessed February 24, 2017. http://www.livingplaces.com/people/joseph-collins-wells.html.

Ochsner, Jeffrey. H. H. Richardson: Complete Architectural Works. Massachusetts Institute of Technology, 1982. p. 63.

Ohno, Kate. "National Historic Landmark Nomination: Jonathan Sturges House." U.S. Dept. of the Interior, National Park Service. October 06, 1993. Accessed February 24, 2017. https://npgallery.nps.gov/pdfhost/docs/NRHP/Text/84000247.pdf.



Additional Information