Albert Gallatin Jenkins Monument, Mechanicsburg
Introduction
In 2005, the Camp Curtin Historical Society created this memorial for Confederate General Albert G. Jenkins. The ten-foot tall monument is one of a handful of Confederate monuments dedicated in the 21st century and features a bronze portrait of Jenkins and a plaque with a short biography. Above the portrait is crossed sabers representing his command of a cavalry brigade. The decision to create a monument for Jenkins was controversial owing to his deadly raids on civilian communities throughout this region that included the theft of horses and other personal property. The forays of raiders into this area of Pennsylvania also included the kidnapping of former slaves and free people of color, with raiders selling these people into bondage. Jenkins is also a controversial figure he routinely withdrew rather than face equal or superior numbers of federal troops. While Jenkins and his raiders won important victories in the early years of the war and were usually victorious against small detachments of home guards, his decision to abandon supplies at Chambersburg rather than face federal troops in the summer of 1863 typified the final years of his military career.
Images
Gen. Albert Gallatin Jenkins 1859-1861 Marshall University Special Collections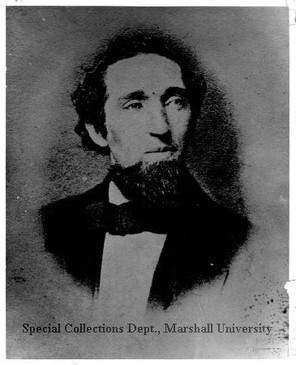 Confederate Commanders (1 of 2) 1865 Marshall University Special Collections
General Albert Gallatin Jenkins (1 of 2) 1861-1863 Marshall University Special Collections

Confederate Commanders list (2 of 2) 1865 Marshall University Special Collections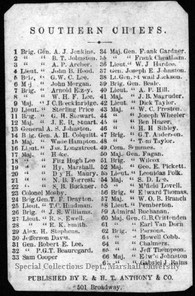 General Albert Jenkins (2 of 2) 1861-1863 Marshall University Special Collections

Backstory and Context
Albert Gallatin Jenkins was born on 10 November 1830 at Green Bottom, West Virginia. Jenkins attended Jefferson College in Canonsburg, Pennsylvania between the ages of 14 and 18. In 1848 Jenkins went to Harvard University to study law. He got admitted to the bar in 1850, and by 1856 he was working for the National Democratic Convention as a delegate. The following year in 1857 he was elected to represent the 36th and 37th district in Congress. Jenkins decided to join the Confederates in April 1861, resigning from his position in Congress.
Once he returned to Green Bottom, he took command of a riflemen company. Unsatisfied with ordinary riflemen Jenkins (Captian at this time) converted his troops into cavalrymen. His company(E Company) went by the name Border Rangers. Jenkins lead his troops into combat on July 17, 1861, at the Battle of Scary Creek. He took command from Colonel George S. Patton (Father of famous WWII General) after he received wounds and panic spread. For his victory, Jenkins got promoted Colonel of the Eighth Virginia Regiment. E Company is still under his command.

In 1862 Jenkins went back to Congress once elected to represent the 14th Virginia Congressional District under the first Congress of Confederate States. He spent less than six months in Congress before being named to the position of Brigadier General. In 1864 Jenkins was appointed Commander of the Department of Western Virginia and he took his men to Cloyd's Mountain to defend against a Union offensive led by Brigadier General George Cook. General Cook's men broke through Jenkins defenses in a battle that began on May 9th, 1864 and left Jenkins severely wounded. Union troops captured Jenkins who succumbed to the wounds he received at Cloyd's Mountain and died 24 May 1864.
Sources
"Monument Dedicated!." The Bugle, 15 ed, 2 sec, 1-4. Quarterly Journal of the Camp Curtin Historical Society and Civil War Round Table, Inc. Summer 2005.
http://www.campcurtin.org/pdfs/Monument_Dedications.pdf
"Jenkins, Albert Gallatin," House Divided: The Civil War Research Engine at Dickinson College, http://hd.housedivided.dickinson.edu/node/5976.
Johnson, Flora Smith. The Civil War Record of Albert Gallatin Jenkins, C.S.A. West Virginia Division of Culture and History. Accessed February 22, 2017. http://www.wvculture.org/history/journal_wvh/wvh8-1.html.

The Invasions of Pennsylvania. Disunion Series, New York Times. . Accessed August 30, 2018. https://opinionator.blogs.nytimes.com/2013/06/26/the-invasions-of-pennsylvania/.


Additional Information