This entry includes a walking tour! Take the tour.
Introduction
The Lockwood-Mathews Mansion Museum is regarded as one of the earliest and most significant Second Empire Style country houses in the United States. Built by renowned financier and railroad tycoon LeGrand Lockwood from 1864-1868, the Mansion, with its unparalleled architecture and interiors, illustrates magnificently the beauty and splendor of the Victorian Era.
Images
Aerial Shot of the Mansion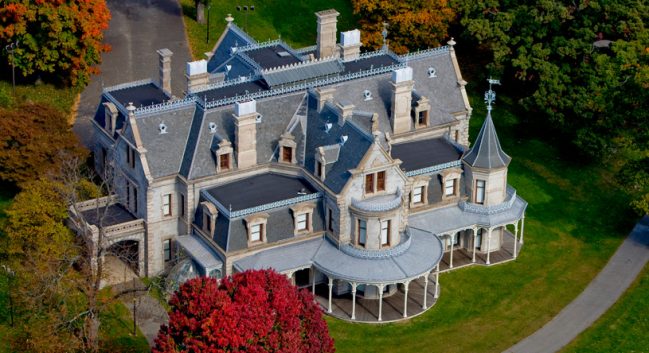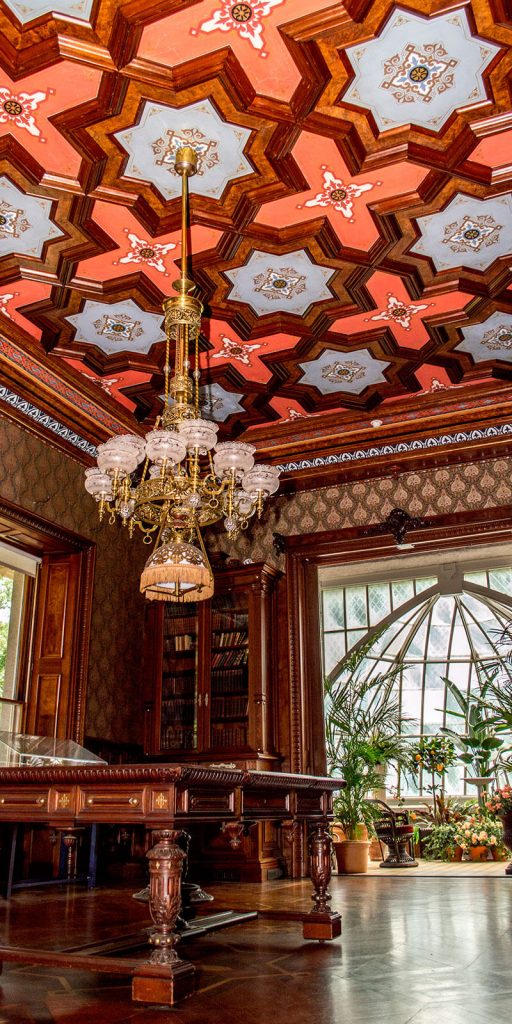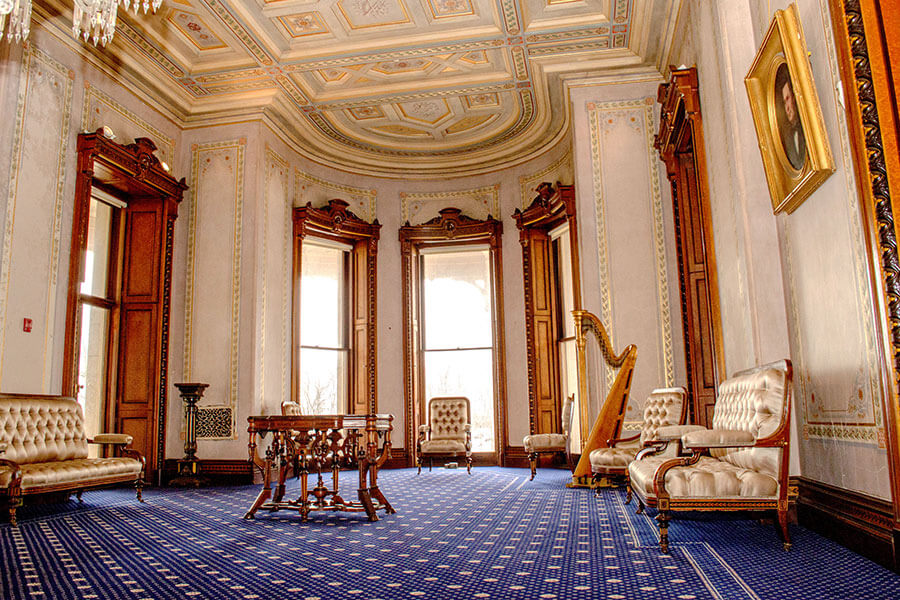 Cove Ceiling in the Rotunda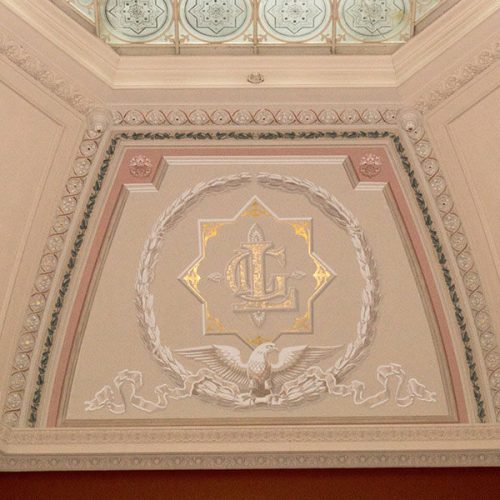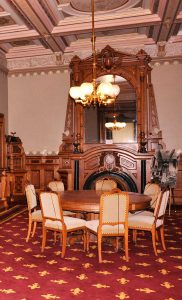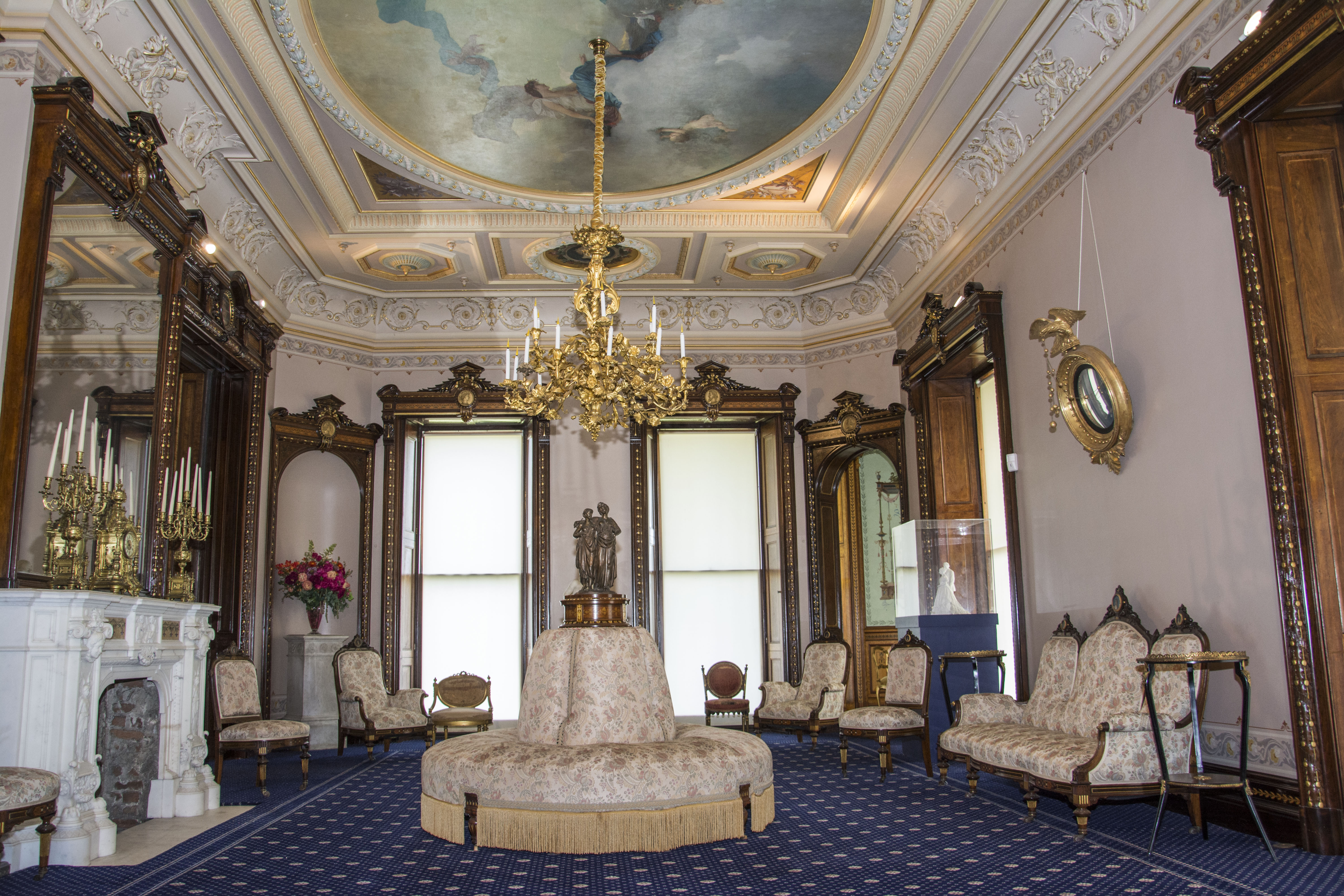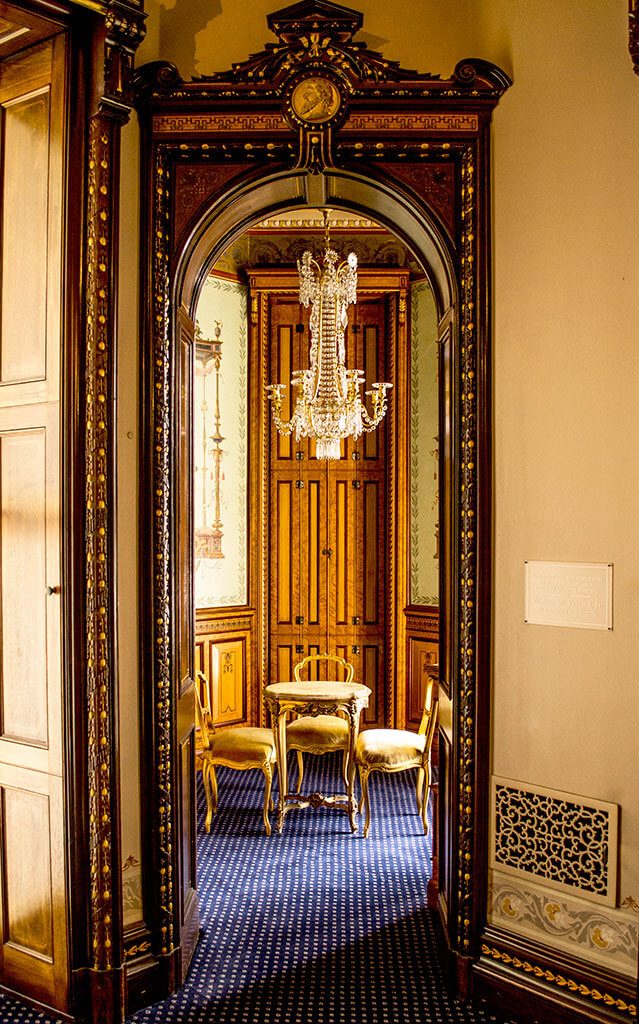 Backstory and Context
Born in Norwalk, Connecticut in 1820, LeGrand Lockwood made his fortune in New York City. He started working at age 18 as a clerk for a brokerage firm on Wall Street, but by age 23 he had already become partner in the firm known as Genin and Lockwood, Brokers. He became a member of the New York Stock Exchange in 1851 and six years later, upon becoming a senior partner in his firm, Genin and Lockwood, he renamed the firm Lockwood and Co.
The firm primarily dealt with the trading of leading railroad stocks of the day, including the Michigan Southern Railroad, later known as the Lake Shore and Michigan Southern Railroad, in which Lockwood held a vice-presidency. Lockwood and his firm's reputation on Wall Street were so well-regarded that in 1863 he was elected treasurer of the New York Stock Exchange. An 1868 newspaper was quoted: "[Lockwood and Co.]'s prominence and stability during the [Civil] War, and its large subscriptions to national loans established its position as THE LEADING STOCK HOUSE of the country." Lockwood traveled to Europe in 1863 to sell war bonds that would help him raise money for the Union. He returned home an even wealthier man and began to build his palatial summer home in Norwalk, CT. However, the post-Civil War economic boom was coming to an end.
Lockwood's financial reversal in 1869 and his untimely death in 1872 resulted in the loss of the estate, then known as "Elm Park," through foreclosure in 1874. The property was sold to Charles D. Mathews and his wife Rebecca in 1876. Mathews, a prominent importer from New York, and his family, resided in the Mansion until 1938. In 1941 the estate was sold to the City of Norwalk and designated a public park.
The Mansion was a technological marvel of its time: it had indoor hot and cold plumbing, gas lighting, ventilation, and a central heating system that burned a ton of coal a day. Indeed, there is no comparable mansion museum in our state. Built during the Civil War and still inhabited during the Great Depression, there is no institution in Connecticut that is better able to bring to life these significant events in American history.
When the building was threatened with demolition in the 1960s, concerned citizens galvanized to save the Mansion in one the most important and hard-fought preservation battles in Connecticut's history. These local preservationists succeeded in saving the Mansion in 1965 and later formed the Lockwood-Mathews Mansion Museum of Norwalk, Inc., a 501(c)(3), which was designated a National Historic Landmark in 1971.
Sources
"About the Mansion." The Lockwood-Matthews Mansion Museum. Accessed February 24, 2017. https://www.lockwoodmathewsmansion.com/about/. 
"Black Friday, September 24, 1869." PBS: American Experience. Accessed February 24, 2017. http://www.pbs.org/wgbh/americanexperience/features/general-article/grant-Black-friday/. 
"LeGrand Lockwood, 1820-1872." The Lockwood-Matthews Mansion Museum. Accessed February 24, 2017. https://www.lockwoodmathewsmansion.com/history/legrand-lockwood-nyse/.
"Period Rooms." The Lockwood-Matthews Museum. Accessed February 24, 2017. https://www.lockwoodmathewsmansion.com/history/period-rooms/.
Image Sources
Steve Turner, David Scott Parker Architects

Sarah Grote Photography, 2015

Sarah Grote Photography, 2015

Sarah Grote Photography, 2015

Jennifer Rose, 2009

Sarah Grote Photography, 2015

Sarah Grote Photography, 2014

Additional Information