Sit-Ins at Hecht's Department Store, Washington DC 1951
Introduction
The iconic Hecht's Company Department Store at the corner of 7th and F Streets N.W. was one of the largest of these protests in 1951. A marker on the corner of the former Hecht's department store offers a short history of the sit-ins that occurred at this location and the leadership of Mary Church Terrell, a leading civil rights advocate both within the city and throughout the United States for many decades prior to the modern civil rights movement of the late 1950s and early 1960s.
Images
The Hecht Company store at 7th and F Street N.W. circa 1930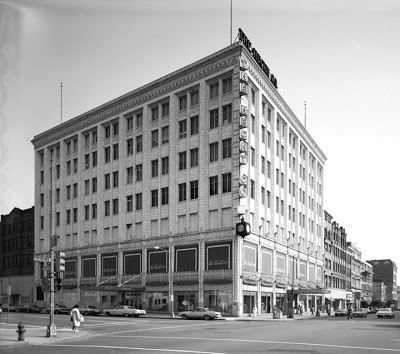 This historic marker was dedicated in 2016 and commemorates Terrell's leadership of the sit-ins that led to the end of segregation in public accommodations in Washington.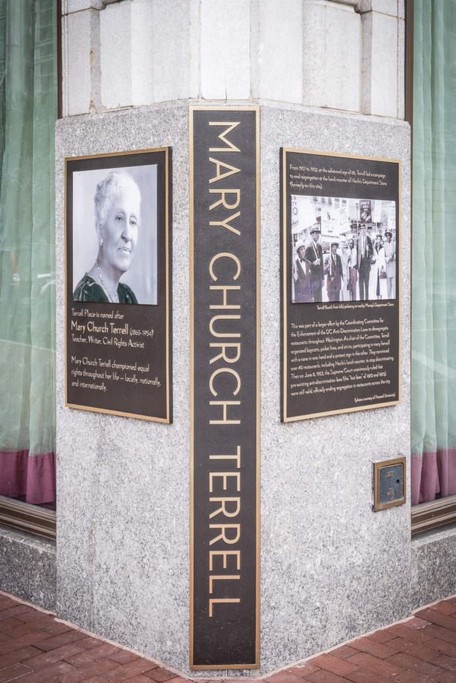 Backstory and Context
Howard students protested segregation in the Washington metro by holding small sit-ins at nearby segregated establishments as early as 1942. They also researched the laws of the city and found that a law passed during Reconstruction banned racial discrimination in places of public accommodation. Led by the iconic civil rights leader Mary Church Terrell (at age 86), African Americans attempted to be served at downtown restaurants such as the Thompson's lunch counter in 1950. After they were denied service, they filed suit against the chain. After three years and with the assistance of the National Lawyers Guild, the case made its way to the Supreme Court. Meanwhile, the Washington D.C. Restaurant Association raised money to defend Thompson's and maintain segregation while Howard students and members of the Black community continued to hold sit-ins at popular downtown restaurants.
Established in 1950 and led by Mary Church Terrell, Coordinating Committee for the Enforcement of the D.C. Anti-Discrimination Laws led pickets of Hecht's Department store from July 1951 until the company ended its practice of maintaining a segregated cafeteria within this store. The following year, attorneys working with this DC organization won a court victory in
District of Columbia v. John Thompson. Thompson was a restaurant owner that persisted in maintaining the color line. The court found Thompson in violation of to city ordinances passed during the era of Reconstruction that outlawed segregation in the nation's capitol. The court's decision upholding the validity of these 1872 and 1873 laws that had not been enforced for seven decades effectively served the same purpose as passing a citywide ordinance in the 1950s and served as a landmark victory in the years leading up to sit-ins and other challenges to segregation in other cities.