Ovid Butler, Sr. Historic Marker
Introduction
Born in New York, Ovid Butler would leave his mark in many ways in Indianapolis after moving here as a teenager. Throughout his life he was involved in abolitionism, education, and news media (as a newspaper publisher). Butler was also an attorney, recruiter for a regiment of African American soldiers during the Civil War, and founded Indianapolis's Butler University, a Christian university that bears his name. This marker sits where Butler's home, "Forest Home," still stands.
Images
Undated photo of Ovid Butler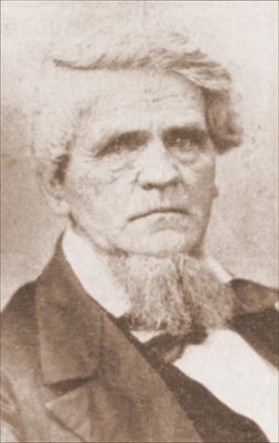 Undated photo of the "Forest Home."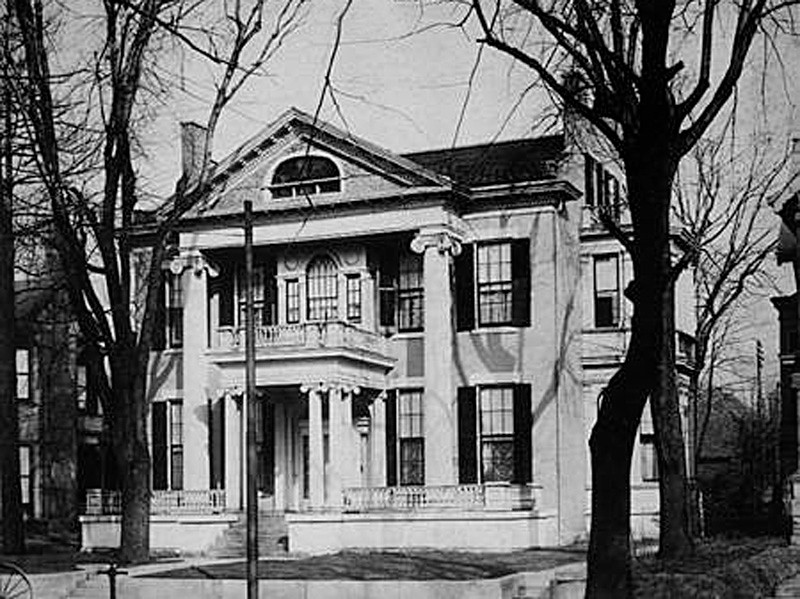 Front side of historic marker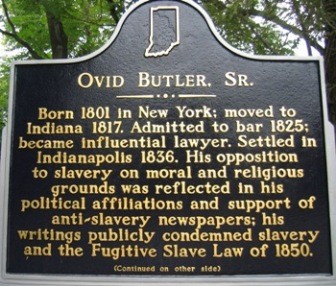 Back side of historic marker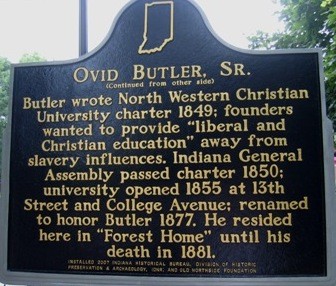 "Forest Home" as it appears today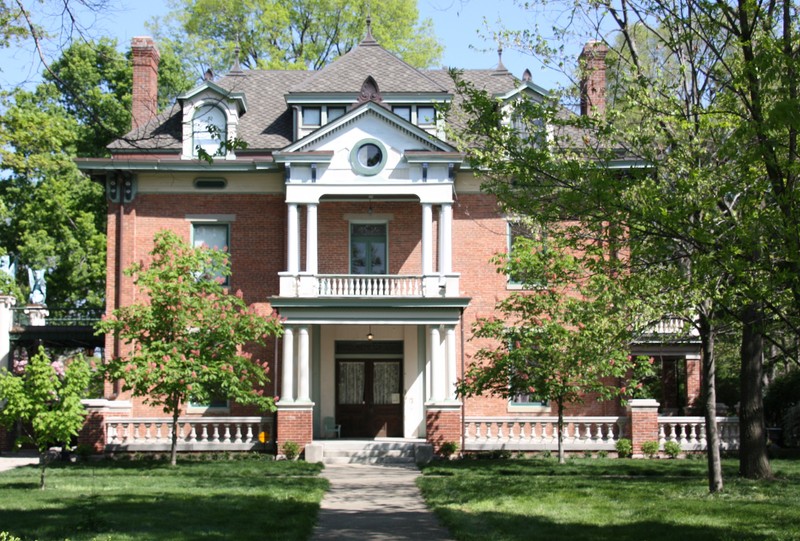 Backstory and Context
Ovid Butler was born in Augusta, New York. His father, Chancey Butler, moved the family west to Jennings County, Indiana, in 1817. The elder Butler became one of the first Restoration Movement or Stone-Campbell Movement preachers in Indiana. Ovid studied law and practiced as an attorney in Shelbyville, Indiana, from 1825-1836. During this time he married Cordelia Cole. In 1836, the entire family moved to Indianapolis. Soon after, Ovid's wife, Cordelia, died in 1838. He remarried to a widow, Mrs. Elizabeth A. Elgin, daughter of one Thomas McOuat.
In Indianapolis, Ovid established a law firm with partners Calvin Fletcher, Simon Yandes and future Indianapolis mayor, Horatio C. Newcomb. Butler became interested and active in political and social issues. In 1849, Butler established the political and abolitionist newspaper Free Soil Banner. Due to bad health, Butler gave up his law practice in 1849, seeking retirement. With friend and fellow abolitionist, Calvin Fletcher, both men helped in formation of the 28th Regiment of Colored Troops (28th Regiment Indiana USCT).
As a member of the Christian Church (Disciples of Christ), Butler sought to establish a university for that Christian movement. On January 15, 1850, the Indiana General Assembly approved the university. On November 1, 1855, the North Western Christian University opened. Ovid Butler served as the head of the Board of Directors until 1871. He became Chancellor of the University and, in 1877, the school became Butler University. Butler is also the namesake of the Ovid Butler Society, a recognition society for Butler University's most generous donors.
Sources
Lilly, Eli. Early Wawasee Days. Indianapolis: Studio Press Inc., 1960.
Additional Information