Terminal Building
Introduction
The Terminal Building was established by J.S. Hill in 1910 to house the National City Bank. The property on which the building sits was one of the original plotted lands in Charleston, WV upon settlement. Today the building is home to Executive Ink, LLC, a West Virginia business publication dedicated to promoting local businessmen and women as well as tourism.
Images
The Terminal Building is known for it's rounded facade.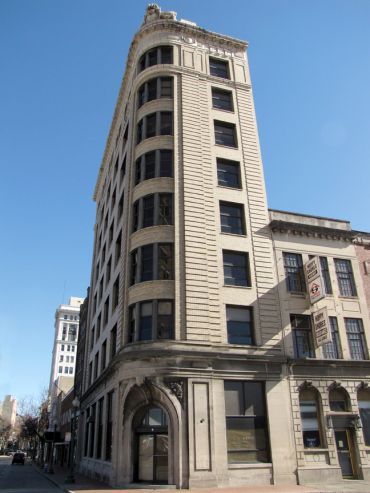 The Terminal Building is one of the few that has survived the urban renewal of Downtown Charleston.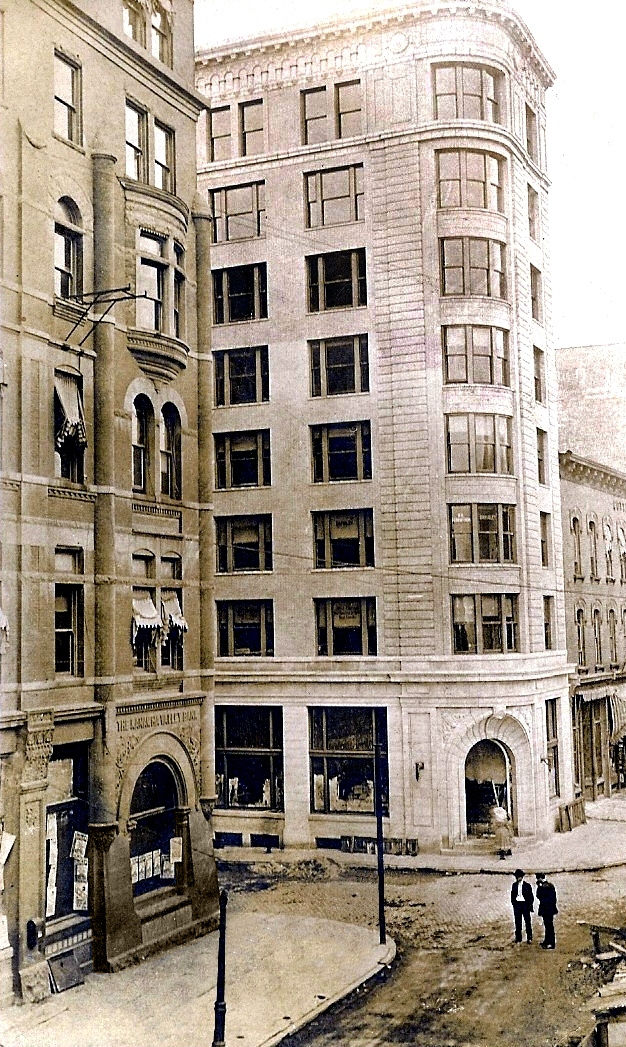 Backstory and Context
The property that houses the Terminal Building was one of the original plots of land settled in Charleston, WV. The founder of Charleston, George Clendenin sold this property to Lewis Tackett in 1793 for the price of five shillings. The property was residential and had various owners until 1837 when developer Lewis D. Wilson purchased the land. Wilson was a ferry owner, and what is now Capitol Street was the landing area for his ferry. John T. Cotton purchased the property in 1851, extending from the east side of Capitol Street from Kanawha Boulevard to Virginia Street.
The property began to house banks in the late 1800s, when the Bank of the West established a branch on the land in 1871 followed by 1st National Bank in 1874. The original building on this property housed a book and wallpaper company, a men's clothing store, and a Philadelphia One-Price Store. In 1909, the National City Bank purchased the property and constructed an eight story brick building that was completed in 1910. The National City Bank was established by J.S. Hill in 1907, and was originally located in a rented room along Kanawha Street.
Today the Terminal Building is home to Executive Ink, LLC, West Virginia's premier business publication. Executive Ink was formed in 2008, and is West Virginia's only meeting planner and tourism guide. The magazine publishes articles that promote local businesses, celebrates West Virginians who work to make the state a better place, and also writes about wild and wonderful tourism destinations through Discover WV.
Sources
Snyder, R. N.. Illustrated and Descriptive Charleston WVa. Charleston, WV. News-Mail Company, 191?.

Marshall, Paul D.. Cook, John D.. Historical and Architectural Survey Downtown Charleston, West Virginia. Charleston, WV. Charleston Regional Chamber of Commerce and Development, 1984.

Contact. West Virginia Executive. Accessed March 08, 2017. http://www.wvexecutive.com/contact/.


Additional Information