United States Post Office -- Miami Beach
Introduction
This single level, Art Deco U.S. Post Office building was designed by Miami native Howard Lovewell Cheney and completed in 1937. Its unique design features a central, barrel-shaped section with the rest of the building extending down Washington Avenue and 13th Street. The circular lobby is home to a large, three-panel mural painted Charles Hardman entitled Episodes from the History of Florida that was added in 1940 and is situated above the numerous gold post office boxes. The lobby also contains a small, circular fountain that sits directly below a round light fixture that has been painted to resemble the sun set against a bright teal background.
Images
The Art Deco Miami Beach Post Office was completed in 1937.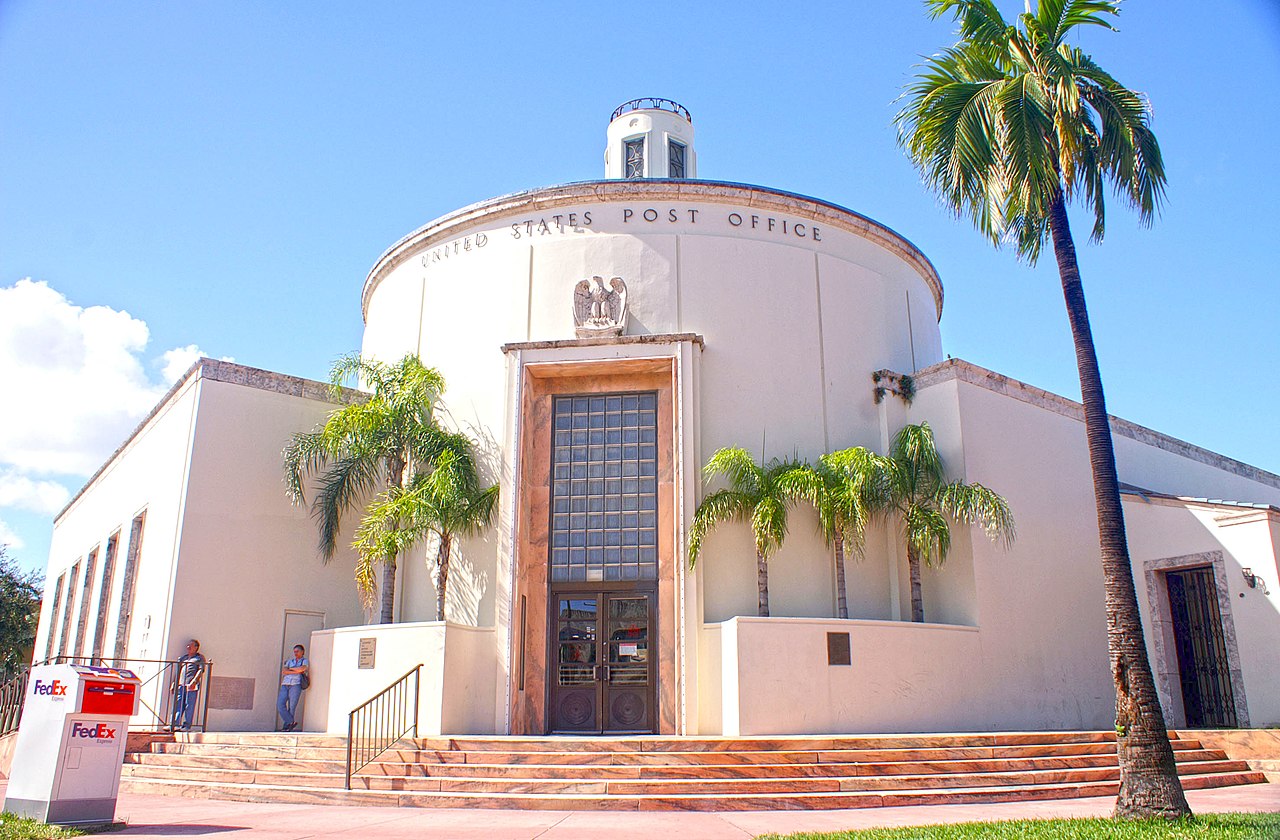 Charles Hardman's wall mural features Hernando de Soto, Ponce de Leon and General Thomas Jesup.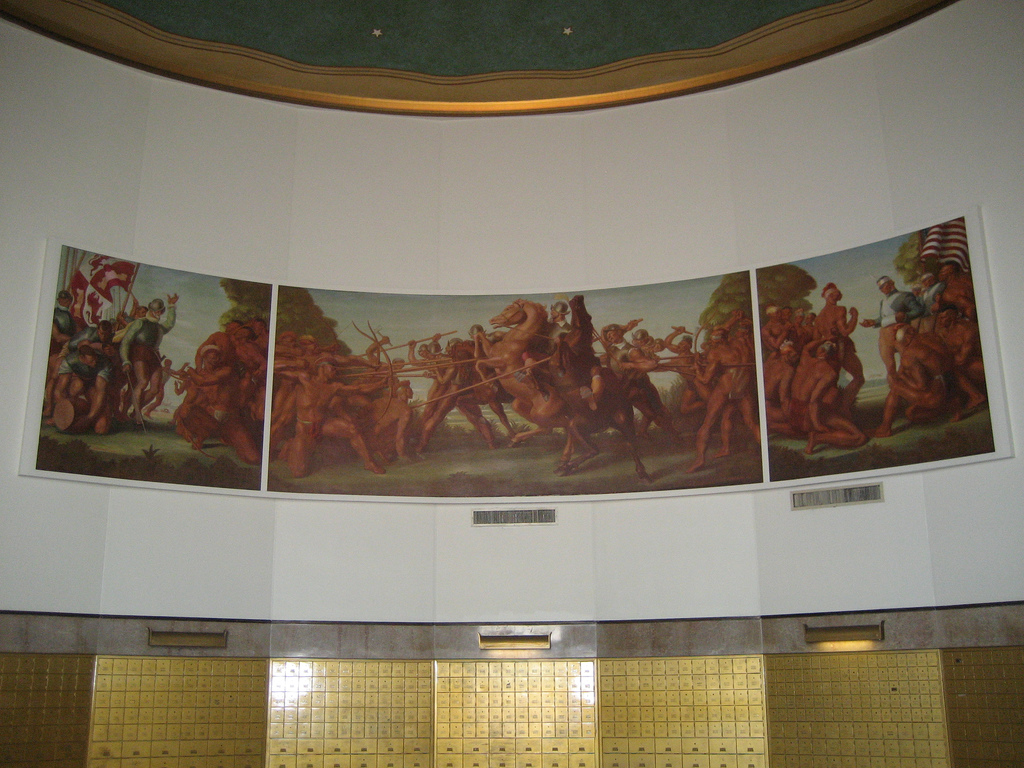 Tourists on a Miami Beach Art Deco tour admire the post office's mural and unique ceiling art.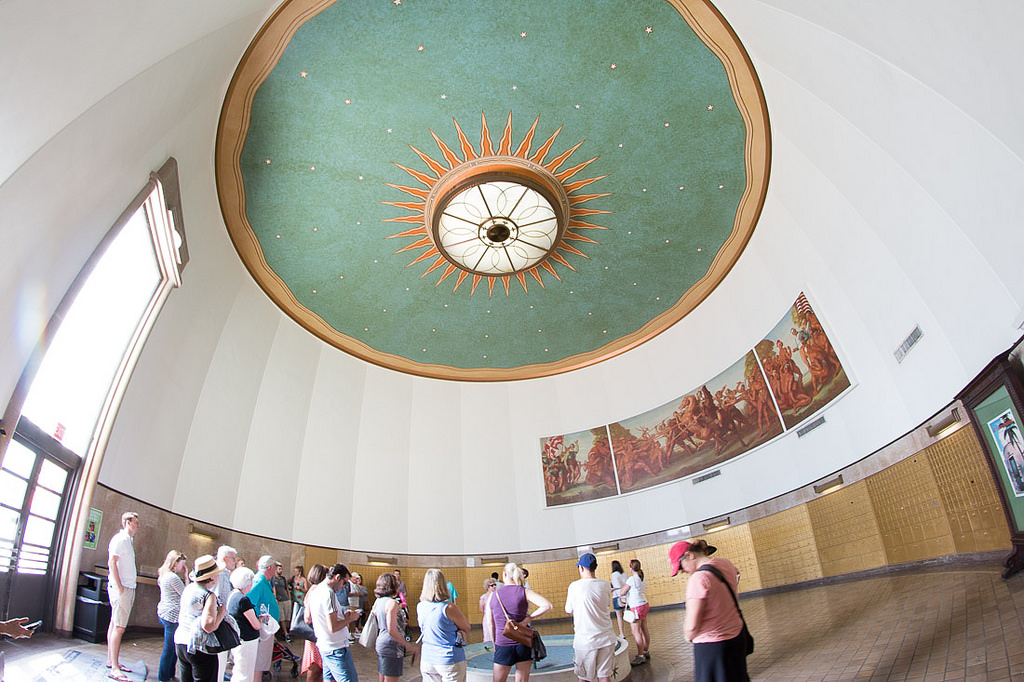 A close up of the interesting light fixture within the lobby.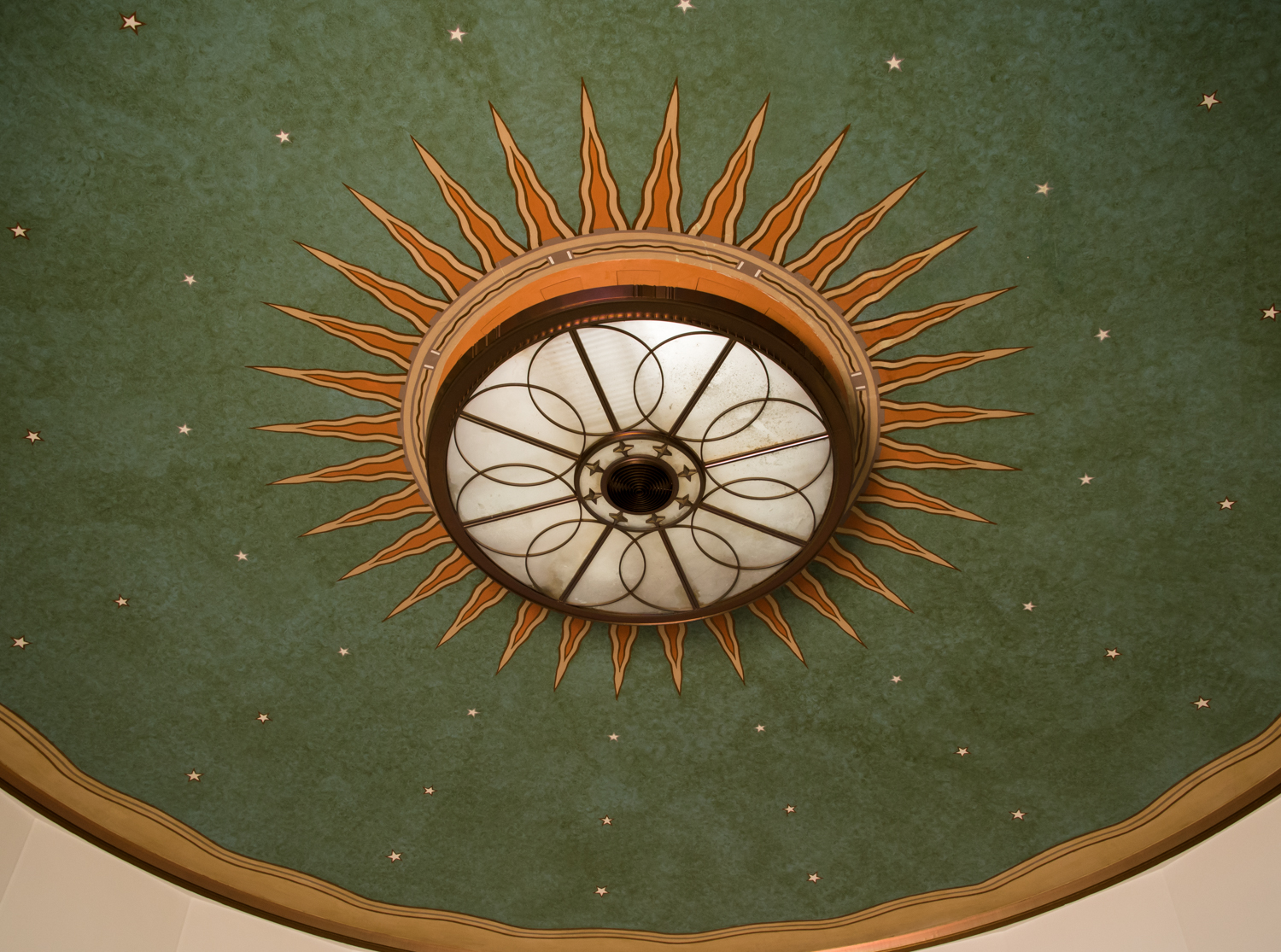 The exterior of the post office features a stone eagle and decorative cupola atop its roof.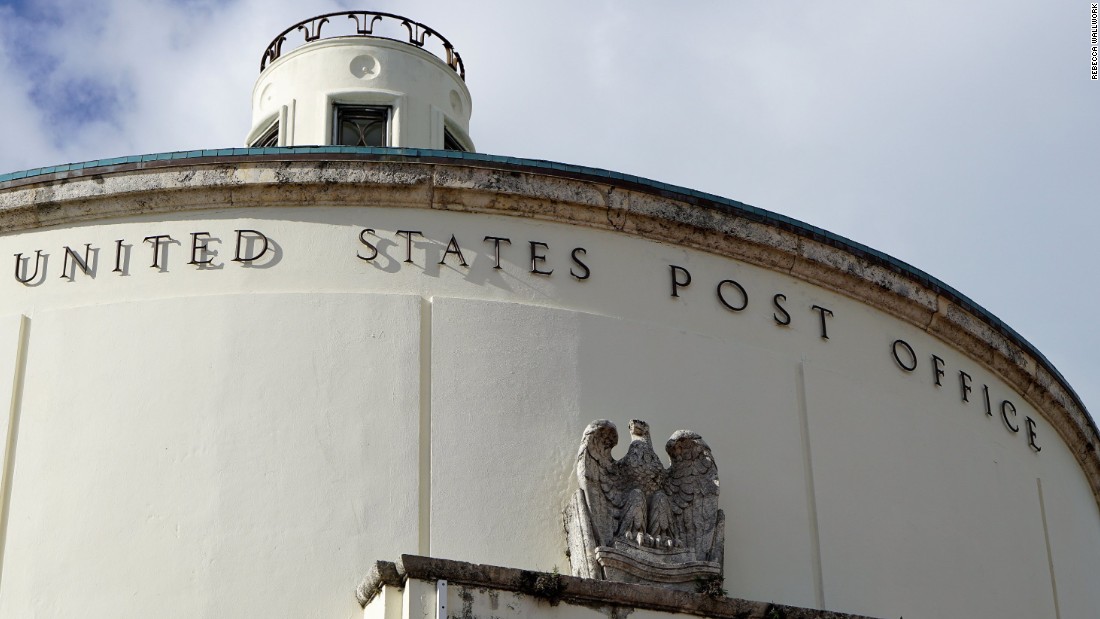 A detail of Hardman's mural entitled "Discovery" features Native Americans reacting to the arrival of Ponce de Leon in 1513.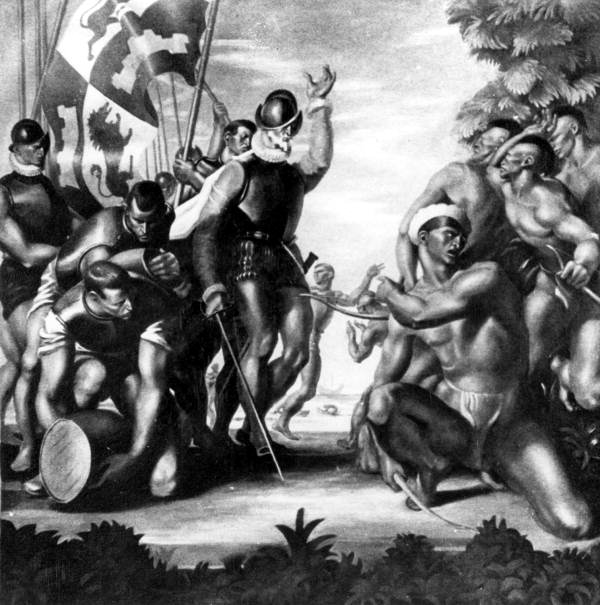 Backstory and Context
Built under the auspices of the Depression Era Works Progress Administration, the Miami Beach Post Office was designed to blend in with the surrounding Art Deco architecture. The understated design by architect and engineer Howard Lovewell Cheney has also been called Art Moderne or Depression Moderne. Lacking the pastel colors usually associate with Art Deco, Cheney designed a circular lobby with a cone-shaped roof and a tall, thin decorative copula topping it off. Cheney created a prominent main entrance with double doors topped by a ten-foot high wall of glass block to permit natural light to spill into the lobby. Sitting atop the entryway is a sculpted stone eagle. The remainder of the post office branches off from this central section. 
The round lobby is dominated by the many gilded post office boxes and a large mural that was commissioned by the Section of Fine Arts that was, oddly, under the control of the United States Department of the Treasury from its founding in 1934 until its demise in 1943. It was, and still is, simply referred to as "the Section." As many New Deal organizations, it was created to employ the many unemployed of the time, in this instance, artists. It was tasked with placing works of art in public places, primarily post offices and libraries, for the masses to enjoy. Commissions were awarded to artists through competitions that were open to all. The artist was then given guidelines or themes and instructed to create artwork that celebrated local history and/or people. The Section commissioned over 1,300 murals and 300 sculptures by the time it closed its doors. Unfortunately, many of those murals and sculptures have been lost to history.            
Charles Hardman, a native Floridian, was commissioned to paint a mural in 1940 that held local significance for the Miami Beach Post Office. He then created a three-section mural that still adorns the lobby wall. The sections are entitled Discovery, which portrays Ponce de Leon's arrival in Florida in 1513, de Soto and the Indians, which depicts Hernando de Soto and his men engaged in battle with Native Americans in 1539, and Conference, which shows General Thomas Jesup negotiating with Native Americans after the Second Seminole War in 1837. Hardman also painted a mural entitled Indians Receiving Gifts for the post office in Guntersville, Alabama. 
Sources
Kilby, Rick. "New Deal Masterpiece in Miami Beach." Old Florida. February 1, 2010. Accessed March 11, 2017. http://studiohourglass.blogspot.com/2010/02/new-deal-masterpiece-in-miami-beach.html
"Post Office Murals -- Miami Beach." The Living New Deal. Accessed March 11, 2017. https://livingnewdeal.org/projects/post-office-murals-miami-beach-fl/
Additional Information