St. Mary of the Angels
Introduction
A landmark of Chicago's Bucktown neighborhood, St. Mary of the Angels Parish was dedicated by Cardinal (formerly known as an Archbishop) George Mundelein in 1920. The congregation was established by Polish immigrants in 1897. This structure replaced a previous church and took many years to construct due to the outbreak of World War I.
Images
Source: http://spuscizna.org/imagess/chi-stmaryangels.jpg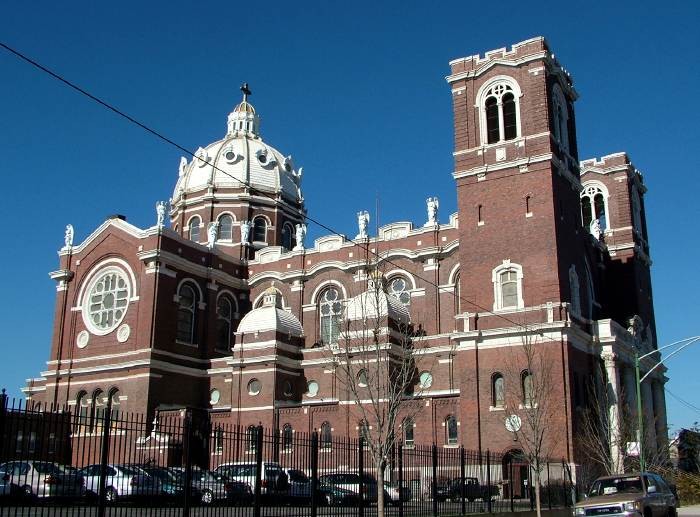 Source: http://s3.amazonaws.com/architecture-org/files/modules/st-mary-angels-eric-allix-rogers-02.jpg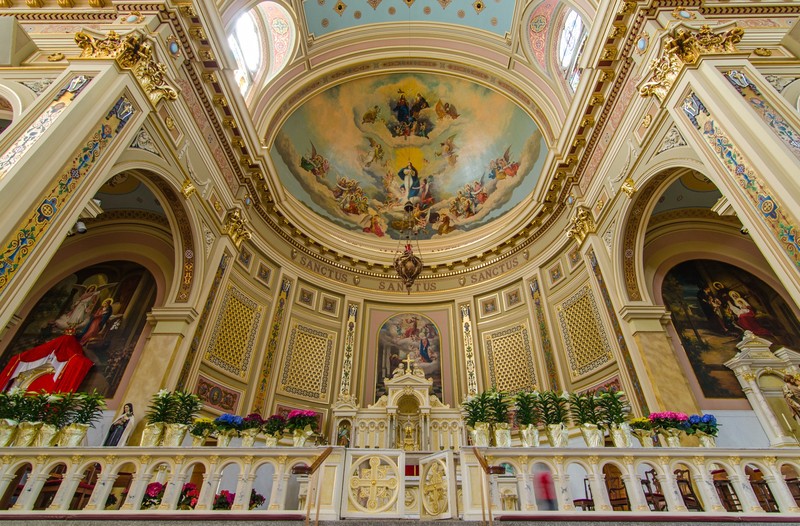 Backstory and Context
Polish immigrants left central Europe and established homes in cities such as Chicago throughout the middle 19th century. The immigrants created a large Polish enclave in Chicago's Bucktown neighborhood, where St. Mary's stands today. Like many historic Chicago churches, the building serves as a physical reminder to its 19th century past. The congregation was one of the dozens of churches established by immigrants that served as the center of a largely self-sustaining neighborhood.

Immigrants of Polish descent arrived in Chicago and established communities in Bucktown and other communities that had previously been open fields and pasture lands. (residents called male goats, "bucks," which led this area to be called Bucktown). Although Polish immigrants grew to include a significant portion of Chicago's overall population, they often enjoyed less business and political influence than immigrants from German states and other European nations and principalities.

The Polish population grew steadily and by, 1899, St. Mary of the Angels Parish became one of the five Catholic parishes on the northwest side of Chicago organized by the Resurrectionist Fathers which grew out of St. Stanislaus Parish.

The first pastor, Reverend Francis Gordon, laid the cornerstone of the parish school on July 2, 1899. Roughly 20,000 people witnessed the dedication ceremony but the new church took eight years to build, from September 28, 1911 until 1920, delayed by shortages of manpower and materials due to World War I. Nevertheless, by 1912, St. Mary of the Angels parish become one of the largest parishes in the Archdiocese. On May 30, 1920, Archbishop Mudelein dedicated the new church.

The building was designed by architect Henry Schlacks, and modeled on some aspects of St. Peter's Basilica in Rome. Several additions have taken place since that time, and in the 1930's, the auditorium became known as the "Polish Aragon Ballroom" as hundreds attended weekly dances and concerts.
With the construction of the Kennedy Expressway in 1960, a sizable number of families and students left the parish, and, by 1988, the church building was closed and slated for demolition due to deteriorating conditions. At the request of Cardinal Bernardin, then Archbishop of Chicago, the priests of the Prelature of Opus Dei assumed responsibility for the parish in 1991; repairs ensued and lasted throughout the 1990s.
Sources
Graves, Jim. "Eleven Churches Not to Miss When You Visit Chicago."
The Catholic World Report. http://www.catholicworldreport.com/Item/1493/eleven_churches_not_to_miss_when_you_visit_chicago.aspx.
July 20, 2012.
"History,"
St. Mary's of the Angels Website.
http://sma-church.org/about-us/history/ . Accessed, 2017.
Pacyga, Dominic A.
Polish Immigrants and Industrial Chicago: Workers on the South Side, 1880-1922.
University of Chicago Press, 1991.
--- --- ---. "Poles,"
Encyclopedia of Chicago.
http://www.encyclopedia.chicagohistory.org/pages/982.html. Accessed,
2017.


Additional Information