Eastlake Park
Introduction
Eastlake Park, created in 1914, holds special historical and cultural significance for Phoenix. The park and surrounding neighborhood have been the center of African American life in the city for much of the 20th century and this continues today. It was the only area in Phoenix where African Americans could live and the park the sole place where they could relax and gather. As such, the park became a focal point for not only social gatherings but also civil rights activities as well including rallies and speeches here; the park also served as a starting point for marches. To keep this history alive, the park holds annual Martin Luther King, Jr. and Juneteenth celebrations. Black Lives Matter rallies have also been held here. There is also the Phoenix Arts Commission Civil Rights Memorial. In terms of attractions and activities, the park features a pool, band shell, gym, baseball field, community center, and a children's playground.
Images
The Phoenix Arts Commission Civil Rights Memorial commemorates the history of the Civil Rights Movement in Phoenix and the country.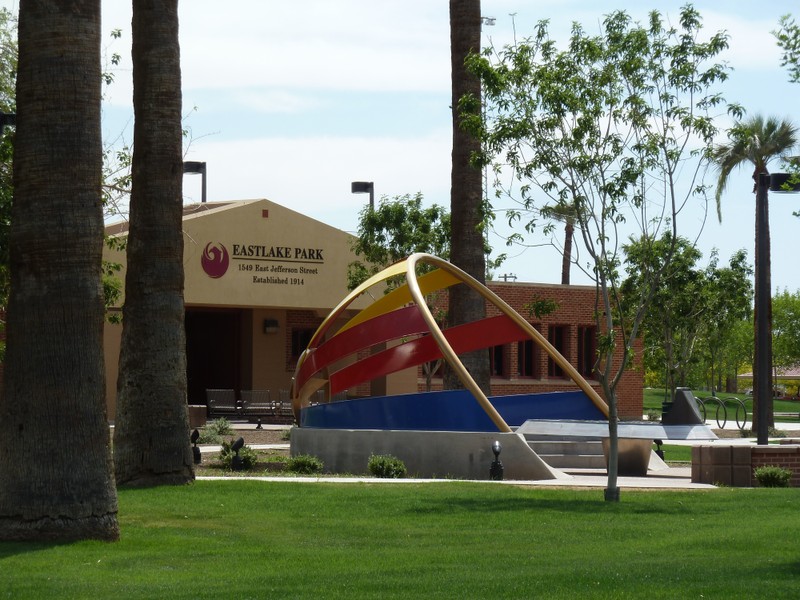 This part of the memorial features inscriptions of important historical events of the history of civil rights.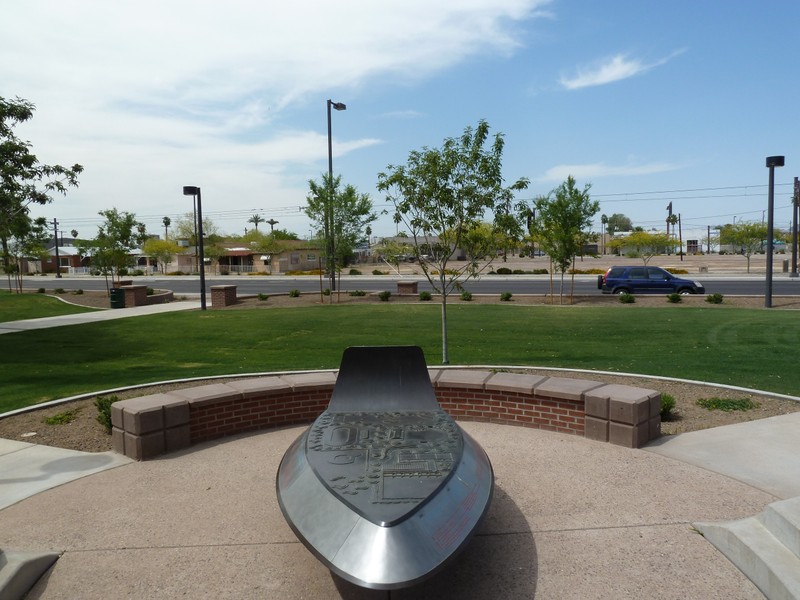 Backstory and Context
People of Phoenix have used the park since the 1880s. Back then it was called Patton's Park. Eventually, the owner of the city's tram (streetcar) line developed the park to include a man-made lake lined with trees. The purpose was to make a space for tram riders to rest and relax while waiting for the next car to come by. The city bought the park in 1914 and called it Eastlake Park, aptly named for its location in the city at the time. The neighborhood was set aside for African Americans by 1930. Interestingly, whites were not allowed to live in the area. Eventually, residents set up churches, businesses, hotels, and other establishments, creating a vibrant community. Today, the makeup and history of the community are threatened by increasing housing costs as the rest of the city prospers.
Sources
"Eastlake Community Center." City of Phoenix. March 15, 2017. https://www.phoenix.gov/parks/recreation-and-community-centers/centers-e/eastlake.

"Eastlake Park." The Historical Marker Database. Accessed March 15, 2017. http://www.hmdb.org/marker.asp?MarkerID=55058.

Illich, Fara. "Eastlake Park Provides Cultural Connection for Phoenix's African American Community." February 27, 2017. http://dtphx.org/2017/02/17/eastlake-park-provides-cultural-connection-for-phoenixs-african-american...

Rodriquez, Nadine A. "Did You Know: Phoenix Park Is Over 100 Years Old." September 13, 2013. http://kjzz.org/content/4960/did-you-know-phoenix-park-over-100-years-old.

Photos: Tceng, via The Historical Marker Database
Additional Information