1903 Cheney Cheese Factory
Introduction
Fred Reuter's Cheney Cheese Factory opened in 1903. Using local milk, the factory produced award wining cheese for over a decade.
Images
Cheney Cheese Factory 1906. Fred Reuter at right.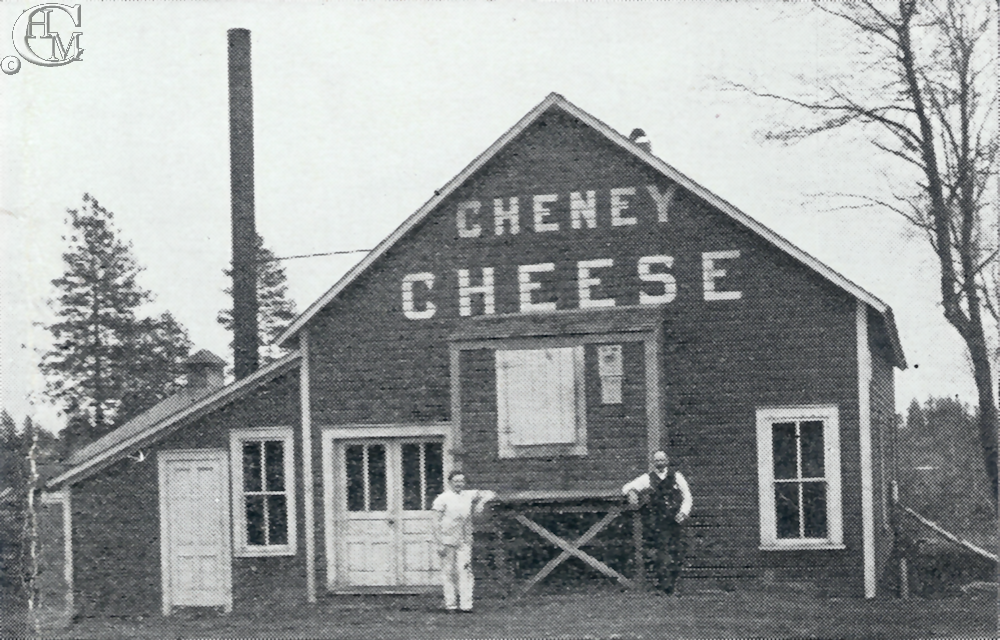 Backstory and Context
Frederick Reuter opened the Cheney Cheese Factory on May 4, 1903, of which he was sole owner and proprietor. The factory processed 4,000 pounds of milk a day into cream cheese of such excellent quality it took first prize at the Washington State Fair in Yakima the year Fred entered his product in competition. This business venture proved to be a great boost to the economy of Cheney and surrounding rural areas.
Cheney's 1906 promotional booklet said this,
The Cheney Cheese Factory gives a splendid market to the farmers for their product and pays them from $1,200 to $1,800 each month.
They boasted that the factory produced 29,000 pounds of cheddar during its first year, 64,000 pounds in 1904, and 103,000 of cheddar in 1905. The factory's capacity was listed at 550,000 pounds of cheese per year, held back by a shortage of milk.
At the time, Cheney produced about one-third of the cheese sold in the State of Washington, since a large portion of the milk produced, especially on the west side of the state, was going to the production of evaporated and sweetened condensed milk.
After years of suffering from the pains of rheumatism aggravated by his work in the cheese factory, Fred was finally forced to give up his thriving business about 1915.
Frederick Reuter served on the City Council, was a member of the Odd Fellows, served as Cheney's Postmaster for 8 years, and served with Cheney's Police Department for 9 years.
Sources
Cheney Free Press
Cheney Promotional Booklet 1906
Tami J. Parr; Pacific Northwest Cheese: A History
Additional Information