Joe Marino Park
Introduction
Joe Marino Park. Dedicated in 2010. In honor of Joe Marino also known as Mr. 4th of July, the local man behind Rockford's annual 4th of July fireworks display.
Images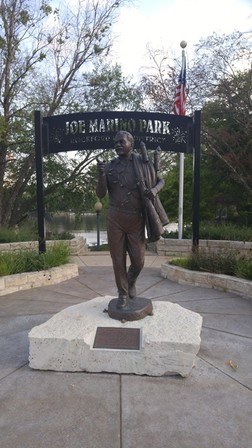 Backstory and Context
Mr. 4th of July, the local man behind Rockford's annual 4th of July fireworks display. Installed on July 4, 2010
Funds raised by private donations, 200 donors contributed approximately $38,000 for the statue, Weight - 400 lbs
Artist – David Seagraves of Elizabeth, IL
Statue Casting – In Bronze, Mt. Morris, IL
A life-sized bronze statue honoring Mr. Fourth of July, Joe Marino, was unveiled today Jul 04, 2010. Planning has been going on for several months, and Mr. Marino had no idea. His family also surprised him and flew in from California. During today's celebration, a remote controlled plane wowed the crowd with stunts in the air. As the statue's new home, Waterside Park, which is located across the street from the Register Star, was renamed Joe Marino Park.
Joe Marino was born and raised in Rockford, IL. He served in the U.S. Navy during World War II in the South Pacific on the Destroyer U.S.S. Henderson. After returning home Joe took an interest in organizing community events, which Rockford had been lacking at the time.
In 1963, at the request of Mayor Ben Schleicher, he created the Rockford 4th of July Committee. With community donations Joe purchased fireworks and provided Rockford with it's first downtown fireworks show. Today Rockford's July 4th events entertain hundreds of thousands of people each year.
In 1989 Joe organized the Holiday Festival of Lights, which enthralls carloads of Stateline citizens with a one-mile loop thru Rockford's historic Sinnissippi Park, adorned with colorful lighted displays. The annually-changing displays are sponsored by local businesses and community groups.
Joe continues to be the Chairman of the Rockford 4th of July and Holiday Festival of Lights Committees to this day, which are non-profit entities, solely supported by private donations, not tax dollars.
Joe has received numerous recognitions and awards including...
The Key to the City of Rockford
Rockford Man of the Year Award
Mr. 4th of July Award
Rockford Park District Distinguished Service Award
Vice President George Bush Excellence Award
President Ronald Reagan Award
President's Service Award from Bill Clinton