Rouss Hall
Introduction
Rouss Hall is located on the Lawn at U.Va and faces across from Cocke Hall. It was designed by noted architect Sanford White, who also designed Cabell and Cocke Halls. Following the fire at 1895 fire at the Rotunda, White was charged with creating academic buildings to replace the lost classroom and meeting space. The White buildings closed off the Lawn at the southern end and permanently defined its dimensions. Today, Rouss Hall and Robertson Hall house the McIntire School of Commerce.
Images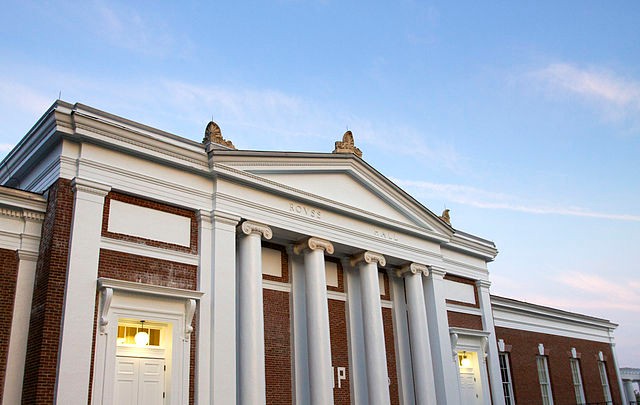 (2009) Symbols on the exterior of Rouss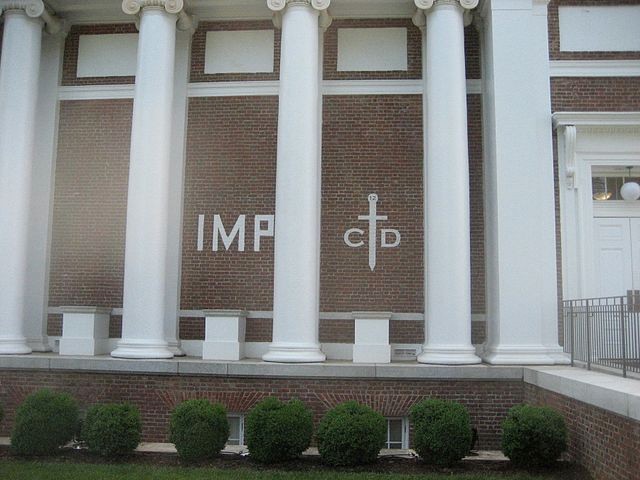 (2010) Another view of Rouss Hall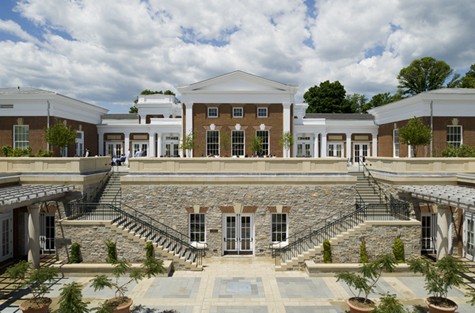 Backstory and Context
The McIntire School of Commerce is the University of Virginia's undergraduate school of business and the graduate school of business for Commerce, Accounting, and Management of Information Technology. It is located in Rouss Hall and the adjoining Robertson Hall, which are both situated on the southeast corner of the Lawn. The Lawn is the central space of Thomas Jefferson's "Academical Village."

Rouss Hall originally was originally the Physical Laboratory. It is named for the principal donor, Charles Broadway Rouss, a New York City merchant. Rouss opened in 1898 following the Rotunda fire of 1895 which gutted the structure and its Annex. The Neo-Classical Revival building was designed by Sanford White of the architectural firm McKim, Mead and White. In 2005, a major renovation effort of Rouss Hall began. The project added the 132,000-square-foot Robertson Hall, creating a 156,00-square-foot academic complex at the southern end of Jefferson's historic lawn.

The renovations, completed in 2007, were largely financed by John A. Griffin (COMM '85), who suggested a name for the adjoining structure. Robertson Hall, therefore, is named to honor financier Julian H. Robertson Jr. and his wife, Josie. In order to complete the project, the 150-year-old Varsity Hall had to be moved 185 downhill from its original site. Robertson was designed by Hartman-Cox Architects to serve as high-tech academic spaces for interdisciplinary study. Of particular note is the building's "green roof," the first of its kind at U.Va.

Sources
"The Lawn." Wikipedia, the Free Encyclopedia. Accessed March 19, 2017. http://en.wikipedia.org/wiki/The_Lawn.
"McIntire School of Commerce." Hartman-Cox Architects. Accessed March 19, 2017. http://www.hartmancox.com/mcintire-school-of-commerce/.
"Rouss & Robertson Halls: University of Virginia McIntire School of Commerce Charlottesville, Va." Building Design + Construction. Accessed March 19, 2017. http://www.bdcnetwork.com/rouss-robertson-halls-university-Virginia-mcintire-school-commerce-charlo....
"U.Va. Web Map: Rouss Hall." The University of Virginia. Accessed March 19, 2017. http://www.Virginia.edu/webmap/popPages/81-RoussHall.html.
Rouss Hall in 2012; image by Joel Pattison - Own work, CC BY-SA 3.0, https://commons.wikimedia.org/w/index.php?curid=21366930.
Rouss Hall in 2010; image by TorsteinFagroed - Own work, CC BY-SA 3.0, https://commons.wikimedia.org/w/index.php?curid=31492091.

Rouss Hall symbols; image by Timothy Jarrett - Flickr: Order of the Claw and Dagger, CC BY-SA 2.0, https://commons.wikimedia.org/w/index.php?curid=13270175.

Additional Information