The Fralin Museum of Art at the University of Virginia
Introduction
The Fralin Museum of Art at the University of Virginia is dedicated to promoting visual literacy as part of a comprehensive educational endeavor to enhance vistors' understanding of world cultures. The museum, which originally opened in 1935 and reopened as a dedicated museum in 1974, is housed in the Thomas H. Bayley Memorial Building. Its collection includes nearly 14,000 objects, including American and European paintings, works on paper, and 15th-20th century sculptures; as well as ancient Mediterranean, Asian, and Native American art. Additionally, visitors can explore a print gallery and soon an object study gallery.
Images
The Fralin Museum of Art is located in the Bayly Building on the campus of the University of Virginia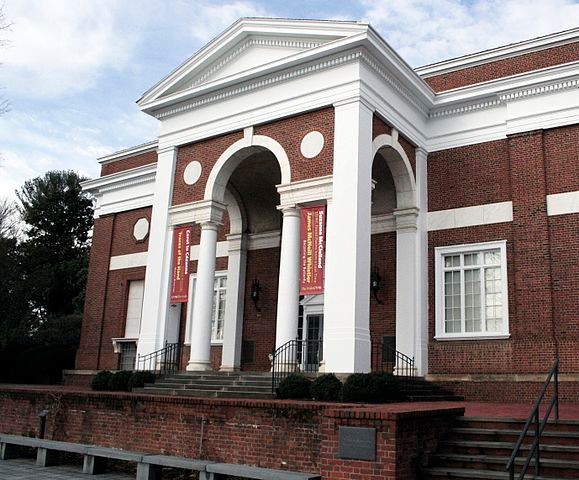 Backstory and Context
In March 1935, the Thomas Bayly Memorial Building opened. Dean of Architecture Edmund S. Campbell designed the structure, which was financed by Evelyn May Bayly Tiffany in honor of her father, an alumnus of the University of Virginia. Campbell also served as the museum's first director. The museum received several important works of art early on, including 17th century French and Flemish tapestries, two Rodin sculptures, and Frederic Church's Natural Bridge, Virginia. The museum closed during WWII and reopened in 1946. In the 1960s, the University faced a shortage of academic space. As a result, the museum was converted into classroom use for the art and architecture programs.

In 1973, the new architecture school was complete and the building once again returned to its original function. By 1995, the collection had expanded to approximately 8,500 objects through gifts, purchases, and extended loans. Today, the facility houses nearly 14,000 works in its permanent collection, many of which are of ethnographic interest. Its Kluge-Ruhe Aboriginal Art Collection is one of the most significant collections of Australian Aboriginal Art outside of Australia. Six thousand square feet of space are devoted to exhibiting and teaching.

In addition, the museum features events such as public lectures, symposia, and tours. Programs of service to the local community include Eyes on Art, tailored to Alzheimer's patients and caregivers; Early Visions, which partners university students with members of the Charlottesville Boys and Girls Clubs; and Writers Eye, which encourages individuals to submit prose and poetry inspired by museum holdings.

The Fralin Museum of Art received national accreditation by the American Association of Museum in 2001, which was reconfirmed in 2008. In 2009, an extensive renovation added Print Study and Object Study galleries to further aid in the museum's mission to represent through a variety of media the world's cultures from ancient times to the present.

Sources
"Fralin Museum of Art." Wikipedia, the Free Encyclopedia. Accessed March 31, 2017. https://en.wikipedia.org/wiki/Fralin_Museum_of_Art.

"History." The Fralin Museum of Art, U.Va. Accessed March 31, 2017. http://uvafralinartmuseum.Virginia.edu/history.

Fralin Museum in the Bayly Building; image by SharpCrumbs - Own work, CC0, https://commons.wikimedia.org/w/index.php?curid=24623786.

Additional Information