Wakehurst - The Van Alen Mansion
Introduction
Built in 1884 by Dudley Newton and Charles Kempe, Wakehurst, or what used to be the Van Alen Mansion, is a Gothic Revival style building located in Newport, Rhode Island. It is almost an exact replica of Wakehurst Place in England with similar architecture and gardens. The building contains beautiful stained glass windows and chandeliers. It was requested to be built by James J. Van Alen to distract him of his grief after the death of his wife. The former mansion is now owned by Salve Regina University and used as a center for students.
Images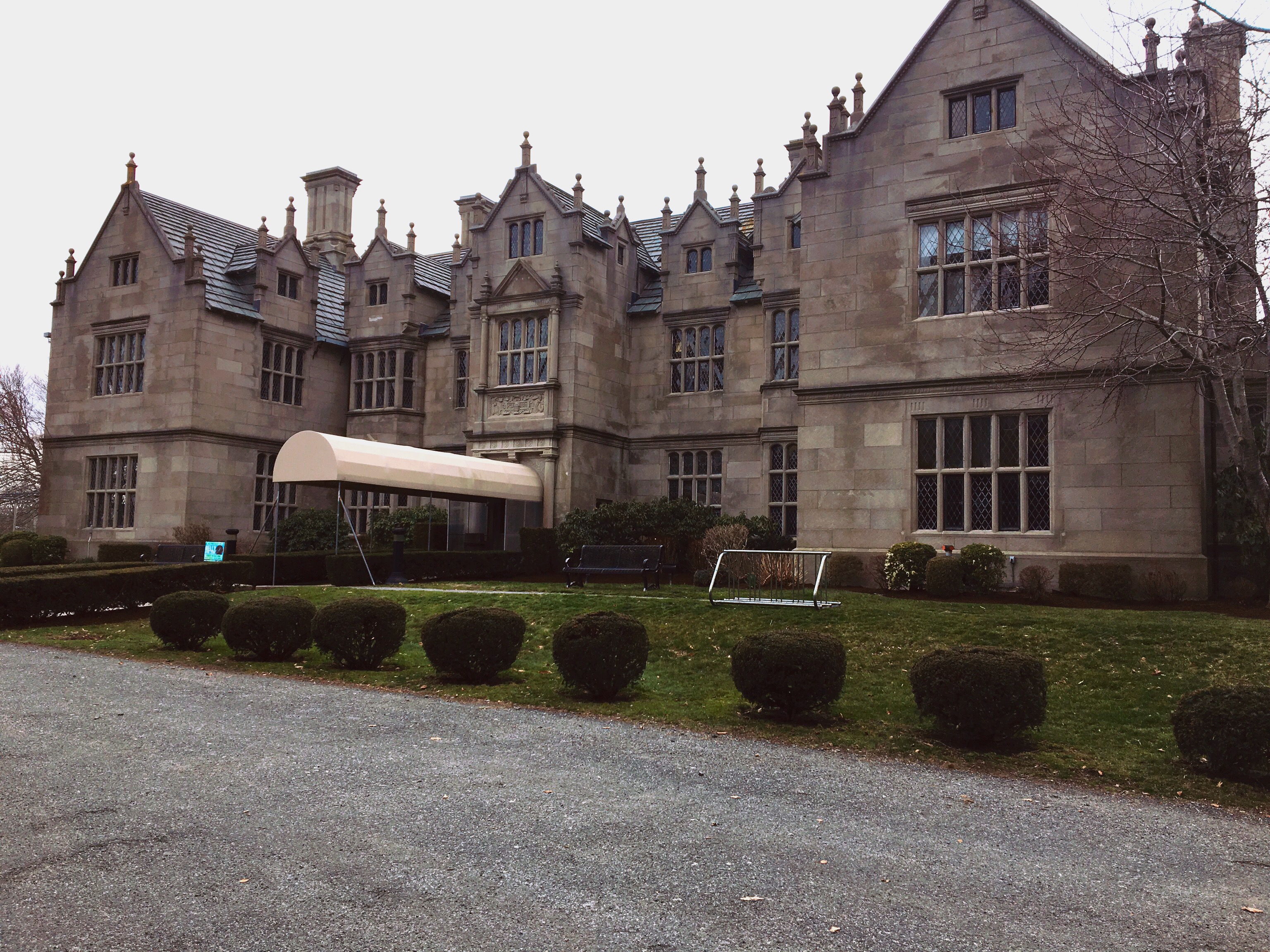 Replica fireplace inspired by Wakhurst Place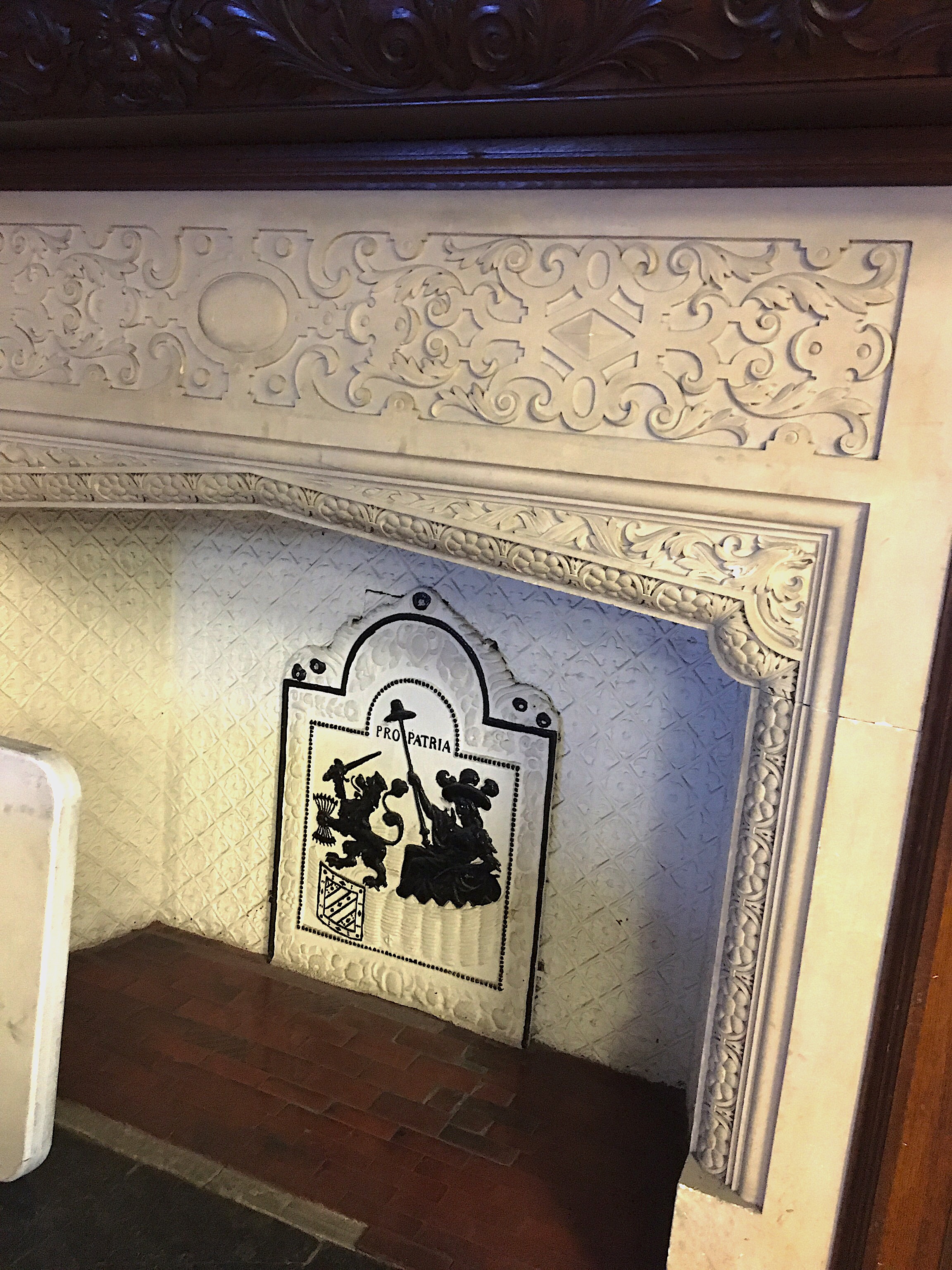 Stained glass windows designed by Charles Kempe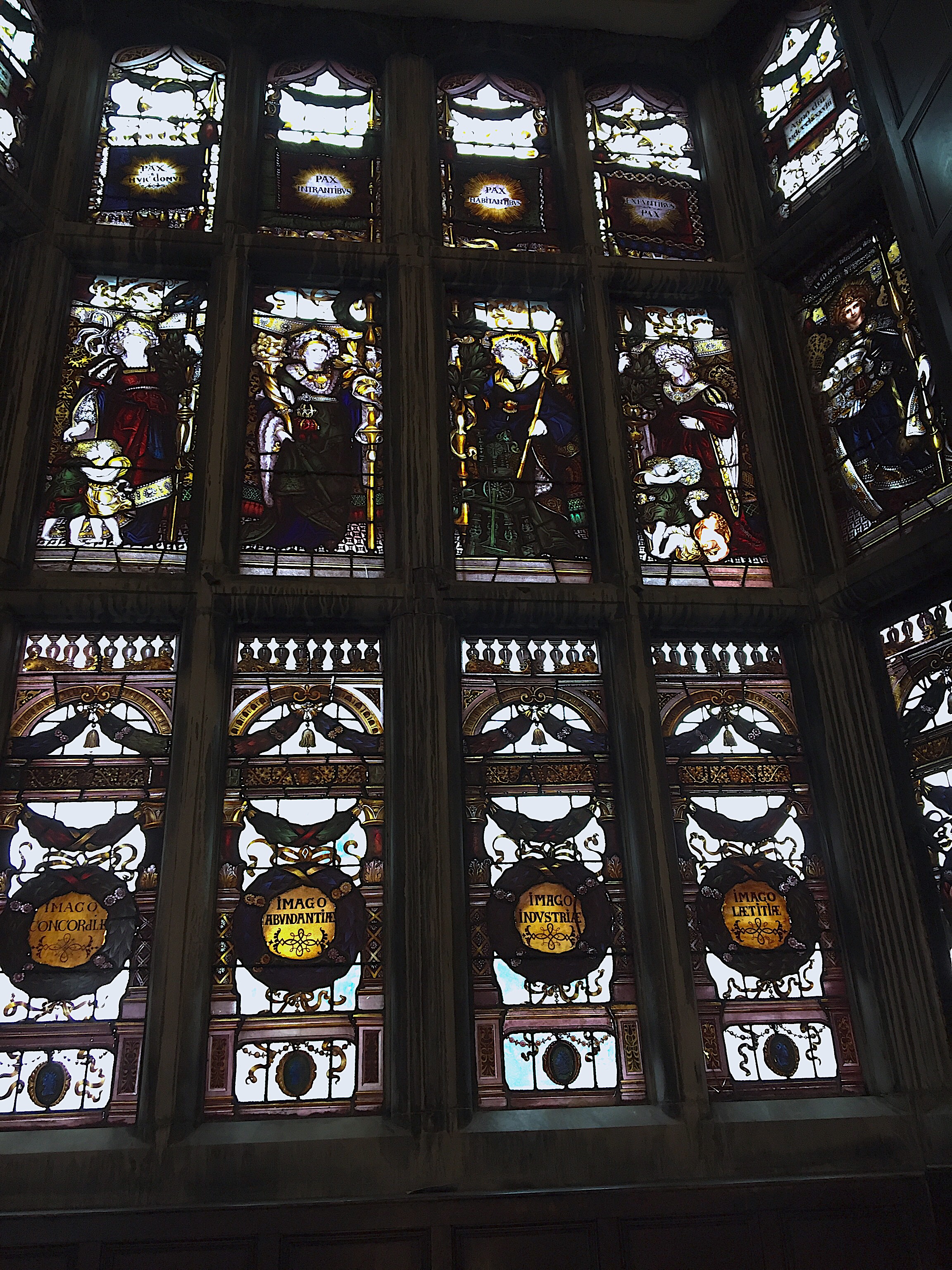 Gothic Revival Style ceiling by Dudley Newton with stained glass windows by Charles Kempe in the background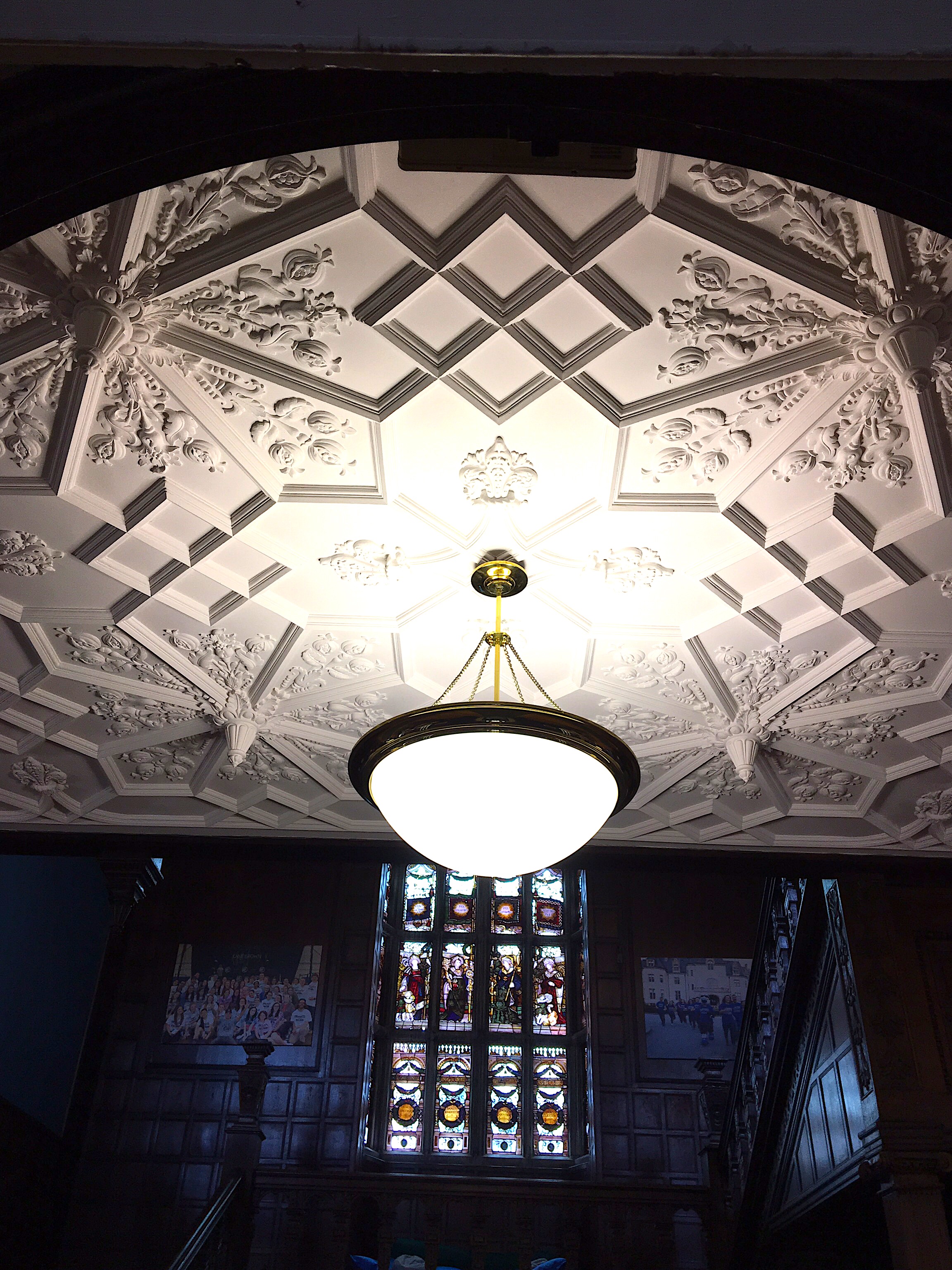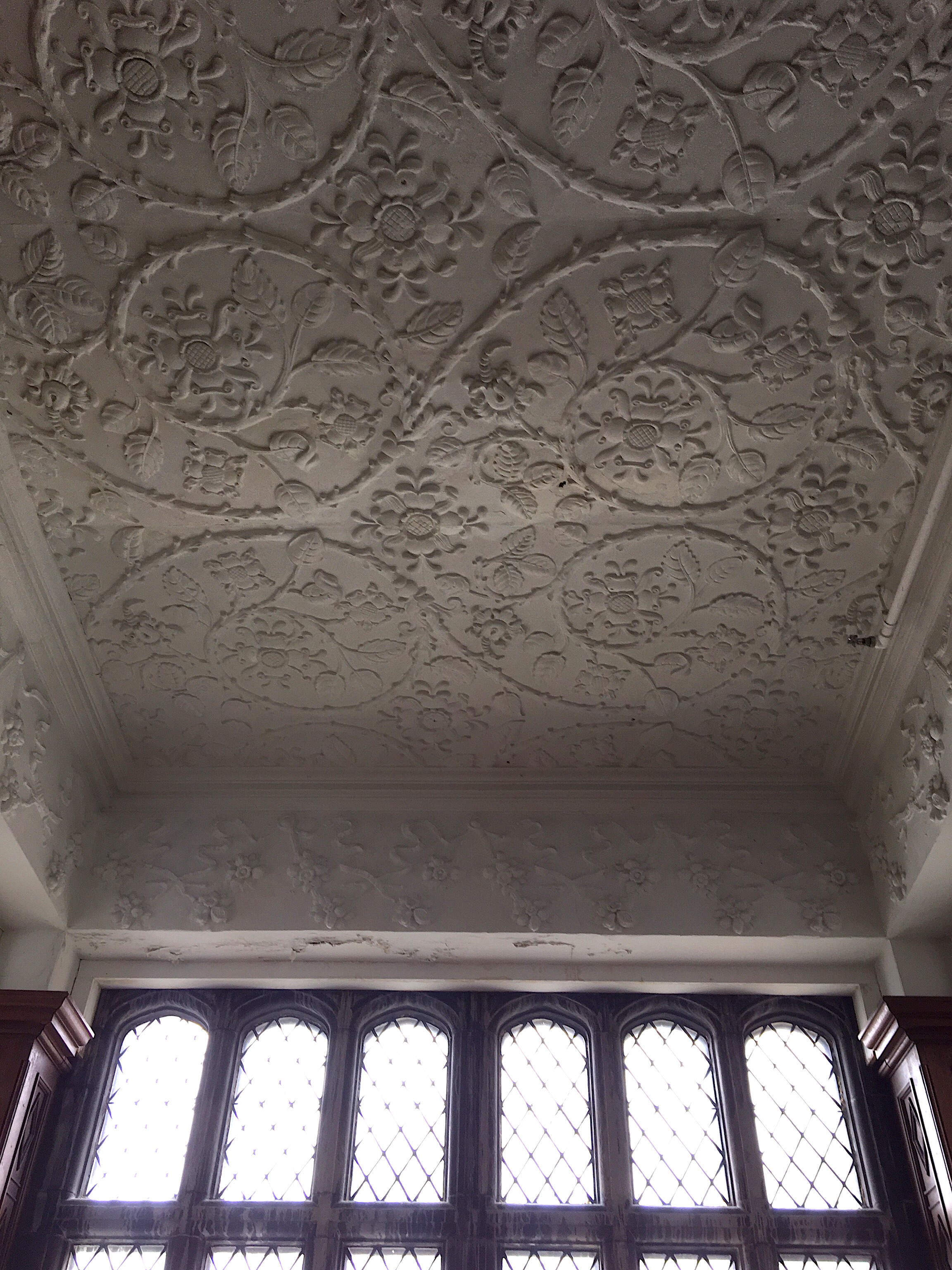 Exterior view of the west wing windows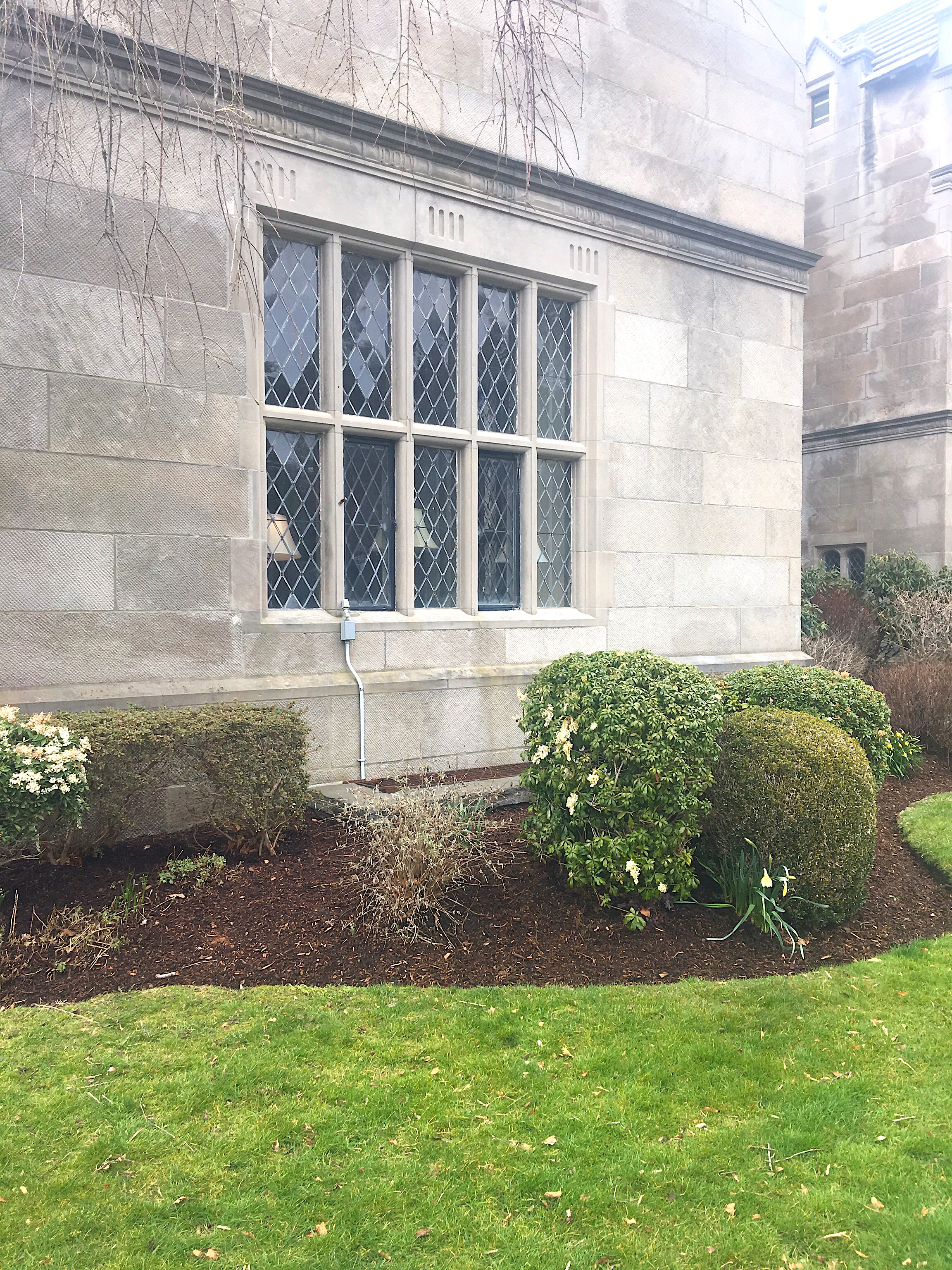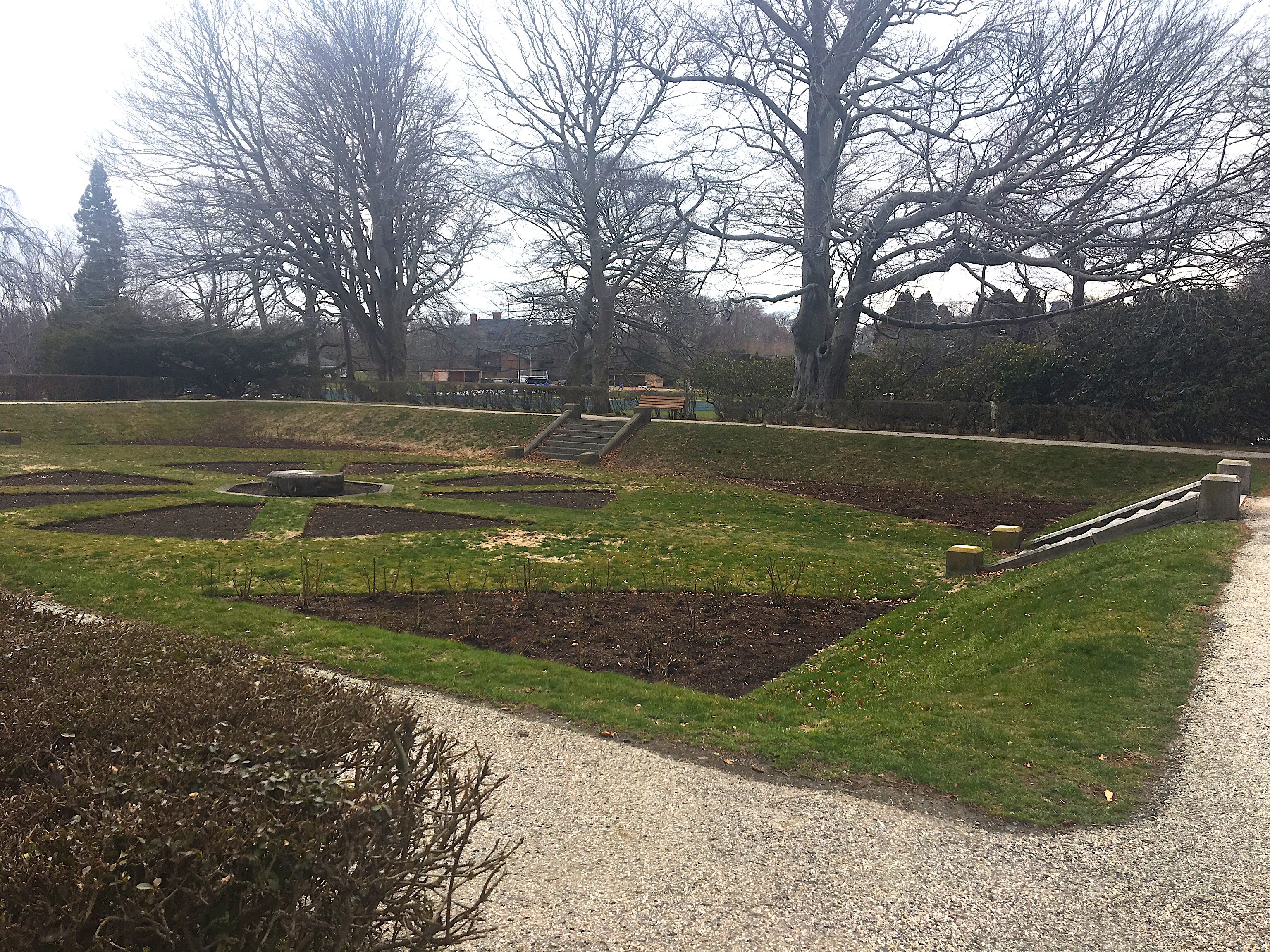 Backstory and Context
Located in Newport, Rhode Island, this estate was built in 1884 by architects Dudley Newton and Charles Kempe. This Gothic Revival style building, also called "The Van Alen Mansion", was built for James J. Van Alen, whose father, James H. Van Alen, was a Civil War General. Their family's fortune came from railroads and interests in banking. Because of this fortune, James H. had a large estate called "The Grange" which was originally located behind the Wakehurst building and also where James J. lived with his father.
In 1875 he married Emily Astor who passed away after only 8 years of marriage. This caused James J. to grieve deeply, and it likely influenced him to build a new estate just for him to take his mind off of Emily's death. His father purchased land adjacent to his estate and hired Dudley Newton and Charles Kempe to design and build the Gothic Revival styled home. James J. wanted to replicate Wakehurst Place, an Elizabethan mansion located in Sussex, England. Not only did he want to replicate the exterior and interior architecture and design, he was also intrigued by the mansion's famous Kew Gardens. He had a sunken garden constructed in the west wing of the yard to protect his flowers from the harsh ocean winds. The estate also featured 6 other gardens, 11 greenhouses, and imported trees from several different countries. It took approximately six years to fully complete the building of Wakehurst including the iron gates at the front of the house and the stone walls that surrounded it. The cost to build this estate was estimated to be around $750,000, which today would be the equivalent of $13,000,000.
Van Alen hired Charles Kempe who specialized in Victorian stained glass windows. The two had already met once before in England when James J. was visiting Wakehurst Place in Sussex. Kempe designed over 4,000 windows including ones for altars, churches, and cathedrals in his home country of England. His work spread throughout the country and eventually the world, which then caused much influence and inspired several other styles to emerge from his infamous designs. The figures usually seen in his designs are saints and even angels, which can be seen in the stained glass windows of Wakehurst today.
Unique designs covered the ceilings of all 3 levels of the mansion which was done by Dudley Newton, a local architect from Newport. The interior of Wakehurst was also filled with unique imported items from Europe, including furniture, such as antique English chairs from the 17th century, and rare beds painted and gilded from George Hepplewhite, an English furniture maker from the 18th century. The dining room interior was also imported from Belgium, and there were Dutch paintings hanging on the walls of the two 64 foot Halls located on both the first and second floor. The front Hall, located on the first floor, featured rare and valuable china, Oriental rungs, tapestries, and Chinese porcelain. At the foot of the staircase were Tudor banquet tables and cabinets. The Hall on the second floor included Queen Anne chairs, cabinets, chests, trunks, and hanging candle lamps. Fireplaces located throughout the mansion were also imported from Europe. Van Alen wanted everything imported from England, and most of what could not be imported was replicated.
James J. Van Alen passed away in 1923 leaving the mansion to his son James L. Van Alen and his wife Margaret Louise "Daisy" Van Alen Bruguiere. The couple used it as a summer home while their main estate was located in New York City. After James L. had passed, Maragret was left with the mansion which she then decide to live in all year round, selling their house in New York. Margaret eventually passes away in 1969, but up until then she had continued to live in the mansion and employ staff of up to 23 people in order to maintain the estate. This included maids, housekeepers, and even gardeners. After several auctions and millions of dollars of Van Alen belongings were sold, Salve Regina University had bought the building for about $200,000. Wakehurst is currently in use as an student center at Salve Regina University.
Sources
L., Van Alen William. Wakehurst. Philadelphia: Numismatic and Antiquarian Society of Philadelphia, 1974. Print.
Yarnall, James L. Newport through its architecture: a history of styles from postmedieval to postmodern. Newport, RI: Salve Regina U Press in association with U Press of New England, Hanover and London, 2005. Print.

Cloutman, Paul. Royal Botanic Gardens, Kew Wakehurst Place: a souvenir guide. Kew: Royal Botanic Gardens, 2002. Print.

Additional Information