Cape Fear Club (circa 1898)
Introduction
Founded in 1866, the Cape Fear Club is a professional men's club. It is one of the oldest social clubs of continuous existence in the Southeast. The club, which remains an all-male organization, has switched locations several times through downtown Wilmington. One of the buildings sold to the club in 1888 was the former house of banker James Dawson, on the northwest corner of Front and Chesnut St., which was torn down in 1913 and stands as the Murchison building today. The Cape Fear Club serves as a prominent setting in the novel Cape Fear Rising by Philip Gerard, which is based on the events of the 1898 Wilmington Coup d'etat.
Images
This building served as the former location of the Cape Fear Club on the Northwest corner of Front and Chesnut st. It was purchased by the club in 1888 and torn down in 1913 to build the Murchison building. (Dr. Robert M. Fales Collection).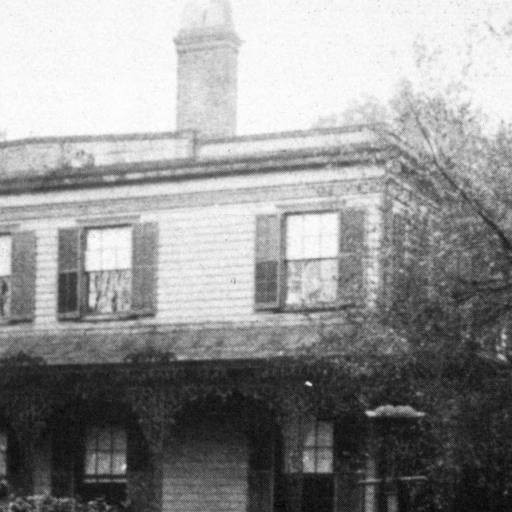 Current official building of the Cape Fear Club, at 206 Chesnut St. This brick Neoclassical Revival structure has been used by the men's club since it was constructed in 1913. (Cape Fear Historical Institute).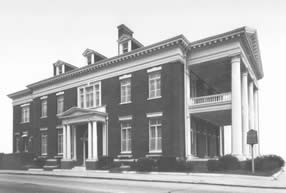 Backstory and Context
The Cape Fear Club was referenced multiple times in Philip Gerard's
Cape Fear Rising
. The gentlemen's club first has significance to the reader by serving as the setting where the protagonist of the novel, Sam Jenks, meets with his cousin Hugh McRae several times. The environment and atmosphere of the club was described as:
"In the dining room of the Cape Fear Club, which billed itself as the second-oldest men's club in the South, the air was cool and the dim light was easy on the eyes. Overhead, electric ceiling fans rotated lazily, gently humming. [...] A dozen early luncheon patrons sat in twos and threes over linen tablecloths and silver place settings, talking business-- attorneys, importers, aldermen, wholesalers. Members and their guests. White men who owned things. [...] Men came and went seriously, without socializing-- no visiting table to table. This was a place of business, of public privacy, each table a confidential enclave."2

The Cape Fear Club was also used as a tool by Colonel Waddell, an influential white supremacist and former Confederate, later in the novel to intimidate African-American leaders during a meeting: "It was unprecedented that a delegation of Negroes be ushered into the Cape Fear Club through the front door. It was Waddell's idea: bring them into the big house, let them see the world the were up against."2 Waddell hoped that the extravagance and wealth that the club displayed would discourage their African-American rivals.

The men's club represented exclusivity within the white upper class in 1898 Wilmingtonian society that mostly descended from antebellum aristocracy. The characters in the novel who frequented the Cape Fear Club were also the conspirators of the Wilmington coup d'etat and race riot, which serves as the climactic event of the plot. The limited acceptance by the club is connected to the racial attitudes possessed by these white businessmen. In the novel, Harry Calabash explains to the protagonist Sam, who is a newcomer to Wilmington, "Racism, that's just a special case of class snobbery. The people you don't want in your club."2 Gerard specifically references the Cape Fear Club in this scene when Harry tells Sam, "A man's class is the most important class of all. Got to be born into it, or buy your way in, if they'll let you. Like that place your cousin takes you for lunch." In the novel, the "Secret Nine" orchestrated the coup by working in a tightly knit circle and kept their intentions hidden to the public. This could reflect among the political values present at the time in Wilmington that determined whose opinion was important based on socioeconomic and racial status.

The Cape Fear Club continues to exist today as an all men's club and still maintains a reputation of being very exclusive and private. Reviewers described the club as an "old southern men's fraternity", and pointed out the lack of diversity by describing most of the members as "old rich white men."1
Sources
"Cape Fear Club." Waymarking.com. April 2, 2007. http://www.waymarking.com/waymarks/WM1CBR_Cape_Fear_Club_D71_Wilmington_NC.

Gerard, Philip. Cape Fear Rising. Winston-Salem, North Carolina: John F. Blair, 1994.

Steelman, Bennett L. Cape Fear Club. NC Pedia. January 01, 2006. Accessed March 31, 2017. http://www.ncpedia.org/cape-fear-club.3


Additional Information