Fisk University Academic Building (formerly Carnegie Library)
Introduction
The Fisk University Academic Building (formerly Fisk University Carnegie Library) is located on the campus of Fisk University, a historic Black college in Nashville. The Fisk University Carnegie Library was constructed in 1908 partly through a grant by millionaire philanthropist Andrew Carnegie. It was the very first large building designed and built by Moses McKissack III, one of the first professional African-American architects in America, and was constructed in the so-called Classic Revival style. McKissack would later be a co-founder of the firm of McKissack and McKissack, the first Black-owned architectural firm in the United States. This and three other buildings in the Nashville area were designated by the National Register of Historic Places (NRHP) as the most important structures designed and built by McKissack between 1908 and 1930, the years in which he established his reputation. Along with the three other Nashville buildings designed by McKissack, it was entered in the National Register of Historic Places in 1985.
Images
The Fisk University Carnegie Library - early 20th Century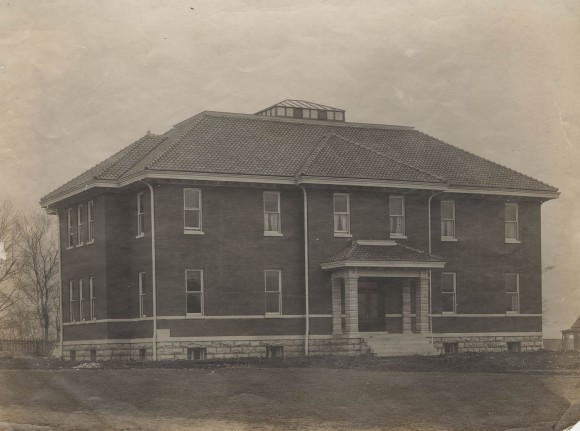 Fisk University Academic Building today - front view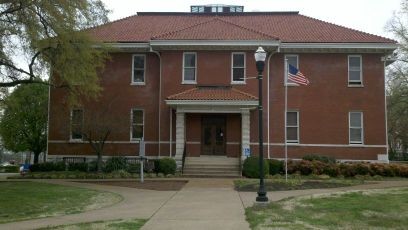 Fisk University Academic Building - front and side view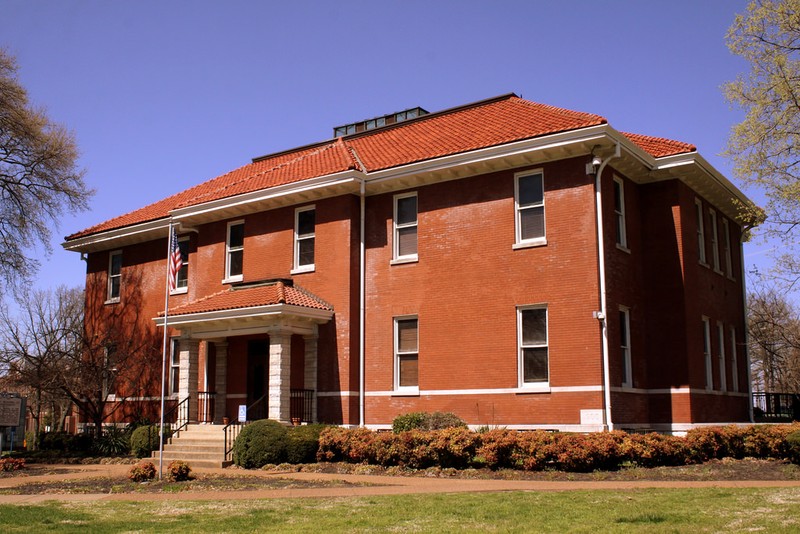 Marker for the Fisk University Academic Building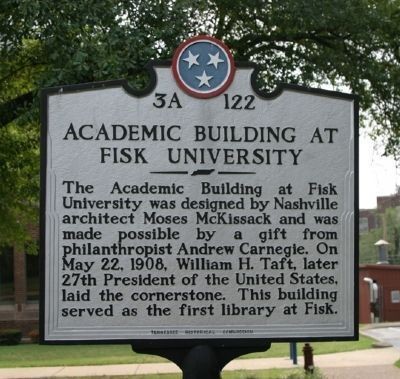 Backstory and Context
In late 1865, a location for a new school for African-Americans was established at a former Army barracks in Nashville by Clinton B. Fisk, an ex-Union officer in the Civil War and a commissioner of the Freedmen's Bureau of Tennessee; the school was named in Fisk's honor. The first classes took place there in January, 1866. Within the African-American community, the soon-to-be university would become a leader in higher education, art and music. Among its faculty, board and graduates would be such luminaries as W.E.B. DuBois, Booker T. Washington, John Lewis and Aaron Douglas. In the late 19th Century, the University possessed a library, but this was at first located in a wing of the campus' main building, Jubilee Hall, as there was not yet a separate building to house the collection. It was later moved to a floor in a men's dormitory.

Because of the expansion of the university, of the needs of its students and of the library collection itself, the institution in 1905 requested a grant for a new building from noted philanthropist Andrew Carnegie. Carnegie approved a grant of $20,000 (a very large sum at the time) on the condition that the University provide matching funds for the library's upkeep. The commission to design and construct the new building was given to Moses McKissack III, the grandson of a slave from West Africa. That slave, also named Moses McKissack, was trained by his master as a builder, and he passed on his knowledge to his son, Gabriel, who in turn trained his son, Moses. Moses McKissack III also worked for an architect in Pulaski, Tennessee, before moving to Nashville, and completed a correspondence course in architecture. The library was to be one of the first major structures designed by a Black architect anywhere in America; it is particularly significant that McKissack was able to build it in the segregated South. In the year before McKissack began construction of the library, he was listed in the city directory as a "contractor." In the year the library opened, 1909, he was listed in the same source as a "colored architect."

The ground for the building was broken in May 1908, and the cornerstone was laid later that month by Secretary of War (and future President) William Howard Taft. The library officially opened on February 25, 1909; at the time, it was considered "one of the South's finest" university libraries. The new two-story brick building was designed in what the NRHP's nomination form calls "a restrained Neo-Classic style," included a stone-columnned porch, a stone belt course and a large hipped roof of clay tiles and bracketed eaves. The interior contains a two-story light well which provides illumination. The interior walls were of polished oak, and the furniture at the time was made of the same hard wood, while the floors were lined with cork to muffle noise. The library's collection of nearly 9000 volumes were housed in modern steel shelves.

In addition to its function as a library, parts of the building were used as a women's gym, as rooms for seminars, and even as residences for female boarders. A former boarder has described the extreme difficulty of maintaining quiet for the benefit of those who had come to the library merely to study. Extensive interior modeling was done on the structure in 1926-1927, which improved the building both for practical purposes and aesthetically. However, only a few years later, the entire collection was moved to a new location, Cravath Hall. (The John Hope and Aurelia Elizabeth Franklin Library, completed in 1969, currently houses Fisk's entire collection.) The former library is still in use as the Academic Building of Fisk University.

As for Moses McKissack III, he was soon joined by his younger brother Calvin, who together launched McKissack and McKissack, the first architectural firm in the United States owned by African-Americans and organized and staffed by Black architects and draftsman. Although no longer located in Nashville, McKissack & McKissack exists today: one of Moses McKissack III's granddaughters, Cheryl McKissack Daniel, is currently its President and CEO.


Sources
Thomason, Philip; Draeger, James. "McKissack and McKissack Buildings in Nashville (1908-1930)." U.S. Dept. of the Interior National Park Service - NRHP Inventory - Nomination Form. Publication date: 1/2/85. Access date: 4/6/17. URL: https://npgallery.nps.gov/pdfhost/docs/NRHP/Text/64000809.pdf.
Wynn, Linda T., "McKissack and McKissack, Architects (1905- )." Tennessee State University. Access Date: 4/6/17. URL: http://ww2.tnstate.edu/library/digital/mckissack.htm.
Daverman, Richard. "McKissack & McKissack, historic African-American architecture firm, files Chapter 7." Nashville Post. Publication date: 5/1/02. Access date: 4/6/17. URL: http://www.nashvillepost.com/home/article/20444304/mckissack-mckissack-historic-africanamerican-arch....
"About Fisk University." Fisk University website. Access date: 4/3/17. URL: https://www.fisk.edu/about.
"Fisk University: academic building (former Carnegie library)." Southern Places - CHP: MTSU Center for Historic Preservation. Access date: 4/6/17. URL: http://digital.mtsu.edu/cdm/ref/collection/p15838coll4/id/3611.
"Fisk University Carnegie Library." Facebook. Access date: 4/6/17. URL: https://www.facebook.com/pages/Fisk-University-Carnegie-Library/377681448964280.
Fabke, John. "Library History-Fisk University Library, Nashville, Tennessee." pasturesoplenty blog (Library History Project). Published: 5/8/11. Access date 4/6/17. URL: https://pasturesoplenty.wordpress.com/2011/05/08/library-history-fisk-university-library-nashville-t....
"Cheryl McKissack Daniel."
McKissack & McKissack. Access date: 4/6/17. URL: http://www.mckissack.com/Images/userfiles/Cheryl.pdf.

Additional Information