Fox Oakland Theatre
Introduction
For most of the twentieth century, the Fox Oakland Theatre operated as a movie theater. It ceased operations in 1970, but reopened in 2009 as a concert venue. It was added to the National Register of Historic Places in 1979.
Images
Exterior of the Fox Oakland Theatre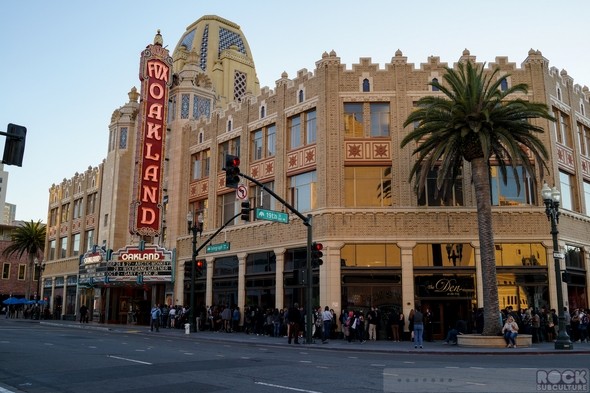 Interior of the Fox Oakland Theatre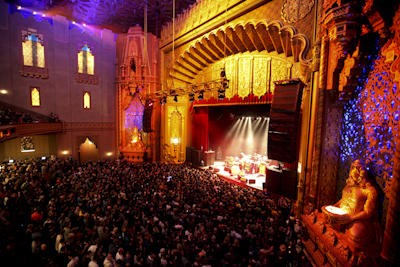 Backstory and Context
After two years of construction, The Oakland opened on October 27, 1928. It was the age of "movie palaces," and the Oakland was no exception; the house organ was a Wurlitzer Opus 1960 with 15 ranks of pipes and a staff of 150 people was needed to run the theater.

When the theater opened, an estimated 20,000 people thronged the building. At the time, the Oakland was the biggest theater in Oakland, and one of the first to show "talkies," or motion pictures with sound. The building itself, with its massive dome and Middle Eastern-inspired architecture, was a marvel.

The following year, the theater was purchased by William Fox and renamed the "Fox Oakland." For more than thirty years, the Fox Oakland was a staple of downtown San Diego, but suffered with the advent of television. The theater closed its doors in 1966, opening only sporadically over the next few years for special events. In 1973, the building survived an arsonist's fire but declined in subsequent years and narrowly escaped demolition more than once.

After numerous attempts to restore the theater, serious efforts at restoration began in the 1990s. In February of 2009, after sitting empty and largely decrepit for forty years, the Fox Oakland reopened as a music venue. In its most recent incarnation, the theater has hosted such performers as B.B. King, Bob Dylan, and Green Day. It is also home to the Oakland School for the Arts, a charter school founded in 2002 for arts students in grades 6-12.

The Fox Oakland was added to the National Register of Historic Places in 1979.
Sources
"Theater History," Friends of the Oakland Fox. 2012. Retrieved 9 April 2017. http://thefoxoakland.com/venue-info/history/Mailman, Erica. Downtown jewel shines anew.

East Bay Times. September 15, 2016. Accessed April 11, 2017. http://www.eastbaytimes.com/2009/02/12/downtown-jewel-shines-anew/.

Additional Information