MCAS Cherry Point
Introduction
Marine Corps Air Station Cherry Point was created in August 6th, 1941 and was originally named Cunningham Field. MCAS Cherry Point served a significant role in the area during World War II. MCAS Cherry Point was being relied on for use as an air station and also as a center for aircraft maintenance and training for Marines and soldiers to prepare for war.
Images
This is the main gate to MCAS Cherry Point with two AV-8B Harriers flying over.
This is the original Assembly and Repair building in 1944, which is now called the Fleet Readiness Center.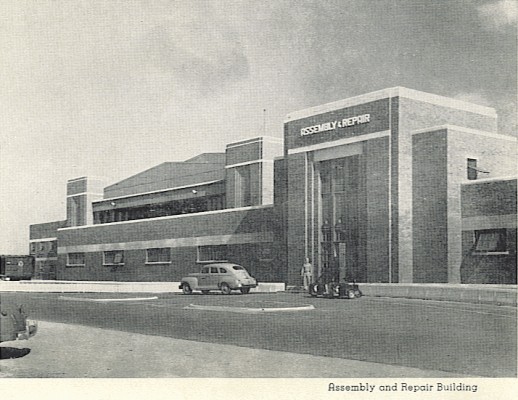 This is the Administration Building, which is still standing and still in use.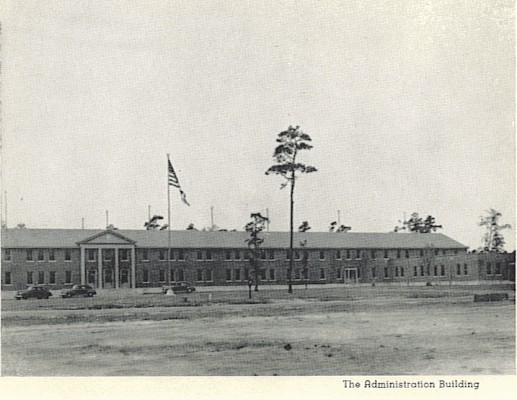 This control tower was built in 1944 and is still being used for its original purpose.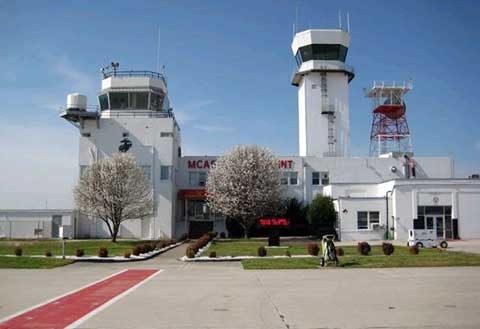 Backstory and Context
World War II was without question the biggest war to ever take place in history. On the day of December 7, 1941, Japan struck an attack on an American Naval fleet at Pearl Harbor. Three days later Germany and Italy then declared war on the US. After war was declared, it then started what we know as, World War II, and it lasted all the way up to the year of 1945. Within this war, Military bases, POWs, and POW camps played a large role on both American and German soil.
Cherry Point, located in Havelock NC, is home to the Marine Corps Air Station. This air station was first established on the 6th of August, 1941, residing on 8,000 acres south of New Bern, North Carolina. The Marine Corps Air Station was originally named Cunningham Field, before being renamed. On May 20th, 1942, the field would be named after Lt. Col. Alfred A. Cunningham, the very first marine aviator, before the change to the MCAS. Cherry Point, NC, MCAS, would serve in numerous ways during the war.
Before being first built, on January 9, 1941, Governor J. Melville Broughton would comment on the defense buildup of North Carolina in his inaugural address. This will eventually lead to the formation of the air bases. The Governor states;
Not since the beginning of our national history has our democracy been so threatened. Acutely conscious of the danger, our nation is girding itself for defense and preservation. The Congress of the United States… in the session of 1940 appropriated for defense the largest sum of money ever before appropriated in a similar length of time by ay nation on earth, in peace or war (Duvall).
This sentiment led to the creation of the air stations 1941. This future air station would serve as a defense mechanism allowing forces at the time to fight back. Cherry Point Air Station would not be the only base being built, however, many more would be constructed. This is why the defense budget of 1940 would be the largest sum of money ever appropriated in similar length of of time by any nation on earth, in peace or war. (Duvall).



The air station also served as a base for antisubmarine operations consisting with the Army Air Corps and Navy units each sinking a German U-boat just off the North Carolina coast in 1943 (Bell). It was a mystery of where the sunken U-boat was located. The German U-Boat would go undiscovered for about 70 years until four years of research came to end with a sonar scan. (Budday). With help from a group of researchers and marine archaeologists from East Carolina University, they were able to pinpoint the German U-Boat's location. However, the soldiers that would be on the U-Boat would be taken and placed into POW camps across North Carolina. For example, Camp Battle, Camp Butner, and Mackall. Any U-Boat that would be sunk had prisoners to be put into camps, such as the one MCAS had dealt with.
Sources
Bell, John L. "Cherry Point Marine Corps Air Station."
NCPedia, http://www.ncpedia.org/cherry-point-marine-corps-air-stati.
Buday, Ken. "Mystery Solved: Discovery of Sunken WWII Sub Detailed." Havelock News, 12
Jan. 2015, http://www.havenews.com/20150112/mystery-solved-discovery-of -sunken-wwii-sub-detailed/301129966.
Duvall, John S. "North Carolina's Wartime Miracle: Defending the Nation."
North Carolina Museum of History, http://www.learnnc.org/lp/editions/nchist-worldwar/5907.
Additional Information