Independence High School
Introduction
Harry S. Truman graduated in 1901 as a member of the second graduating class from Independence High School. In addition to Harry S. Truman, other members of the graduating class included Charlie Ross, who later became his White House press secretary, and Bess Wallace. As seniors, Harry Truman and Charlie Ross worked to create The Gleam, which was the school's first yearbook. Independence High School was built in 1898, and included a library, art studio, chemistry laboratory, and hardwood floors.
Images
Harry S. Truman's graduating class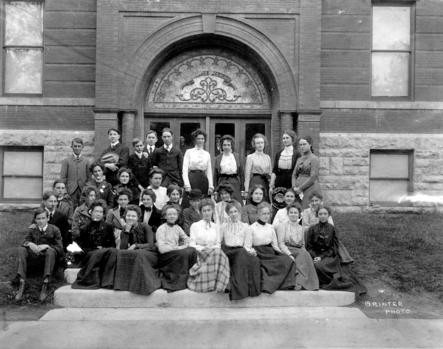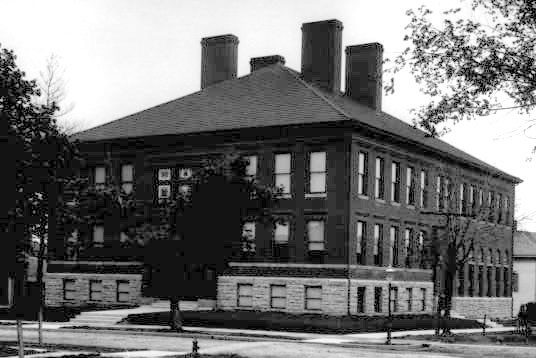 Backstory and Context
The school, built in 1898, was located on the corner of Pleasant Street and Maple Street. President Truman attended the facility and graduated in 1901. In 1917 the new Chrisman High School was built on part of the same lot. The existing school (Independence High School) was used as an annex and housed the art department. While attending Independence High School, Harry Truman and friends created the school's first yearbook which was distributed at graduation. The Gleam is still the name of the yearbook given at William Chrisman High School. Ultimately, the building that Harry S. Truman and Bess Wallace were familiar with burned in 1939. President Truman's daughter, Margaret, attended Chrisman High School from about 1938 to 1942.
William Chrisman High School moved to its current location off of 24 Highway in 1956 when additions were added to the Ott Elementary School. When the Harry S Truman Historic District was being nominated to the National Register of Historic Places in 1971 the lot was occupied by the Palmer Junior High. The north end of the building, located at 218 North Pleasant Street, was used as the Independence School District's Board of Education for more than 5 years. Today the building houses the Palmer Center, which is used to serve the older adults of Independence.
Sources
Franklin-Weekley, Rachel (Evans Hatch & Associates). "Harry S. Truman Historic District." National Park Service - National Historic Landmark Nomination Form, p. 214-215. https://dnr.mo.gov/shpo/nps-nr/71001066.pdf.
Grinter Photo. "71-2401." Digital image. Truman Library Photographs. Accessed April 27, 2017. https://trumanlibrary.org/photographs/view.php?id=4028.
Image of Harry S. Truman and his graduating class in front of Independence High School.
"Independence High School."
Harry S. Truman Library and Museum.
n.d. https://trumanlibrary.org/whistlestop/hh/indep_12.htm (accessed April 27, 2017).
Page, Roberta.
Truman's School Years.
May 1984. https://www.trumanlibrary.org/whistlestop/trumanfile/schlears.htm (accessed April 13, 2017).

"The Palmer Center." Palmer Center - City of Independence, Missouri. Accessed April 27, 2017. http://www.ci.independence.mo.us/parksandrec/Palmer.

Additional Information