First Presbyterian Church
Introduction
This historic site is significant because it is where Harry Truman and Bess Wallace first met in 1892. The beginning of a life long relationship found its roots in First Presbyterian. Truman recalled, "I was six years old. In my Sunday school class was a beautiful little girl with golden curls. I was smitten at once and still am – she's Mrs. Truman and the mother of the loveliest daughter 'in the world.'" Many other prominent leaders attended the church and are still members today such as the Wallace families, and the Christian Ott family. Prior to the church being completed, The Kansas City Times hailed the church as being "the handsomest and most tastefully fitted church edifice between Chicago and Denver."
Images
A street view of the exterior of First Presbyterian Church in Independence, Missouri, where Harry S. Truman first met Bess Wallace. Ca. 1948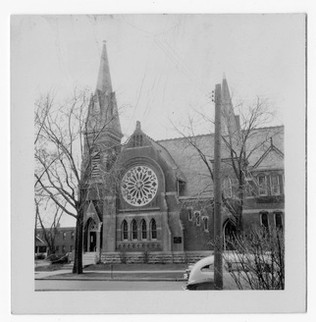 A street view of First Presbyterian Church in Independence, Missouri as it looks today.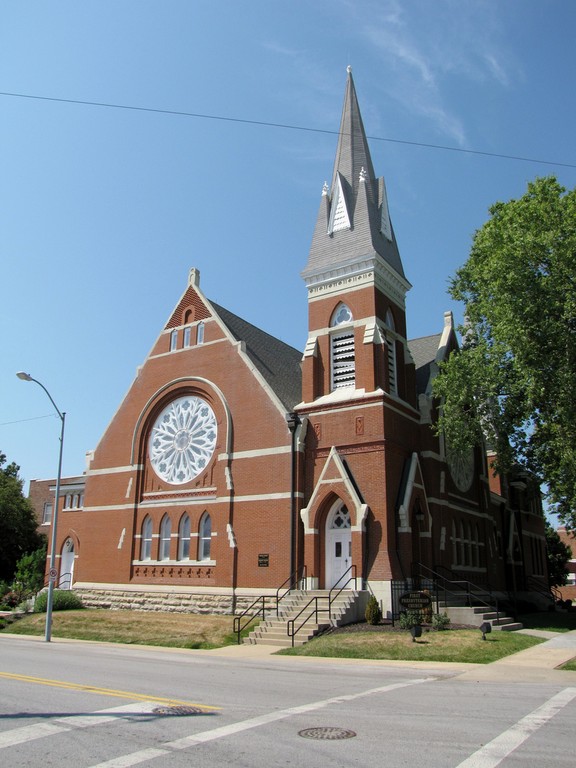 Backstory and Context
First Presbyterian was established in 1841. In 1913 First Presbyterian merged with Liberty Street Cumberland Presbyterian which was established in 1826. The present building was erected in 1888. First Presbyterian is a brick church, irregular in shape. It has a complex gabled roof with gable projections and a bell tower capped with octagonal spire. The church has a red brick exterior with three elaborate rose windows each centered in a gable end with arched lancet windows and square-headed windows. It is located on 100 N. Pleasant Avenue in the National Truman Historic District.
Sources
Truman National Historic Landmark Nomination
"History." First Presbyterian Church of Independence. Accessed April 27, 2017. http://fpcindep.org/?page_id=6.
Additional Information