Former Site of Merritt College
Introduction
Though it now occupies another location, Merritt College was originally located on Martin Luther King, Jr. Way, near the home of Black Panther co-founder, Bobby Seale. The college was a hotbed of political activity and was where Seale met Huey Newton. The pair founded the Black Panthers in 1966. The college also had the nation's first Black Studies Department, created in 1964.
Images
Black and Chicano students protesting the closure of Merritt College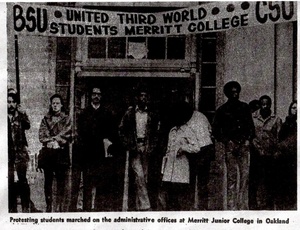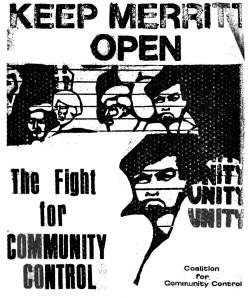 Backstory and Context
The original Merritt College, located on what was then Grove Street, began as a facility to teach the children of University of California faculty in 1923. After closing during World War II, the school reopened as the Merritt School of Business in 1946. It was later renamed Merritt College.

As white residents moved out of North Oakland following World War II, the Black enrollment at Merritt increased. There was a fourfold increase in the number of Black students at Merritt from 1964 to 1969, and many of the students were politically active on campus. In the mid-1960s, students at the college organized Soul Students Advisory Council (SSAC) and began to advocate for a Black studies program and Black faculty and administrators.

In 1965, SSAC began to push Merritt's administration to hire a Black counselor specifically for Black students. One of the organization's members, Bobby Seale, threatened to shut the campus down if the hire was not made. Sid Walton was the college's first Black faculty member and served as an adviser for SSAC.

It was in late 1966, just months after the formation of SSAC, that Bobby Seale met another Merritt student, Huey Newton. Inspired by their earlier work with SSAC and other Black revolutionary organizations, Newton and Seale formed the Black Panther Party for Self-Defense. The move was partly in response to the killing, in October of that year, of Matthew Johnson, a sixteen-year-old, unarmed Black man by a San Francisco police officer. The rioting that followed Johnson's death convinced Newton that the Black community's anger could be harnessed to resist the police.

Despite the objections and protests of numerous students, the college was moved from its Grove Street location to the hills of East Oakland in 1971. Though the move was planned several years beforehand, the relocation was seen by many Black and Chicano students as a response to student activism on the largely minority Grove Street location. The Grove Street campus remained open for a few more years, but was declared seismically unsound in 1975. After sitting empty for a number of years, the site was reconditioned and is now home to Children's Hospital and Research Center Oakland.

The site was added to the National Register of Historic Places in 1992.
Sources
Rasheed El Shabazz, "'Mau Mau Tech': The Making of a Black University in Oakland, California, 1960-1970," UC Berkeley McNair Scholars Journal, Spring 2014. Retrieved 21 April 2017.