Anne Charlotte Lynch's House
Introduction
The home of Anne Charlotte Lynch served as a gathering place for many up and coming authors residing in New York during the mid 1800s. Every Saturday evening, Lynch welcomed guests such as Edgar Allen Poe, Margaret Fuller, Ralph Waldo Emerson, Walt Whitman, Herman Melville, and more. At these meetings, it was said that authors would exchange ideas, reflect on their work, and at times, share certain excerpts with their fellow authors. In addition to being a sculptor and hostess, Lynch was also an author herself, though she is most famous for hosting these meetings. She is credited with founding the modern book club in New York.
Images
Street View of 116 Waverly Place- home of Anne Charlotte Lynch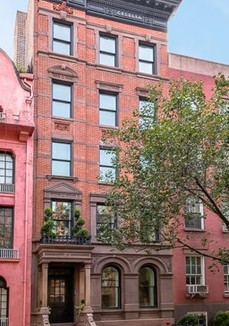 Backstory and Context
Anne Charlotte Lynch was born in 1815 in Bennington, Vermont, to parents Patrick Lynch of Ireland and Charlotte Gray of Vermont. After the passing of her father in 1819 who died in a shipwreck, Anne and her mother, along with older brother Thomas, moved to Hartford, Connecticut. It was here that she attended the Albany Female Academy, from where she graduated in 1834. Upon graduating, Anne began teaching at Albany and Providence. It was during this time that she began her literary meetings, which were so popular it was said that "the very best literary society of Providence could be found in the parlor of Miss Lynch." In 1845, Anne and her mother moved to their new home on 116 Waverly Place, New York.

Anne opened her doors to the New York literati community at her literary meetings almost as soon as she unpacked her bags. It was here that her soirees became most influential and coveted, with names like Edgar Allen Poe, Margaret Fuller, Ralph Waldo Emerson, Walt Whitman, and Herman Melville often frequenting her parlor every Saturday night. The Literary News journal recalled in 1894, "She received every Saturday evening. American literature was just beginning to make itself felt, and her house became the weekly gathering place for aspiring poets, writers, and novelists."

It was here that Edgar Allen Poe first presented "The Raven," reciting it before the crowd that had gathered that Saturday night. At this time, Poe was a regular at the Lynch house, but when flirty correspondence was brought to light between him and Fanny Osgood, another Saturday night regular, Anne kicked him out of the social circle. The correspondence was a huge scandal, as both parties were married. Anne's reaction reflects the deep devotion she held towards preserving the purpose of the literary circle, discussions that focused primarily on literature instead of scandal.

Today, 116 Waverly Place is little more than an expensive, upscale New York apartment. There are no visible markers which designate the house as one that once hosted the most prestigious literary names in American history, but such a history is there to be found for those who seek it out.

Sources
Anne C. Lynch. Accessed April 07, 2017. http://www3.nd.edu/~wcawley/lynchbio.htm.

History of American Women. Anne Lynch Botta. Accessed April 14, 2017. http://www.womenhistoryblog.com/2014/01/anne-lynch-botta.html.


Additional Information