Reading Public Library
Introduction
The Reading Public Library is the main library in the City of Reading. The library first opened to its subscription holders in 1763. The Reading Public Library is the sixth oldest public library in the United States
Images
This image shows what a busy Friday morning in the library looked like in 2011.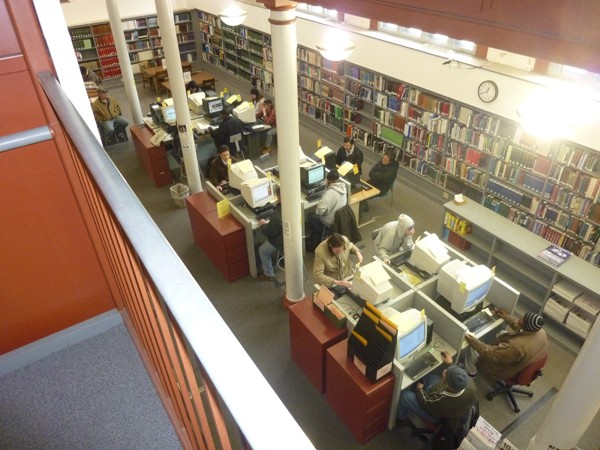 This photo is actually a painted image of what the library and surrounding area of Reading looked like in the 50s/60s.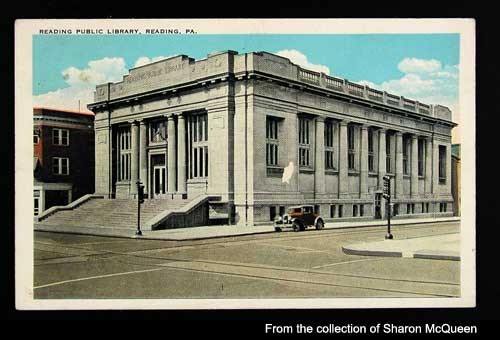 Backstory and Context
In 1763, six men gathered at a tavern in Reading, Pennsylvania to discuss an English subscription only library available to those willing to pay for subscriptions. The Reading Public Library opened February 12th, 1763 just as that; a subscription only library. Subscriptions were $2 annually and the 5 cents a day for those who didn't have a subscription membership. The excitement over the library diminished and the library sadly closed 10 years later in 1774. All the books in the library were given out to subscribers for "safekeeping" in hopes one day the library would be re-opened.

January 8th, 1898, the library was officially re-opened after several attempts over many years of re-opening the library. The City of Reading did not want to re=open the library due to the amount of money and upkeep it required. At this opening, the library was named a "free of use to the public" library. The Reading community hoped this time the library would be a success.
Through years and years of the library opening, failing, closing, and then re-opening and closing, it had faced many setbacks, including structural. The building the library called home was very unsafe and needed a severe face lift. In May of 1910, Mr. Andrew Carnegie, a wealthy steel man from Pittsburgh, donated $100,000 to the renovation of the library's structure. It was suggested by board members of the library to as Carnegie and he decided to help. It took over a year to get everything done and accepted before the remodel, but the new home to the library began to be built in July of 1911.

Two years later the remodel was complete and on May 15th, 1913, the library was dedicated to the City of Reading. Although the library wasn't continuously opened for 250 years, it is the sixth oldest library in the United States. The library did go through another renovation from 1990-1993 to upgrade the interior of the library and fix any broken structure. Thanks to Andrew Carnegie and his dedication to helping the library in 1910,The Reading Public Library still stands in the same spot today and still is as beautiful as it was then.

***Fun Fact: Taylor Swift, a Reading, Pennsylvania native, donated $68,0000 worth of children's books to The Reading Public Library in 2011.
Sources
Pictures from Google

The Reading Public Library: 250 Years of Service and Tradition. Reading.lib.pa.us. Accessed April 30, 2017. http://www.reading.lib.pa.us/history.asp.



Reading Public Library. Wikipedia. February 25, 2017. Accessed April 30, 2017. https://en.wikipedia.org/wiki/Reading_Public_Library.


Additional Information