Weis House and Pottery Kiln
Introduction
NW corner of German and Duke Sts. In the early 1800s the Weis family began turning out a reddish brown pottery in a wooden house on this site. In 1815 a fire spread from the kilns behind the house and destroyed the wooden structure. The Weis's then built the large brick house. The smaller brick structure attached to the west side of the house became a shop for the display of Weis pottery ware, now prized by collectors. Like many of the products of early artisans, examples of Weis pottery may be seen at the Historic Shepherdstown Museum.
Images
Weis House and Pottery Kiln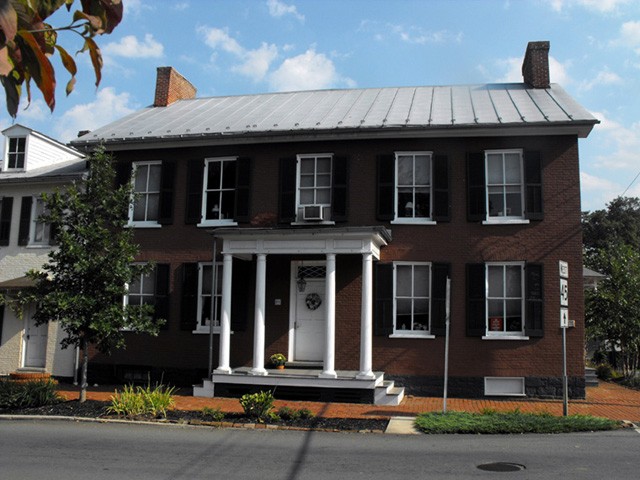 Backstory and Context
The Weis family moved to Shepherdstown around 1780. John George Weis had been living and working in Hagerstown, but he purchased a lot at the top of a rise on the west end of German Street. George Weis took over the kiln in 1804, upon his father's death. The Weis house burned in 1815, due to a fire from the kiln. George built a brick house with five bays, on the northwest corner of West German and North Duke Streets. The Weis Pottery used a low-fired clay, known as earthenware.
The Weis family became known for their storage jars, better bowls, pitchers, and other crockery containers. The containers were simple and functional, with no decoration, just a lip. Weis pots are unidentifiable, unless you know the provenance because they did not sign their work.
George Weis died in 1857, and the business was taken over by his son, William. The Weis pottery was another craft that became outdated, as stoneware was becoming popular because earthenware was more fragile. In the 1880s, the Weis pottery closed, and the remaining pottery was thrown into the river.
Sources
John George Weis Family. Historic Shepherdstown & Museum. Accessed July 14, 2017. http://historicshepherdstown.com/portfolio-item/john-george-weis-family/.


Additional Information