Women's Table
Introduction
The Women's Table was commissioned in 1989 to commemorate 20 years of coeducation in Yale College. It was designed by Maya Lin (BA 1981, M.Arch 1986). The numbers on the Table represent the female students enrolled at Yale, beginning in 1873, then believed to be the date of the earliest women to register in the School of Fine Arts (we now know that Alice and Susan Silliman enrolled in the Yale School of Fine Arts upon its establishment in 1869). The Yale Graduate School of Arts and Sciences opened to women in 1892, but Yale College did not have female undergraduates until 1969. The dates on the Table go up to 1993, when Lin completed work on the sculpture.
Images
The Women's Table stands outside Sterling Memorial Library (Yale University Visitor Center)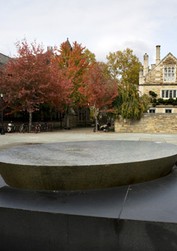 Backstory and Context
By 1965, 75% of colleges in the US were coeducational, but Yale was not yet among them. It was one of the last Ivy League institutions to accept female undergraduate students. Intermittent discussions about coeducation arose during the 1950s and 60s, and Yale considered uniting with Vassar, a women's college. Vassar, however, opted instead to remain independent and begin admitting men. In 1968, the Yale Student Advisory Board Committee held Coeducation Week on campus, inviting 750 women to stay in Yale dormitories and sample classes. Soon afterward, Yale President Kingman Brewster announced that, beginning in the fall of 1969, Yale would become coeducational.

588 women arrived on Yale's campus that fall: 230 as first-year students and 358 as sophomore and junior transfer students. At this time, only 43 of Yale's 839 faculty members were women (~5%), and of these, only 2 worked as tenured professors. Course offerings generally focused on men, ignoring women's contributions to history, literature, science, and other subjects. Housing options for Yale's new female students were less than ideal, particularly for transfer students, whose rooms were distributed among the residential colleges, located in female-only entryways. This arrangement both led to overcrowding in the entryways, and effectively hindered students from interacting and forming friendships with other students in the college. Athletic opportunities for female students were very limited. Yale officials initially deemed sports such as soccer dangerous for women, and female sports teams also had difficulty procuring adequate funding.

For more detail on the early years of coeducation at Yale, you can read the essay written by Yale College student Helen Price in the Yale Historical Review (available online in full).
Sources
Lim, Stephanie Yu. "Behind the Women at Yale Tour: An Interview with Alice Moore." Yale Women. Accessed May 04, 2017. http://www.yalewomen.org/women_at_yale_tour.

Miller-Bernal, Leslie, and Susan Poulson, eds. Going Coed: Women's Experiences in Formerly Men's Colleges and Universities, 1950-2000. Nashville. Vanderbilt University Press, 2004.

Price, Helen. "588 Superwomen: The Introduction of Coeducation at Yale, 1969-1973." Yale Historical Review 6 (2016): 64-74. http://historicalreview.yale.edu/sites/default/files/files/Price.pdf.

"Street Hall: Yale School of the Fine Arts." Yale University Visitor Center. Accessed May 04, 2017. http://visitorcenter.yale.edu/book/street-hall-yale-school-fine-arts.

"Women's Table." Yale University Visitor Center. Accessed May 04, 2017. http://visitorcenter.yale.edu/book/womens-table.

"Yale Will Admit Women in 1969; May Have Coeducational Housing." The Harvard Crimson, November 15, 1968. http://www.thecrimson.com/article/1968/11/15/yale-will-admit-women-in-1969/.

"Yale's First Women Ph.D.s." Yale University Visitor Center. Accessed May 04, 2017. http://visitorcenter.yale.edu/book/yales-first-women-phds-0.


Additional Information