Tobin House
Introduction
Built by flamboyant and controversial architect Willis Polk, the Tobin House is one of San Francisco's more curious structures. The style--Tudor Gothic Revival--in a sea of Victorians is unusual, but it's the scope of the home that is truly unique. Technically, the Tobin house is only one-half of what was intended to be adjoining homes.
Images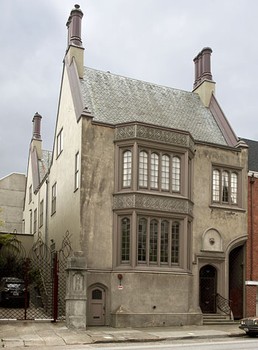 Detail of one of the Tobin House's windows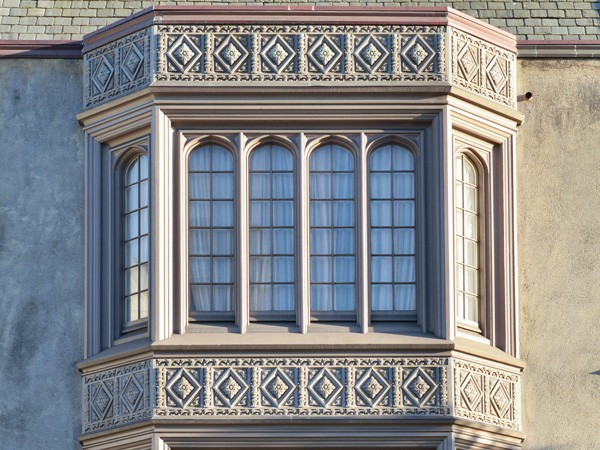 Backstory and Context
Strolling along California Street, passersby may notice a building that is reminiscent of medieval architecture, a bit of an oddity in San Francisco. But the more striking aspect of the building is its arch, or rather, its half-arch; it ends abruptly at its midpoint, where it abuts another building.

This architectural curiosity is the Tobin House, built in 1915 by flamboyant architect Willis Polk. Polk was dismayed by the trend that was then sweeping the city of building ornate Victorians and Queen Annes, and favored a more restrained style, albeit one with a somewhat medieval flavor.

Polk built the house at the request of Michael De Young, the founder of the San Francisco Chronicle, for his daughter, Constance. The lot was adjacent to De Young's own estate, and his original plan was to have Polk build two houses--one for Constance and the other for his daughter, Helen--which would connect and be mirror images of each other.

But the Tobin daughters apparently had other ideas. While Constance De Young Tobin was willing to live in the home, her sister's family chose to live in an affluent community south of the city. As a result, the other half of the Tobin house was never built, leaving the existing structure with an odd, chopped-in-half appearance.


Sources
http://noehill.com/sf/landmarks/sf260.asp Retrieved 8 May 2017.
Additional Information