Blue Whale
Introduction
The Blue Whale is a popular attraction along Route 66. Built in 1972 by zoologist Hugh Davis as an anniversary gift to his wife Zelta, the Whale provided a space that their entire family could enjoy--though it didn't take long to start attracting curious visitors as well. The Whale stands 20 feet high and 80 feet long, with a hollowed out interior that visitors can walk through and a ladder up to the whale's head. Today, Davis's daughter owns the Blue Whale, which remains open to the public.
Images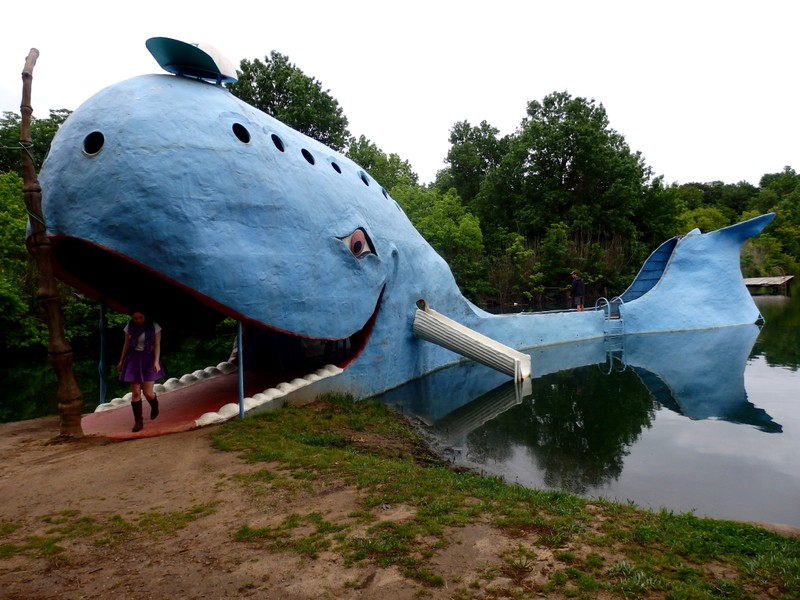 Backstory and Context
In the words of Hugh Davis's daughter Dee Dee:

The Blue Whale was built by Hugh S. Davis, Boy Scout, photographer, zoologist, lecturer, father of two, grandfather of four, great-grandfather of nine and friend of many...Hugh always had a "project" in the making…whether it was building furniture, creating an alligator ranch or constructing an ark, he was always busy. After his retirement from the Tulsa Zoo, he devoted all of his time to developing facilities to educate people about nature...

In the late 1960's at the age of 60, Hugh began to doodle pictures of a "fish" that he wanted to build at the pond. From that fish evolved a whale – larger and larger he grew from sketches on napkins to drawings on oversized sheets of paper...To accomplish his plan, he needed help fashioning the iron framework – the skeleton of the whale. For this task he called on his dear friend, Harold Thomas, a welder, to weld the 20-foot-tall, 80-foot-long structure...It took two years, 1970-1972, to build the whale. According to Hugh's notes, he worked 2,920 hours applying the cement which he hand mixed and applied one five-gallon bucket at a time.
(Belt, "History," full citation below).

Sources
Belt, Dee Dee Davis. "The History of the Blue Whale." Excerpt from the Catoosa Historical Society, History of Catoosa, published 2003. The Blue Whale Route 66. Accessed May 12, 2017. http://bluewhaleroute66.com/blue-whale-in-catoosa/.

"Blue Whale." Travel Oklahoma. Accessed May 12, 2017. http://www.travelok.com/listings/view.profile/id.653.


Additional Information