The First Baptist Church Education Building
Introduction
This educational building was built in 1929 following a large growth in the congregation of the First Baptist Church. The building was designed by Rueben Harrison Hunt, a prominent Chattanooga architect. The interior of the building continued to be remodeled as donations came in. The bell within the church was from the 1837 church. During the Civil War the bell was painted Black to hide it from soldiers. The building was renovated in 1999 and continues to be used by the church today.
Images
The First Baptist Church Education Building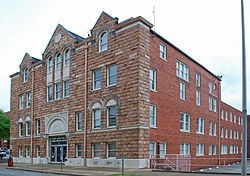 Backstory and Context
The First Baptist Church was initially started in 1837. There are only two remaining artifacts from the initial construction of the building: a large church bell and a three piece communion service. During the Civil War the congregation opted to move the bell to another location and paint it Black to avoid it being melted down for scrap metal. The First Baptist Church was used by the Confederate and Union soldiers at different times during the Civil War. This greatly damaged the structure of the building. The church was completely rebuilt by 1895.

However, with a growing congregation the church found they could no longer use the space from the original building. The congregation raised enough money to grow their space and construction on the First Baptist Church Educational Building was finished in 1929. The building, along with several others in the area, was designed by Reuben Harrison Hunt. His modeled the building off of the Romanesque style of the original. The original church was destroyed sometime before the 1980s.

The building is still used today by the First Baptist Church. While the exterior remains the same, much of the interior has been updated and renovated to create more space for the growing congregation. The exterior continues to represent the work of a prominent architect from the Chattanooga area.
Additional Information