Orpheum Theatre, San Francisco
Introduction
Designed by architect B. Marcus Priteca for theater-circuit owner Alexander Pantages, the Orpheum first opened in 1926. The interior features a vaulted ceiling, while the facade was patterned after a 12th-century French cathedral. It can seat up to 2,203 guests. In 1998, $20 million was invested in renovating the theater to make it more suitable for Broadway shows. The theater has hosted a number of Broadway shows, and from April 30 to May 4, 2007, hosted Late Night with Conan O'Brien.
Images
The Orpheum Theatre has entertained audiences in San Francisco since 1926.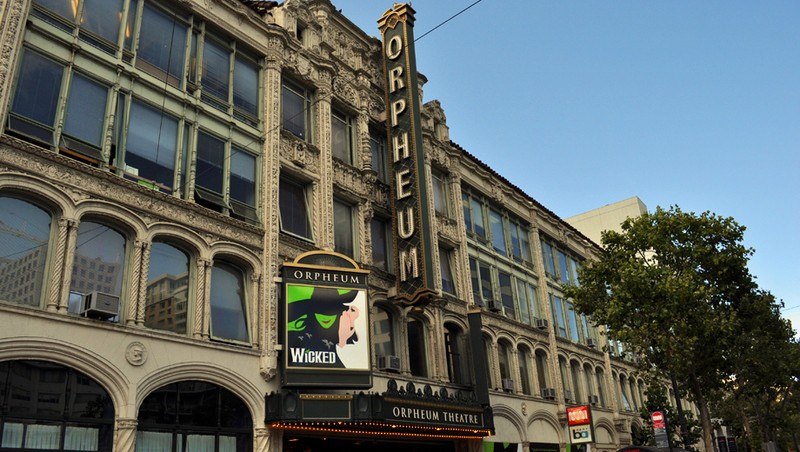 Backstory and Context
Built for vaudeville shows in the 1920s, the Orpheum Theater, San Francisco, remains one of the city's major performance venues. Together with the Curran Theater and Golden Gate Theater, the Orpheum presents SHN's Best of Broadway series, bringing world premieres, hit musicals and award-winning plays to San Francisco each season.
The Orpheum Theater has hosted everything from vaudeville acts to motion pictures to musical comedy. Today, it serves as a flagship theater for Shorenstein Hays Nederlander (SHN) and regularly debuts West Coast premieres by national touring companies. A few past productions that have called the Orpheum "home" include The Lion King, Phantom of the Opera, and as of January 2009, the welcomed return of Wicked.

The theater's ornate design reflects the city's Spanish colonial heritage. Built by impresario Alexander Pantages (1867-1936), the theater was inspired by a real 12th-century Spanish cathedral. Gold and red dominate the auditorium's plush interior, which also features a number of artworks of Spanish folklore. Once seated you'll want to look up at the ceiling and its centerpiece, a magnificent ring of full-bodied lions. As for the amber tint, the soft light that illuminates the theater before each showing only enhances the evocative ambiance.
No matter where you sit in the Orpheum, you should see and hear a good show. The theater's renovations (in 1981 and 1998) have made it a better fit for Broadway productions, in particular musicals, by improving the acoustics throughout. That said, tickets are generally the same price for Orchestra, Loge and Mezzanine, while Balcony seats are available at about half the price.
Typically, shows are scheduled for two- to six-week engagements. However, there are exceptions, such as when The Lion King first premiered or when Wicked returned to S.F. in early 2009.
Sources
Alpeche, Jennifer. About the Orpheum Theater San Francisco. Love to Know. Accessed May 21, 2017. http://sanfrancisco.lovetoknow.com/wiki/Orpheum_Theater_San_Francisco.


Additional Information