Frederick Apartments (Former home of W. J. Cash)
Introduction
The Frederick Apartments is a three-story apartment built in 1927. The apartments were constructed at at time when Charlotte was experiencing a population increase and residential building boom. The building is also noteworthy for being the former residence of journalist W.J. Cash, author of "The Mind of the South," a classic work of Southern history.
Images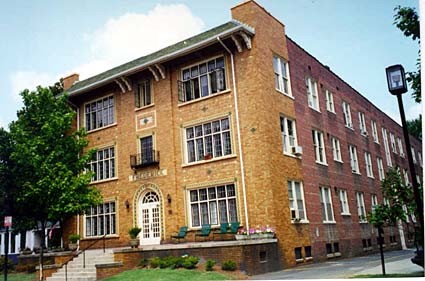 Plaque acknowledging the apartments as the former home of W. J. Cash. The plaque states that Cash lived in the apartments from 1939 to 1940, but Cash in fact moved into the apartment in 1938.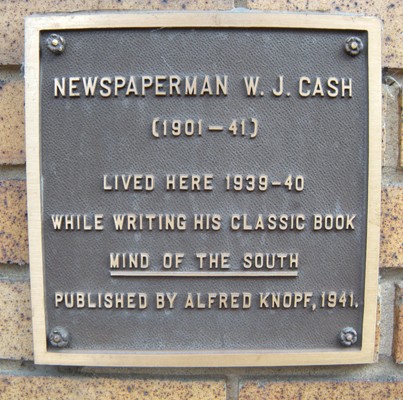 Backstory and Context
During the 1920s, the population of Charlotte increased and the city went through something of a residential building boom. According to newspaper reports, 1927 was a particularly busy year, with a record number of new apartments constructed that year. The Frederick Apartments were part of that year's building boom.

The Frederick Apartments included two types of residences--one or two-room "bachelor apartments" and larger "housekeeping" units intended for single women or families. The three-story building is relatively typical of medium-sized apartments constructed at the time.

The apartments are historically significant for another reason. From 1938 to 1940, journalist W.J. Cash lived in the apartments. At the time, Cash was associate editor of The Charlotte News. During his time in the Frederick Apartments, Cash completed the manuscript for The Mind of the South, the classic exploration of the Southern psyche. Cash committed suicide in Mexico City in 1941, shortly after the book's publication.
Sources
Mary Beth Gatza (August 2000). "Frederick Apartments" (pdf). National Register of Historic Places - Nomination and Inventory. North Carolina State Historic Preservation Office

. Retrieved 24 May 2017.