West Overton Village and Museums
Introduction
West Overton Village and Museums is home to the original Old Overholt whiskey distillery and is the birthplace of Pittsburgh industrialist Henry Clay Frick. West Overton Village aims to educate about the homestead, Overholt and Frick families, the history of American whiskey, and the coke and coal industry in Pennsylvania. With eighteen of its original structures remaining, the site is considered one of the best-preserved examples of a pre-Civil War rural industrial village. West Overton Village was added to the National Register of Historic Places in 1985 and is a stop on the American Whiskey Trail.
Images
The Overholt homestead and childhood home of Henry Clay Frick is the oldest structure on site, built in 1838. Photo by West Overton Village.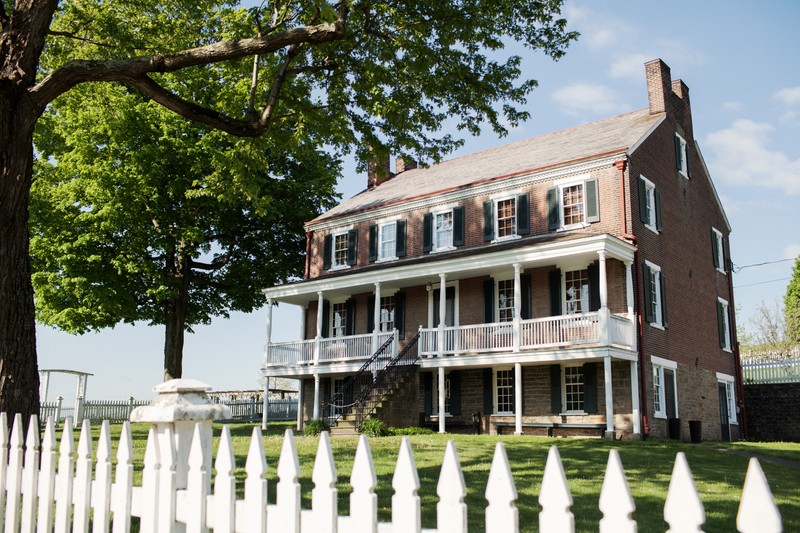 Built in 1859, the distillery could produce 860 gallons of Old Overholt rye whiskey each day in the nineteenth century. Photo by West Overton Village.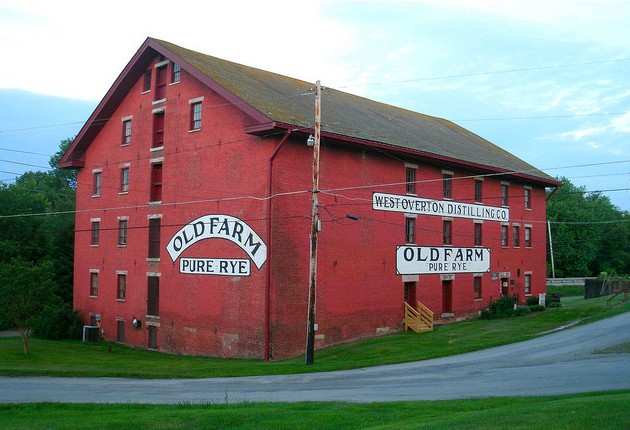 A brick barn and gardens at West Overton. Photo by West Overton Village.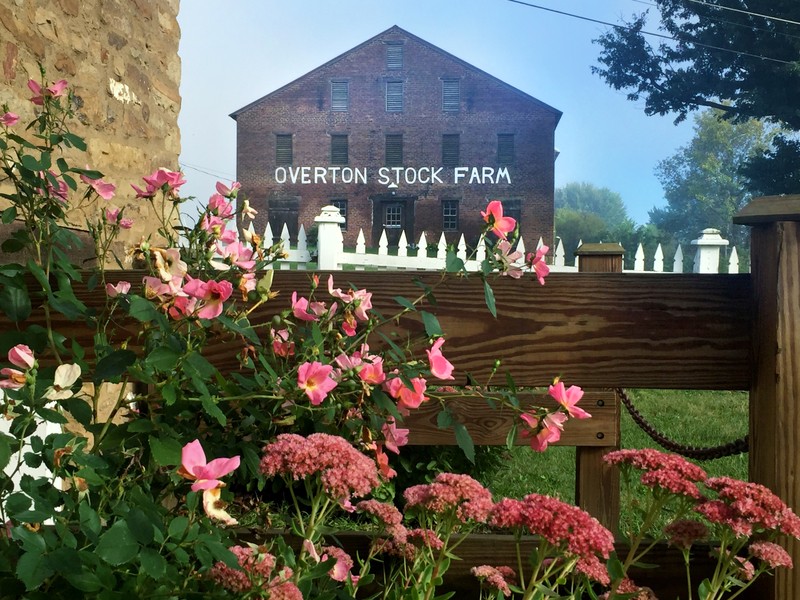 The buildings and landscape at West Overton evoke a classic rural industrial village in Pennsylvania. Photo by West Overton Village.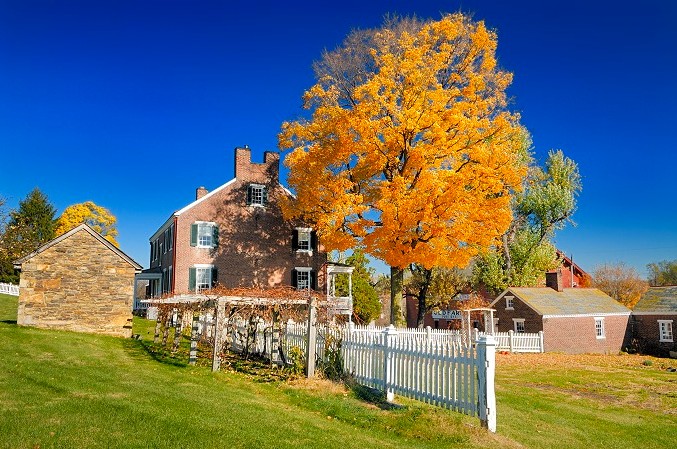 West Overton will soon begin distilling its historic whiskey recipes on site. Photo by Sean Stipp, Tribune-Review.
Backstory and Context
Throughout the nineteenth century, the Overholt and Frick families used Pennsylvania's natural resources to establish impressive businesses and fortunes. They built West Overton as a residence and workplace for their families and their laborers. The eighteen structures that stand today collectively represent an important era and way of life in Pennsylvania history.

In 1800, Henry Overholt, a German Mennonite, moved from Bucks County to Westmoreland County to establish a whiskey distillery. By this time, the Pennsylvania frontier was growing more populated and economically successful, with Pittsburgh emerging as an important western city. Henry and his son, Abraham, contributed to this success by building a 1,500-acre enterprise at West Overton over the course of the nineteenth century, consisting of farmland, the family mansion, houses, barns, lumber mills, gristmills, a Blacksmith shop, a cooper shop, and an impressive, six-story distillery.1

Abraham and Mariah Overholt's daughter, Elizabeth, married John W. Frick, a Swiss immigrant gristmiller. Their son, Henry Clay Frick, was born on December 19, 1849, in West Overton's springhouse. For thirty years at West Overton, young Henry learned the ins and outs of managing a large business. Inspired by his family's ambition, Frick began his own entrepreneurial career by investing in the local coke industry. By the 1890s, Frick operated 40% of the coke ovens in the Pittsburgh area and partnered with steel baron Andrew Carnegie to ensure his coke would fuel Pittsburgh's mills. Frick owned the Old Overholt distillery in partnership with Andrew Mellon until his death in 1919, when he left the company to Mellon.2

Old Overholt whiskey was distilled in Broad Ford, Pennsylvania, where it survived Prohibition but struggled as Americans' taste for alcohol changed. The business transferred hands over the twentieth century and the whiskey is now produced by Jim Beam in Kentucky. At over 200 years old, it is the oldest continually-mantained brand of American whiskey. With today's renewed interest in craft alcohol, West Overton will soon provide a taste of history by distilling Overholt whiskey on site. It will be second historic site in the United States to distill whiskey, aside from George Washington's Mount Vernon.3

Both the Overholts and Fricks were known for their philanthropy, especially in education. Henry's daughter, Helen Clay Frick, saw West Overton as a place to memorialize her father and establish a historical site.4 Today, West Overton Village and Museums continues this legacy of education by interpreting the history of the Overholts and Fricks.

Sources
1. Gangewere, "A Passage to Commerce," 160-161; Explore PA History, "The Settlement of Western Pennsylvania;" National Park Service, "West Overton Historic District."
2. West Overton Village, "About;" Gangewere, "A Passage to Commerce," 179.
3. Erdley, "Craft distillery closely tied to West Overton's roots;" Wondrich, ""The Rise and Fall of America's Oldest Whiskey;" Wondrich, "How Pennsylvania Rye Whiskey Lost its Way."
4. National Park Service, "West Overton Historic District;" West Overton Village, "About."

Erdley, Debra. "Craft distillery closely tied to West Overton's roots." TribLive. February 5, 2016. Accessed September 2017. http://triblive.com/news/westmoreland/9924734-74/overton-west-distillery

Explore PA History. "The Settlement of Western Pennsylvania." In Pennsylvania and the New Nation. Explore PA History. Pennsylvania Historic and Museum Commission. Accessed September 2017. http://explorepahistory.com/story.php?storyId=1-9-16&chapter=3

Gangewere, Robert. "A Passage to Commerce: The Industrial Revolution, 1860–1920." In An Uncommon Passage: Traveling through History on the Great Allegheny Passage Trail, edited by Muller Edward K. pp. 155-200. Pittsburgh: University of Pittsburgh Press, 2009.

National Park Service. National Register of Historic Places Inventory-Nomination Form. "West Overton Historic District." Prepared by Christina Schmidlapp. Washington, D.C.: National Park Service, 1985. Accessed September 2017. http://www.dot7.state.pa.us/CRGIS_Attachments/SiteResource/H077458_01H.pdf

West Overton Village and Museums. "About." West Overton Village and Museums. https://www.westovertonvillage.org/history/

Wondrich, David. "The Rise and Fall of America's Oldest Whiskey." The Daily Beast. September 2, 2016. Accessed September 2017. http://www.thedailybeast.com/the-rise-and-fall-of-americas-oldest-whiskey

Wondrich, David. "How Pennsylvania Rye Whiskey Lost its Way." The Daily Beast. September 12, 2016. Accessed September 2017. http://www.thedailybeast.com/how-pennsylvania-rye-whiskey-lost-its-way
Additional Information