Historical Marker: College of Notre Dame
Introduction
This marker indicates the location of California's first chartered women's college: the College of Notre Dame. It was founded in 1851 as a boarding school for young women and grew to become the college in 1868, earning an excellent academic reputation. In terms of size, it eventually encompassed the area between Almaden Blvd., Santa Clara Street, and St. Teresa Street. Commercial development began to encroach by the 1920s and as a result, the school was forced moved to Belmont in 1923.
Images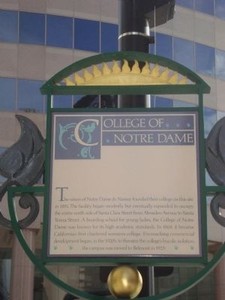 Backstory and Context
The College of Notre Dame traces its history back to 1844 in Oregon, when sisters of Notre Dame de Namur established a mission for children of the Chinook tribe and early settlers. Operating a school was difficult on the formidable Oregon frontier, and the sisters eventually accepted an offer to establish a mission in California, where the population was increasing rapidly.

Their school, the College of Notre Dame, opened on August 4, 1851, and was located on Santa Clara Street. The nuns operated both a day school and a college. The school was open to both Catholic and non-Catholic students, and they accepted children from both Native American and European American families. The college became California's first chartered female college in 1868. It remains the oldest all-girl high school west of the Mississippi.



Sources
"College of Notre Dame." The Historical Marker Database. Accessed June 5, 2017.
https://www.hmdb.org/marker.asp?MarkerID=52660.Shoup, Carol. The Vision Unfolds, 1851-present. Sisters of Notre Dame de Namur. Accessed July 10, 2017. https://www.sndden.org/news-and-events/news-and-events/the-vision-unfolds/.