Historic Santa Fe locomotive #2926
Introduction
This preserved locomotive engine stands as a memorial to the history and impact of railroads in New Mexico, particularly with the growth of Albuquerque. This locomotive was part of the historic Atchison, Topeka and Santa Fe Railway, and was built in 1944. One of the largest and heaviest engines constructed in the United States, this engine was given to the city as a gift on the 250th anniversary of Albuquerque's founding. It was recently recognized by the State Legislature of New Mexico for it's contributions economic and cultural growth of the state.
Images
Santa Fe #2926 as seen today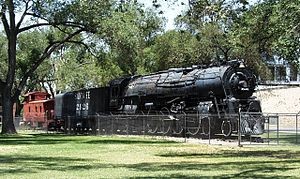 1949 photo of SD #2926 in San Diego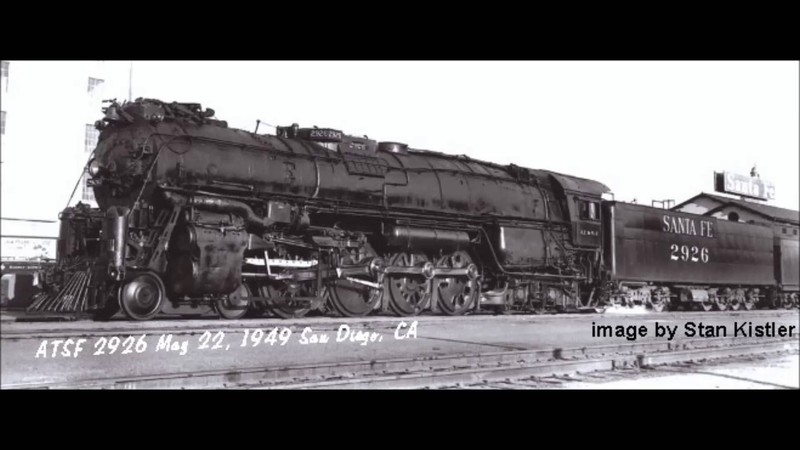 Circa 1949 photo of the locomotive on the move in California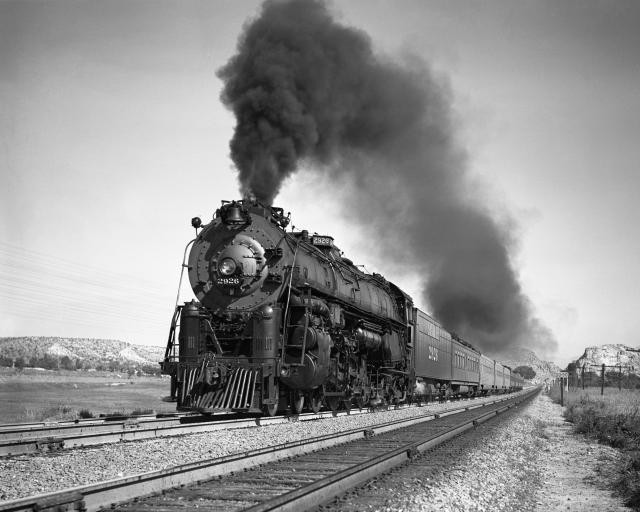 Mid-late 1950s photo of the locomotive in Albuquerque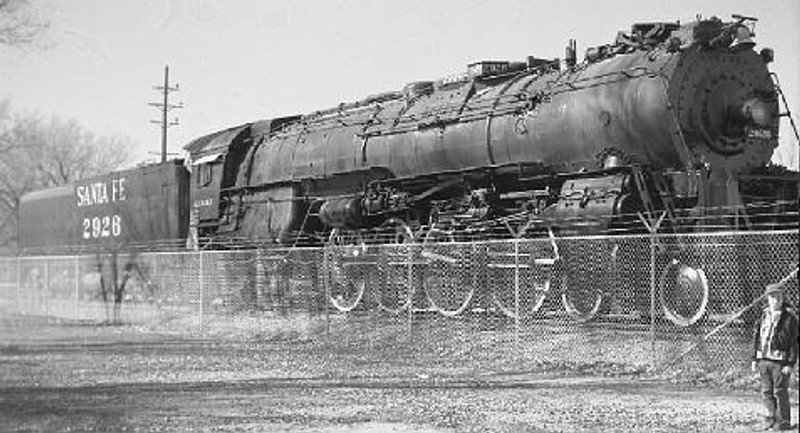 Backstory and Context
Santa Fe 2926 is a former Atchison, Topeka and Santa Fe Railway (Santa Fe) 4-8-4 steam locomotive originally built in 1944 by the Baldwin company. This locomotive was part of the last group of steam passenger locomotives (class 2900) built for the Santa Fe railway. This class of locomotives were the heaviest 4-8-4's built in the United States, and among the largest. The railroad used the locomotive in both fast freight and passenger service, accumulating over one million miles of usage before its last revenue run on December 24, 1953. The locomotive and a caboose were donated to the city of Albuquerque, New Mexico in 1956 in recognition of the city's 250th anniversary, and placed in a city park.
The city displayed the locomotive as a static exhibit in Coronado Park until it was sold to the New Mexico Steam Locomotive and Railroad Historical Society on July 26, 1999. On June 23, 2000, the locomotive was moved by Messer Construction Company to a BNSF Railway rail siding just south of Menaul Boulevard. Subsequently, in May, 2002, the locomotive was moved by the railroad to its current location near the intersection of 8th Street and Haines Avenue where it is undergoing restoration to operating condition by the Society.
On October 1, 2007, the locomotive was listed in the National Register of Historic Places. When the restoration is completed, 2926 will be the largest operating 4-8-4 Northern type steam locomotive in the United States. Norfolk & Western 611 is currently the largest operating 4-8-4 Northern type locomotive.
On February 11, 2016, House Memorial 100, introduced by Don L. Tripp, and adopted by the New Mexico State Legislature recognized The Santa Fe 2926 Steam Locomotive as New Mexico's Steam Locomotive and a representative of the Railroads' contributions to the economic and cultural growth and stature of New Mexico. 52nd Legislature - State of New Mexico - Second Session, 2016.
Sources
"New Mexico State and National Registers". New Mexico Historic Preservation Commission.

Worley, E.D. Iron Horses of the Santa Fe Trail. Southwest Railroad Historical Society. 1965.

Stagner, Lloyd E. Santa Fe Steam: The Last Decade. South Platte Press. 1995.

Additional Information