Hostess House
Introduction
This simple yet functional and architecturally pleasing building is the last surviving building from Camp Fremont, one of two World War I training camps in California. It served as a place where friends and family members could visit with service members training at the camp. The building was designed by Julia Morgan and constructed in 1918. Morgan, one of California's early architects, designed it with a large main hall featuring exposed trusses. She was able to design a building that was nice too look at at an affordable cost. The building today is home to the MacArthur Park Restaurant. It was added to the National Register of Historic Places in 1976.
Images
The Hostess House was built in 1918 and designed by Julia Morgan. It is the only surviving structure from the state's two World War I training camps.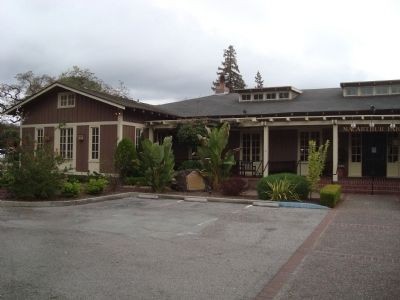 The interior of the Hostess House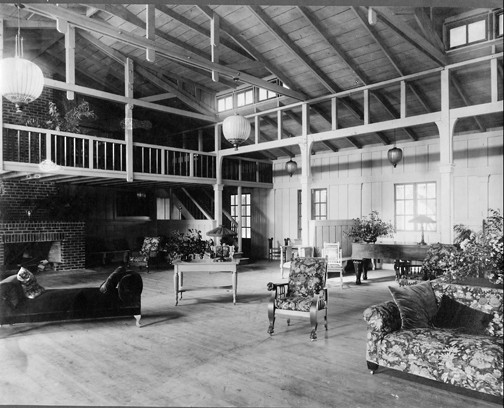 Backstory and Context
The federal government hired the YMCA to design and build these structures at forty army camps around the country. The building was originally located on Santa Cruz Avenue and was part of Camp Fremont. Camp Fremont was built after the United States entered World War I and the Hostess House, along with many other such structures, was built to provide a welcoming and safe space for family members to visit soldiers who were training at Camp Fremont.

The Hostess House was designed by famed architect Julia Morgan, the first woman to become a certified architect in the state of California. The building was constructed in the Craftsman style, and includes a number of trademark Morgan elements, such as the use of wooden beams.

After the war, all the buildings were torn down at the camps and the lumber sold. The city of Palo Alto purchased the house and moved it to its current location. There, it became the country's first municipality-sponsored community center. It was added to the National Register of Historic Places in 1976.

Sources
"Hostess House." The Historical Marker Database. Accessed June 9, 2017. https://www.hmdb.org/marker.asp?MarkerID=54017.

Dorothy F. Regnery. National Park Service - National Register of Historic Places Nomination Form. July 30, 1976. https://npgallery.nps.gov/GetAsset/f0443d1f-3268-42cd-b60d-e61d3a36a420.

Photo: Barry Swackhamer, via the Historical Marker Database