Historical Marker: Site of Juana Briones de Miranda Home on Rancho La Purisima Concepción
Introduction
This historical marker is located just a block from the former home of one of the most remarkable women in California's history: Juana Briones de Miranda. Juana Briones built a ranch and eventually owned over 4,000 acres in this area. The successful rancher and farmer achieved her wealth and influence while also raising seven children as a single mother. Awareness of this remarkable California woman grew following the 2008 release of a book about her life, but despite efforts by historians and preservationists to save her former adobe home, the structure was demolished in 2014. Remnants and items of the house are located at the California Historical Society. A large portion of the former ranch is part of the Esther Clark Nature Preserve.
Images
The marker is at the southern end of the Old Adobe Road.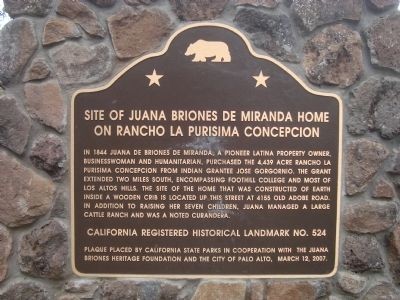 Sketch of Briones by Robert Gebing
Learn more about Juana Briones with this book from the University of Arizona Press linked below.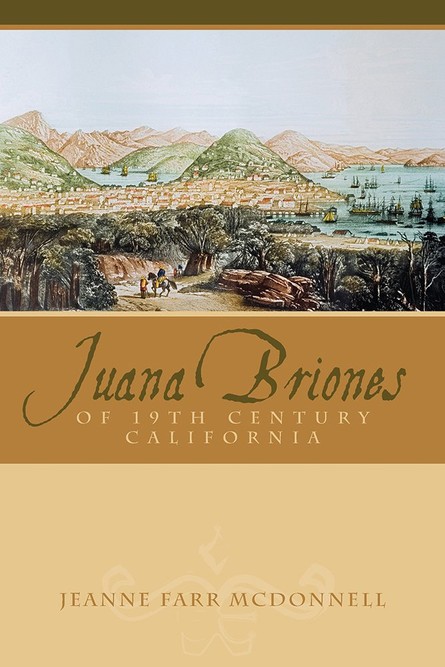 Backstory and Context
Miranda (1802-1889) was born in what is present-day Santa Cruz. When she was 18 years old she married a soldier stationed a the Presidio in San Francisco. Taking her children with her, Miranda eventually left her abusive husband and bought the large property in 1844. She farmed, raised cattle, and operated a dairy (she did these activities at a home in what is today North Beach), selling milk and trading cowhides for tools, household items, and clothing. Miranda also worked as a nurse and a midwife. She had a deep knowledge of herbs and it's said that the community of Yerba Buena was named for her healing herbs.

Miranda proved an astute businesswoman, earning the respect of her peers. Her decision to leave her husband was unusual at the time but she was able to secure support, including that of the Bishop of Santa Barbara. She was also able to retain all of her land after California became a state in 1850. The federal government required all landowners to verity their ownership. Though she was illiterate, she was wise enough to keep all of her property records and hired trustworthy people to represent her. In this way she retained her land; other landowners were not so lucky.

Miranda is so highly regarded among the early settlers of the area that today there is a school and a park in Palo Alto named in her memory.
Sources
McDonnell, Jeanne Farr. Juana Briones of Nineteenth-Century California. University of Arizona Press, 2008.

"Juana Briones. This is her park." The Historical Marker Database. Accessed June 9, 2017. https://www.hmdb.org/Marker.asp?Marker=94503.

Samuels, Daniel. "Juana Briones House in Palo Alto coming down piece by piece."
The Mercury News
. May 25, 2011. http://www.mercurynews.com/2011/05/25/juana-briones-house-in-palo-alto-coming-down-piece-by-piece.
"Site of Juana Briones de Miranda Home on Rancho La Purisima Concepción." National Park Service. Accessed June 9, 2017. https://www.nps.gov/prsf/learn/historyculture/juana-briones.htm.
Photo: Barry Swackhamer, via The Historical Marker DatabaseMcDonnell, Jeanne Farr.
Juana Briones of Nineteenth-Century California
. Tucson. University of Arizona Press, 2008.
Additional Information