Jacksonville's American Beach Historical Marker
Introduction
Established as an oasis for African American travelers in 1935, this hotel and resort space became a haven for Black families during the era of Jim Crow. The resort was founded by Abraham Lincoln Lewis, an African American businessman born in 1865- the same year that slavery and the Civil War ended. He would later become Florida's first African American millionaire and the president of the Afro-American Life Insurance Company. Jacksonville's American Beach became the largest beach resort created for and by African Americans in the era of Jim Crow. At that time, most beaches established a strict color line and this was the case even in Northern cities like Chicago. American Beach became a symbol as well as a place to live and retire for many African Americans, including the company's executives and their families. American Beach saw fewer visitors following desegregation in the 1960s. In recent decades the community has witnessed a revival and an effort to preserve its heritage. A portion of the site was added to the National Register of Historic Places in 2002 as a historic district.
Images
This historical marker was dedicated in 2011.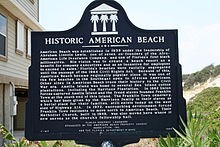 American Beach continues to serve an important role in the historical consciousness of Americans who study segregation and Black institutions.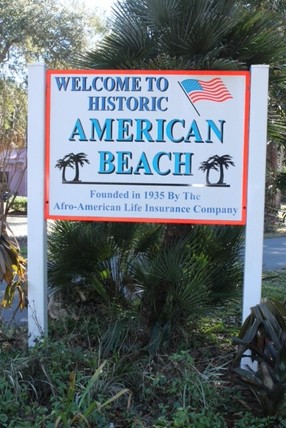 Backstory and Context
Lewis was born in 1865 and started to work in a mill at a young age. He rose to become a foreman and used his wages, along with five other partners, and began an insurance company that catered to their fellow African Americans who often faced discrimination from established life insurance carriers in the form of higher premiums and lower payouts. Lewis also helped to establish the Negro Business League and National Negro Insurance Association. Today, he is best known for his efforts to create this resort area.


American Beach was founded in 1935 by Lewis with the backing of the Afro-American Life Insurance Company (AALIC). AALIC was created in 1901 and used pension funds to purchase the land in the 1930s. The company's goal was to create a safe and profitable overnight vacation and retirement area for middle-class African Americans. Many wealthy African Americans throughout the country purchased homes and condominiums at American Beach, allowing the area to become the Black enclave AALIC envisioned.
Segregation was the impetus behind the creation of American Beach, but the community survived well after segregation officially ended owing to the continued existence of racial discrimination and the desire of many African American families to patronize places where they were made to feel welcome. African Americans from all walks of life have vacationed and invested in the area, including Black celebrities and leaders.
Hurricane Dora and desegregation led many families to move away from and not visit American beach (other beaches opened closer to where they lived). Thanks to the efforts of Lewis' great-granddaughter, MaVyrne Betsch, who moved to American Beach in 1977, the history and legacy of the community has been preserved. Betsch became known as the "Beach Lady" for her determination in preserving the community's past.
Sources
American Beach, Jacksonville, Florida. The Black Past accessed June 18, 2017 http://www.Blackpast.org/aah/american-beach-jacksonville-florida-1936
Additional Information