Gilcrease Museum
Introduction
The Thomas Gilcrease Institute of American History and Art, or simply referred to as the Gilcrease Museum, is one of the leading museums in the country dedicated to preserving and studying American art and history. It holds the world's largest collection of American Western artifacts and art as well as an impressive collection of Native American art and artifacts. Other important items are housed in the Helmerich Center for American Research, a research library and archive featuring 100,000 historical items including maps, documents, manuscripts, rare books, and documents from the time of Christopher Columbus, the Spanish exploration/colonial era, the American colonial period, the expansion into the American West, and the experiences of Native Americans. The Helmerich Center also houses the Bob Dylan Archive, which features 6,000 items comprising of various writings, films, videos, photographs, artwork, memorabilia, personal documents. and unrecorded song lyrics and chords.
Images
The Thomas Gilcrease Institute of American History and Art houses the world's largest and most comprehensive collection of American Western art.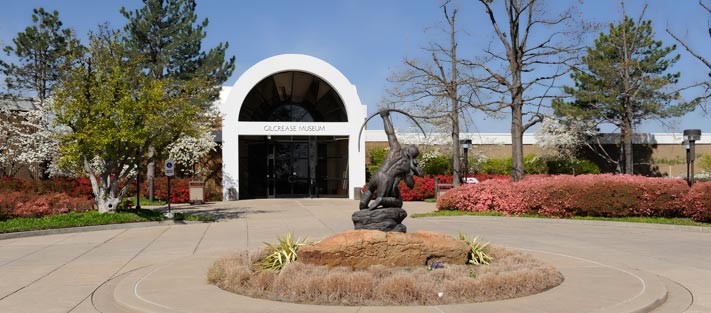 Backstory and Context
Thomas Gilcrease was born in Louisiana in 1890 to a large family and grew up in Oklahoma. He was part
Scots-Irish, French, and Creek Indian, the latter of which enabled him to be officially entered on tribal rolls when he was nine years old. This would
prove fortuitous because he was allotted land in Oklahoma that would become part of the Glen Pool oilfield, where oil was first discovered in the state in 1905. The money he received from oil revenues helped fund his education. He started his own oil exploration company in 1922 which launched his successful career in the industry.
From a young age, Gilcrease was fascinated with Western and Native American history and art; this interest only grew as he got older. It was enhanced when he went on a trip to Europe in 1925 where he got to see the art of the Old Masters and others. It inspired him to seriously start collecting American art and he continued to do so for the rest of his life. His first major acquisition occurred in 1944 when he bought the collection of Dr. Philip G. Cole, which consisted of 636 works of Western art. It included paintings by famous artist Frederick Remington. The next major acquisition was a collection of 2,000 Thomas Moran paintings. These (and other collections he purchased) came with their accompanying archival materials which provide context to them.
He displayed his collection in San Antonia, where his company headquarters was located, but it never really attracted much attention there. This prompted him to move his collection to Tulsa in the late 1940s and opened the museum 1949. Because of financial troubles, in 1954 he transferred ownership of the collection to the city to keep it intact. He then deeded the museum buildings to the city in 1955 and it was given its current name at that time. Gilcrease died of a heart attack in 1962 but his legacy and collection were, fortunately, secure for future generations.
Sources
"History." Thomas Gilcrease Institute of American History and Art. Accessed March 3, 2018. https://gilcrease.org/about/history/.
Additional Information