Lakeside Auto Speedway Monument
Introduction
Established in 1907 by John H. Gay, Lakeside Auto Speedway was the site of many races and other events that defined the early history of automobile racing. The track and its surrounding buildings were the first facility built for the expressed purpose of auto racing in the United States. This monument was erected by the Lakeside Historical Society in 2012.
Images
Lakeside Auto Speedway Marker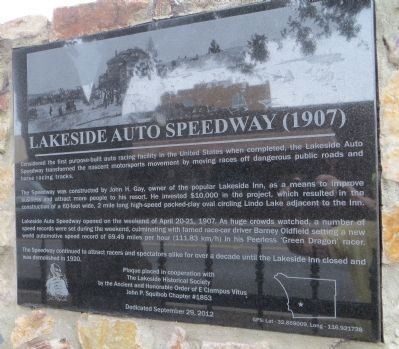 Lakeside Auto Speedway Marker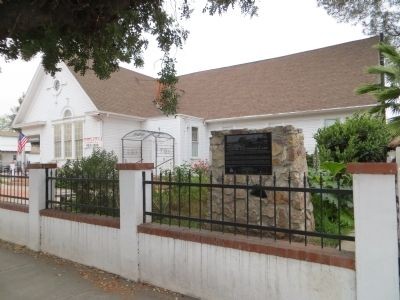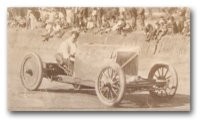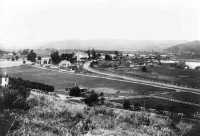 Lakeside Auto Speedway Track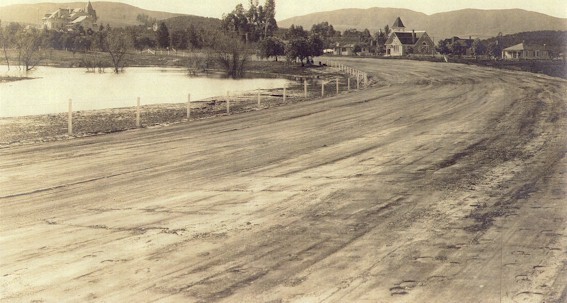 Backstory and Context
Founded in 1907 by John H. Gay, Lakeside Auto Speedway is believed to be the first intentionally designed and built track for automobile racing. John H. Gay was the owner of the Lakeside Inn, and decided to build the speedway to attract more people to the inn and expand his business. Prior to this time, automobiles were raced in community areas such as public roads and tracks meant for horse racing. Of course, using public roads and tracks designed for horses was a very dangerous practice that put drivers and spectators at risk.
Gay built the track for approximately $10,000. The track circled around Lindo Lake, which is adjacent to the Inn. The high-speed clay track was approximately 2 miles long and 60 feet wide. Gay's track opened on April 20, 1907, and crowds flocked to watch driver Barney Oldfield set a new world record of 69.49 miles per hour in his "Green Dragon" racecar.
The track flourished and remained open until 1920,. At that time, Gay closed both the Inn and the race track and both buildings were demolished soon afterwards. The Lakeside Historical Society was granted the opportunity to build a monument celebrating the Lakeside Auto Speedway, but due to issues with the county, the monument was not allowed to be built at the actual site of the speedway. Instead, the monument sits on the grounds of the Lakeside Historical Society history center at 9906 Main Avenue, Lakeside California.
The Marker Inscription reads as follows:
"Considered the first purpose-built auto racing facility in the United States when completed, the Lakeside Auto Speedway transformed the nascent motorsports movement by moving races off dangerous public roads and horse racing tracks.
The Speedway was constructed by John H. Gay, owner of the popular Lakeside Inn as a means to improve business and attract more people to his resort. He invested $10,000.00 in the project, which resulted in the construction of a 60 foot wide, 2 mile long high-speed packed clay oval circling Lindo Lake adjacent to the Inn.
Lakeside Auto Speedway opened on the weekend of April 20-21, 1907. As a huge crowds watched, a number of speed records were set during the weekend, culminating with famed race car driver Barney Oldfield setting a new world automotive speed record of 69.49 miles per hour (111.83 km/h) in his peerlees 'Green Dragon' racer.
The speedway continued to attract racers and spectators alike for over a decade until the Lakeside Inn closed and was demolished in 1920."
Sources
"2007 Lakeside Speedway Centennial Celebration." August 12, 2015. Accessed June 19, 2017. http://www.lakesidehistory.org/Racetrack/Centennial/centennial.htm.


Kirchner, Bill. "Lakeside Auto Speedway (1907)." The Historical Marker Database. April 11, 2015. Accessed July 19, 2017. https://www.hmdb.org/marker.asp?marker=82349.

McNessor, Mike. "Lakeside Event Picking up Speed." Hemmings Daily. June 07, 2007. Accessed June 19, 2017. https://www.hemmings.com/blog/2007/06/07/lakeside-event-picking-up-speed/.

Ortiz, Billy. "Lakeside Auto Speedway Monument Dedication Set for Sept. 29." East County Magazine. September 26, 2012. Accessed June 19, 2017. http://www.eastcountymagazine.org/lakeside-auto-speedway-monument-dedication-set-sept-29.


Additional Information