Ruff Memorial Wheelmen's Bench / Cycle Carnival 1897
Introduction
A.D. "Pap" Ruff is said to be one of the great pioneer cyclists in the country during an era when cycling was one of the most popular spectator sports. Ruff was also the oldest member of the League of American Wheelmen at the time of his death. A memorial bench was placed here in 1897 to honor him. Ruff left a request that the Kentucky Division of the League of American Wheelmen create a place "where wheelmen may stop to drink and rest under the shade of the forest trees."
Images
Ruff Memorial Bench (Past)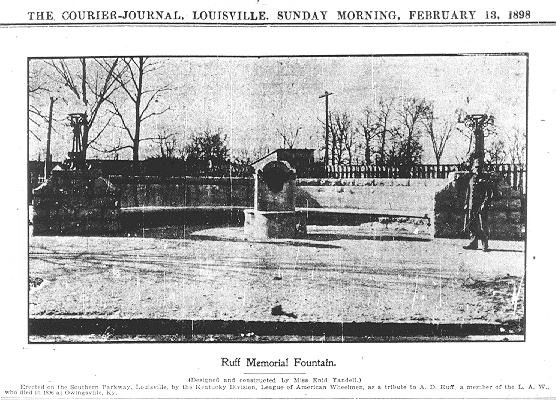 Ruff Memorial Bench (recent)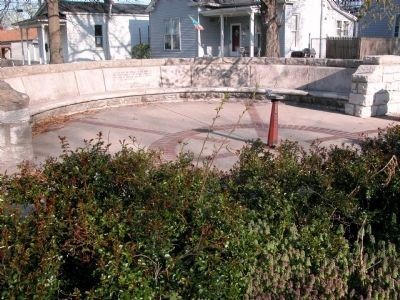 Ruff Memorial Bench Marker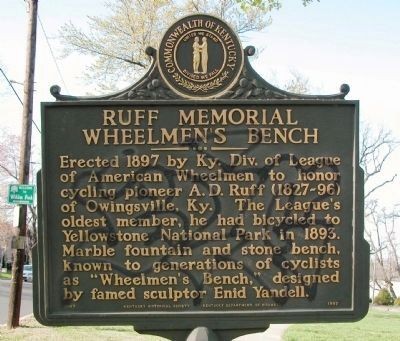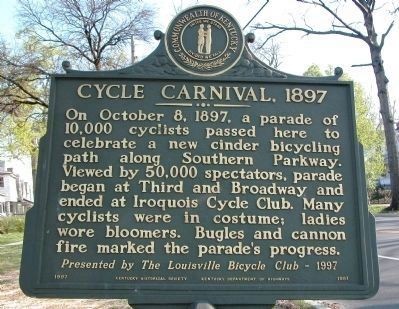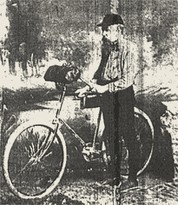 Backstory and Context
A.D. Ruff's last historic cycling trip was to Yellowstone National Park in 1893, just three years before his death. A.D. Ruff passed away on January 11, 1896. His obituary was brief and featured the headline: "Pap" Ruff Dead. One of the Oldest Cyclists in the World. Left a Fortune, With No Heirs."

The Kentucky Division of League of American Wheelmen built the Ruff Memorial Wheelmen's Bench in honor of the pioneer cyclist. The work was completed in 1897. However, according to Joe Ward, Semi-Official Club Historian of the Louisville Bicycle Club, the Memorial Bench may have never been dedicated to Ruff prior to the restoration and rededication on October 30, 1988.

The Memorial Bench had been vandalized and was in desperate need of restoration. The Louisville Bicycle Club took up the effort and worked with the City and others to find the materials to complete authentic restoration of the bench. Eventually, a gentleman with a wrecker service was able to find authentic, matching stone from an old café that was torn down a few streets away. The bench was put back together, the inscription was re-chiseled, and the bench was finally dedicated in 1988, after one hundred years.
The Marker Inscription reads as follows:
Front
"Erected 1897 by Ky. Div. of League of American Wheelmen to honor cycling pioneer A.D. Ruff (1827-96) of Owingsville, Ky. The League's oldest member, he had bicycled to Yellowstone National Park in 1893. Marble fountain and stone bench, known to generations of cyclists as "Wheelmen's Bench," designed by famed sculptor Enid Yandell."

Back
"On October 8, 1897, a parade of 10,000 cyclists passed here to celebrate a new cinder bicycling path along Southern Parkway. Viewed by 50,000 spectators, parade began at Third and Broadway and ended at Iroquois Cycle Club. Many cyclists were in costume; ladies wore bloomers. Bugles and cannon fire marked the parade's progress. Presented by the Louisville Bicycle Club - 1997"

Sources
Stelly, Karl. "Ruff Memorial Wheelmen's Bench / Cycle Carnival 1897." The Historical Marker Database. January 10, 2010. Accessed June 20, 2017. https://www.hmdb.org/marker.asp?marker=26329.

"The Cycle Carnival of 1897." The Kentucky Wheelman. 2016. Accessed July 20, 2017.
http://www.kentuckywheelmen.org/events.html.

Ward, Joe. "'Pap' Ruff and the Wheelmen's Bench." Louisville Bicycle Club. 1988. Accessed June 20, 2017. http://www.louisvillebicycleclub.org/page-917144.

Additional Information