Jimmy Valvano Statue
Introduction
This site is the location of the Jimmy Valvano statue that was put up in honor of the late head basketball coach at North Carolina State University. The statue was put up on September 16, 2016. Coach Valvano led the NC State Wolfpack to a NCAA Championship in 1983. He is remembered for his speech during the first ever ESPY Awards.
Images
Jimmy Valvano Head Coach at NCSU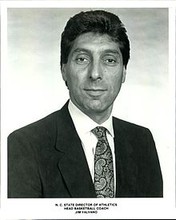 Statue dedicated to Jimmy Valvano on NCSU Campus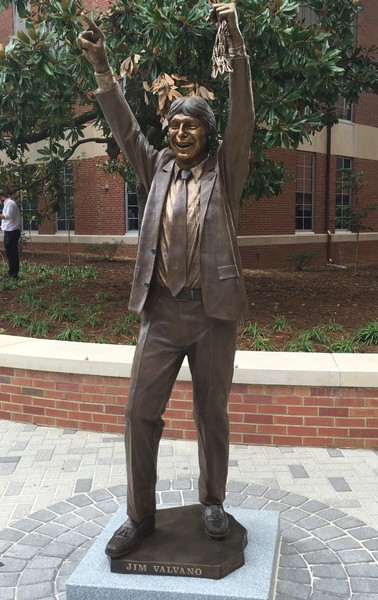 Jimmy Valvano delivering his ESPY Speech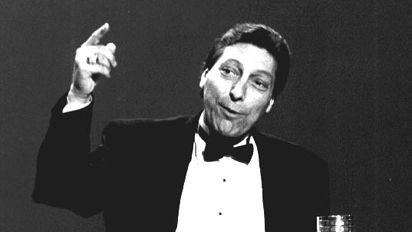 Jimmy Valvano coaching the Wolfpack players from the sidelines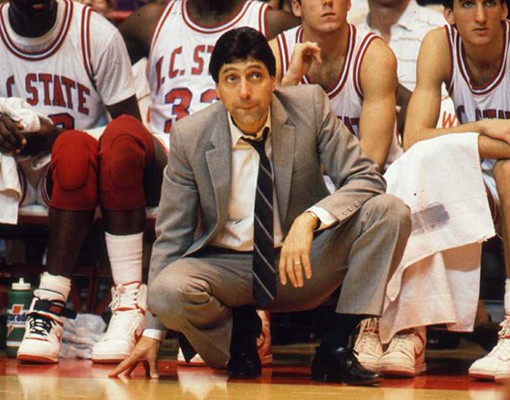 Jimmy Valvano with the net around his neck after winning the NCAA Championship in 1983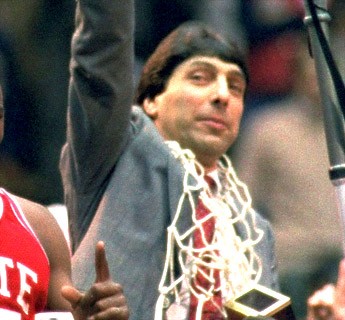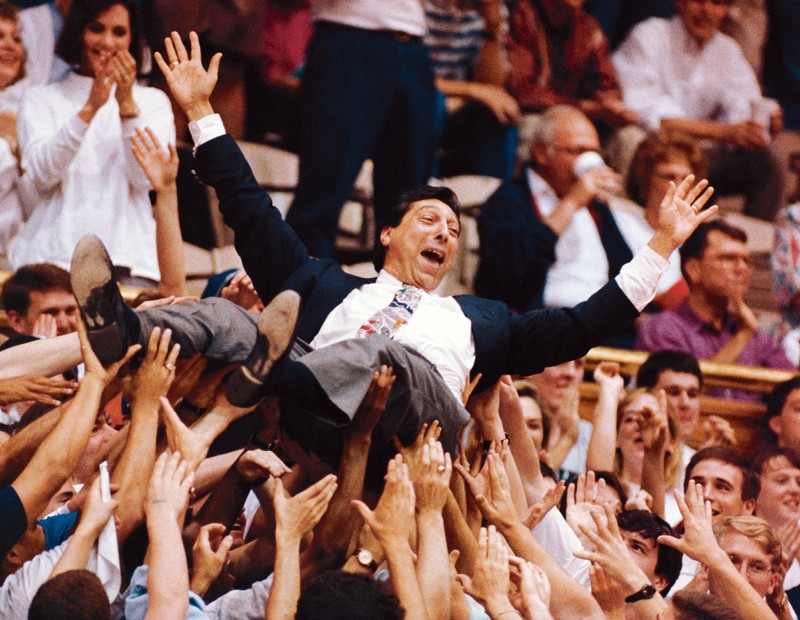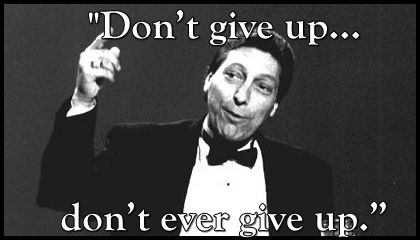 Backstory and Context
James Thomas Anthony Valvano also known as Jimmy V
Born: March 10, 1946- Queens, NY
Died: April 28, 1993 at age of 47 in Durham, NC
Valvano married his high school sweetheart, Pamela Levine, and they had three daughters together. His younger brother, Bob, is a sportscaster and former basketball coach. 
Jimmy point guard for Rutgers University in 1967. The team finished third in the NIT which was the last basketball tournament held at the old Madison Square Garden. He was named Senior Athlete of the Year at Rutgers in 1967 and finished with a degree in English in 1967. 
After his playing career, he turned to coaching, starting at Rutgers University. He was the freshman team coach and assistant coach for the varsity team. He began his head coaching career at Johns Hopkins for a season and then went on to be an assistant at UCONN for two years. After that, he coached at Bucknell, Iona, and NC State. During his ten seasons at NC state, Valvano's teams were ACC tournament champions in '83 and '87 and regular season champions in '85 and '89. The Wolfpack won the NCAA championship in 1983. Coach V was voted ACC coach of the year in 1989. Hs overall record at NC state was 209-114 (.647) and his career as a head coach was 346-210 (.622). 
During the ACC tournament in '83, Jimmy V coached his team to wins against heavily favored UNC and Virginia squads led by Michael Jordan and Ralph Sampson. The team, known as the Cardiac Pack, entered the NCAA tournament as the #6 seed advancing all the way to the championship game. Their opponent, the Houston Cougars, nicknamed Phi Slama Jama for their athletic, fast paced offense that was led by Clyde Drexler and Hakeem Olajuwon who became two of the greatest to ever play basketball. NC State came out on top with a 54-52 victory which is considered one of the greatest underdog stories in college basketball history. 
In June 1992, Valvano was diagnosed with metastatic adenocarcinoma, a type of bone cancer. One of Valvano's most memorable motivational speeches was delivered at NC State's Reynolds Coliseum. It was during this speech that Valvano stressed the importance of hope, love and persistence, and included his famous "Don't give up, don't ever give up" quote.
Eleven days after his speech at NC State, he spoke at the first ESPY Awards at Madison Square Garden, presented by ESPN. While accepting the inaugural Arthur Ashe Courage and Humanitarian Award, he announced the creation of The V Foundation for Cancer Research, an organization dedicated to finding a cure for cancer. He announced that the foundation's motto would be "Dont Give Up…Dont Ever Give Up." A part of his acceptance speech, which became one of the most legendary acceptance speeches ever, stated
 "To me, there are three things we all should do every day. We should do this every day of our lives, Number one is laugh. You should laugh every day. Number two is think. You should spend some time in thought. And number three is, you should have your emotions moved to tears, could be happiness or joy. But think about it. If you laugh, you think, and you cry, that's a full day. That's a heck of a day. You do that seven days a week, you're going to have something special."
He closed the speech by saying "Cancer can take away all of my physical abilities. It cannot touch my mind, it cannot touch my heart, and it cannot touch my soul. And those three things are going to carry on forever. I thank you and God bless you all."
Valvano died at the age of 47 on April 28, 1993, less than two months after his ESPY speech, following a nearly year long battle with cancer. He died at Duke University Medical Center in Durham, NC and is buried in the Cedar Hill Section of Oakwood Cemetery in Raleigh. His tombstone reads: "Take time every day to laugh, to think, to cry."
The same time Coach K came into the ACC so did a young coach name Jimmy Valvano. Unlike coach K, Jimmy had a great personality and everyone around liked him. He started recruiting Highly talented players with his personality transforming NC State into a powerhouse program. Before coming to NC State Valvano coached Iona. ACC coach of the year in 1987, overall record as a head coach was 346-210. Won the National Championship in 1983. Houston team had Akeem Olajuwon and Clyde Drexler
Sources
Chiusano, Anthony. College basketball: Looking back at the Jimmy V Classic and the legacy of Jim Valvano. NCAA. Dec. 5, 2016. Accessed June 14, 2017. http://www.ncaa.com/news/basketball-men/article/2016-12-05/college-basketball-looking-back-jimmy-v-classic-and-legacy.
Chandler, Vaden. Remembering Jimmy Valvano: Why the Legacy of the NC State Coach Matters Today. Bleacher Report. May 2, 2011. Accessed June 14, 2017. http://bleacherreport.com/articles/686395-remembering-jimmy-valvano-why-the-legacy-of-the-nc-state-coach-matters-today.
A Legendary NCAA Coach's Legacy - In Two Arenas. Forbes. Jun 7, 2017. Accessed Jun 14, 2017. https://www.forbes.com/sites/socialimpact/2017/06/07/a-legendary-ncaa-coachs-lifelong-legacy-in-two-arenas/#2d05dda4c144.
V Foundation for Cancer Research. Accessed Jun 14, 2017. https://www.jimmyv.org.
Thomas Jr., Robert. Jim Valvano, Colorful College Basketball Coach, Is Dead at 47. NY Times. Apr. 29, 1993. Accessed Jun. 21, 2017. http://www.nytimes.com/1993/04/29/obituaries/jim-valvano-colorful-college-basketball-coach-is-dead-at-47.html.
Additional Information