Goss Stadium at Coleman Field
Introduction
Goss Stadium at Coleman Field in Corvallis, Oregon is the oldest continuous collegiate baseball field in Oregon. The stadium dates back to 1907, when it was built for Oregon State University's varsity baseball team. The field has been renovated and expanded throughout the past century in order to accommodate the needs and expectations of modern fans and players. Throughout the years, this field has been a playing surface for many top-teams in the country.
Images
View of the stadium from the press box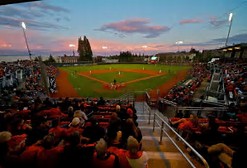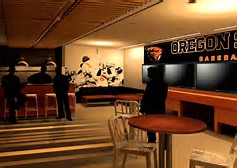 Backstory and Context
The Oregon State University baseball team have played their home games at this location for over a century, and much has changed during those years. The stadium dates back to 1907, making it the oldest stadium in continual use in the state of Oregon. The first game played at the stadium saw Salem High beat the Oregon State team by the score of 4-0.

The field was named in honor of former player and coach of 35 seasons, Ralph Coleman (1923-1966) in 1966. The stadium was named after John and Eline Goss after they gave $2.3 million to support renovation and expansion. John Goss was a track letterman at OSU in 1930. The stadium name also serves as a memorial for John's older brother James- a graduate of the University.

There is no record of the original seating capacity of the stadium back when the local college played the local high school and other nearby nines. With recent renovations and expansions, the stadium now holds 3,248 fans. The field is very symmetrical and features 330 ft. down each foul line, 365 ft. to the power alleys, and a deep 400 ft. to center. The fence stands 14 ft. tall from left field to left-center field and 8 ft. tall from left-center field to right field. The concrete, steel, and brick stadium was built to compliment the architecture of the university's campus. It features a press box, lobby/concession area, restrooms, locker rooms, dugouts, and storage rooms.

Aside from the addition of lights in 2002, arguably the biggest renovation to the stadium came in 2015 when Jacoby Ellsbury (former OSU baseball player; current MLB player) made a hefty donation for a new state-of-the-art clubhouse. This features a brand new locker room for the athletes, game-day coaching offices, a players lounge, a medical training area, a larger equipment room, and a new "hospitality" deck, more commonly referred to as the party deck for fans. This features an outdoor patio with concessions and a beer garden sitting on top of the clubhouse in left field with a beautiful view of the game. It also includes the many banners the past teams have earned.

Sources
Goss Stadium at Coleman Field. Oregon State Athletics Department. Accessed July 02, 2017. http://www.osubeavers.com/sports/2013/1/15/208342862.aspx.


Additional Information