Lake Merritt
Introduction
Lake Merritt is a 155-acre body of water known as the jewel of Oakland. Though technically a tidal lagoon, it is the nation's largest body of salt water within city limits. It is named after Samuel B. Merritt, who was influential in its creation. Lake Merritt was also the United States' first official wildlife refuge, designated in 1870, and has been listed on the National Register of Historic Places since 1966.
Images
An aerial shot of the entire lake.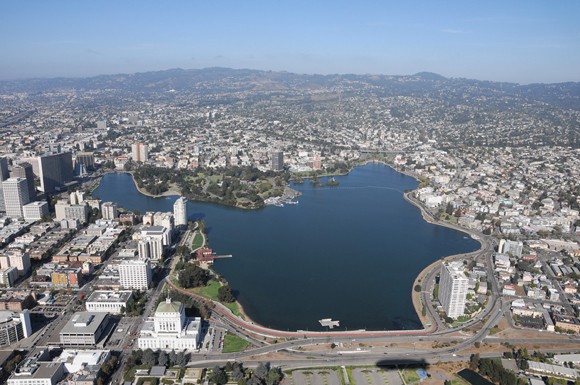 Backstory and Context
Lake Merritt was originally part of San Francisco Bay and was surrounded by over 1,000 acres of at wetland the time the Ohlone people fished in its waters. By 1810, the remaining Native Americans were moved to Mission San Jose, and the Lake was given to Sergeant Luis Maria Peralta to become Rancho San Antonio.
When gold was discovered in 1848 approximately 125 miles (201 km) to the northeast, Anglo squatters led by Horace Carpentier took control of the East Bay area which would become downtown Oakland. In 1856, Peralta fought and won a United States Supreme Court case against the squatters, but further court cases between his sons and daughters would greatly diminish the families holdings. The Peralta brothers had to sell much of the land to Carpentier to pay legal fees and new property taxes. Oakland was incorporated in 1852 with Carpentier as its first mayor and the estuary became the city's sewer.
Lake Merritt naturally had tidal flows via a broad 600-foot outlet, but this has been steadily reduced with the development of the region after 1869. Currently, the tidal flows are limited in size and managed for flood control. For years the lake acted as a waste collector. It was regarded as ideal for sewage because of its chemical contents, which have high acidities that cause it to decompose human faeces at very high rates. But in certain areas, the smell could be unbearable.
Dr. Samuel Merritt, the 13th Mayor of Oakland, owned property at the shore's edge and was keen to get the body of water cleaned up so that it could become a source of civic pride. In 1868, he proposed and funded a dam between the estuary and the bay so that the flow of water could be controlled. Sewage would be redirected elsewhere by two new city projects, though these weren't completed until 1875.
From 1893 to 1915, Lake Merritt saw many changes. The lake became a city-owned park and an elaborate pergola was constructed at the northeastern tip of the lake. The area known as Adam's Point was cleared of houses and planted with lawns and imported trees. Eastshore Park was also created and the Oakland Civic Auditorium was constructed on the southern edge of the lake.

Lake Merritt's natural wetlands are now long gone. They have been converted to parks, pathways and roads. Some of the wetland vegetation has been restored to five "Bird Islands" constructed of dredged silt between 1925 and 1956; islands which shelter hundreds of nesting and roosting water fowl.
Sources
Local Wiki. Accessed June 25, 2017. https://localwiki.org/oakland/Lake_Merritt.

Our Beloved Lake Merritt of Oakland. Oakland Mofo. Accessed June 25, 2017. https://oaklandmofo.com/blog/lake-merritt-facts.


Additional Information