Morcom Rose Garden
Introduction
The Morcom Rose Garden, formerly known as the Morcom Amphitheater of Roses, was constructed in 1932 as a project of the Works Progress Administration. The seven-acre plot of land was named in honor of former Oakland Mayor Fred N. Morcom. On November 4, 1980, the Morcom Amphitheater of Roses was designated as an Oakland Landmark and the Garden was later accredited by the American Rose Society.
Images
A plan of the original gardens from 1932.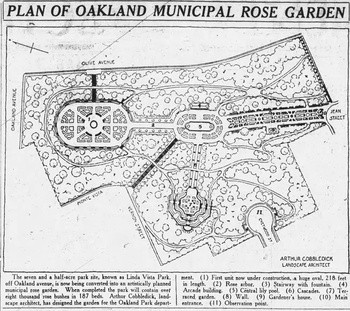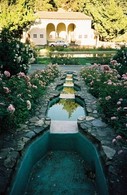 Backstory and Context
Before the rose garden came to fruition, the area was known as Linda Vista Park. The rose garden itself was originally called the Oakland Municipal Rose Garden. The garden was landscaped by Arthur Cobbledick in the 1930s with the amphitheater being one of the key design elements.
The landscaping began in 1932 after a moment of inspiration at the Businessmen's Breakfast Club. In response to a culture shaped by The Great Depression, the garden was designed to highlight the extravagant roses in formal gardens surrounded by a rugged natural setting. The first rose was planted by Mayor Fred Morcom in 1933 and the garden was later named in his honor after a unanimous vote by the Board of Park Directors.
Key Facts (taken from the garden's website)
1911-1915: Land identified and acquired by the City of Oakland used as open space
1932: Inspiration for the Rose Garden from the Businessmen's Garden Club, Dr. Charles Vernon Covell (president) and Arthur Cobbledick (club member and Landscape Architect), with color design from James Cobbledick (decorator) and Professor F.H. Meyer of the California School of Arts and Crafts
1933: First rose planted by Mayor Fred Morcom
1948: First modifications were made in a "re-work" by Parks Director William Penn Mott to remove lawn walks in the "Florentine oval" to streamline maintenance. The 1948 plan for this work has not been located.
1954: Two "walks" were added: the Pioneer Walk along the top of the Florentine oval and the Mothers Walk between the reflecting pool and the Florentine oval. There were 125 climbing roses installed on the Pioneer Walk along a chain around the top of the overlook — none of these roses appear to remain. It isn't clear from the documentation what constituted the Mothers Walk plantings. Today there are tree roses along the Mothers Walk (several are in need of replacement).
50s: "Pride of Oakland" roses, a commercial test rose, were planted at the Wedding Terrace by Head gardener George Shiraki.
1995: a major refurbishment and replanting was undertaken, guided by the East Bay Rose Society and Ed Wilkinson, a part-time parks employee and Rosarian. This work was accomplished with great respect for the original design.
Sources
Morcom Rose Garden. Local Wiki. Accessed June 25, 2017. https://localwiki.org/oakland/Morcom_Rose_Garden.

Oakland's Morcom Rose Garden celebrates 80 years. East Bay Times. February 22, 2013. Accessed June 25, 2017. http://www.eastbaytimes.com/2013/02/22/oaklands-morcom-rose-garden-celebrates-80-years/.


Additional Information