Studio Building (The Berkeley Hotel)
Introduction
Once the tallest building in downtown Berkeley, the Studio Building was built in 1905 and was one of the first masonry structures in the city. It was built for Frederick Dakin, whose company invested in gold mines. The building is listed on the National Register of Historic Places.
Images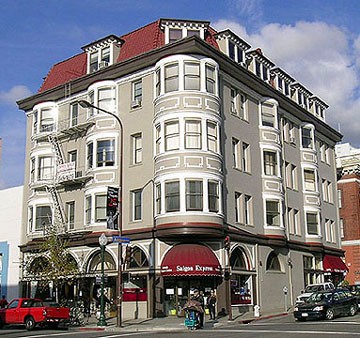 Entrance to the Studio Building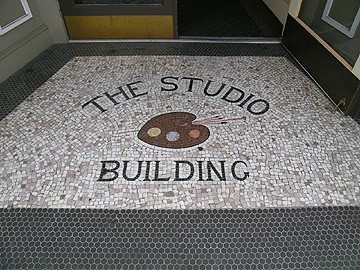 Backstory and Context
The five-story Studio Building was once the tallest building in downtown Berkeley. It held that title for only a few years, however, until the Shattuck Hotel was completed in 1909. The building also has the distinction of being one of the city's first masonry structures; many of downtown buildings were still wood-frame structures in the early twentieth century.

The building was constructed for Frederick Dakin, who owned a company which invested in gold mines. There is no record of the building's architect, but Dakin's son, Clarence, was an architect at the time of the building's construction, as was a niece, Edna Deakin, meaning that one of them most likely designed the building.

The building takes its name from the fact that the fifth story functioned as an artists' studio and gallery, with several artists and photographers occupying the space. The first art exhibit was held in 1906. A large painter's palette is set in tile at the building's entrance.

The building functioned as a hotel for much of the twentieth century. In 1978, it was named a City of Berkeley Landmark and was added to the National Register of Historic Places.
Sources
Cerny, Susan. The Studio Building. Berkeley Landmarks. October 05, 2002. Accessed June 25, 2017. http://berkeleyheritage.com/berkeley_landmarks/studio_bldg.html.