Thornburg Village
Introduction
A short walk from campus is one of Berkeley's--and perhaps California's--most unique neighborhoods, Thornburg Village. The apartment complex--which more closely resembles a French village--was built in 1927 (with later additions) and is listed on the National Register of Historic Places.
Images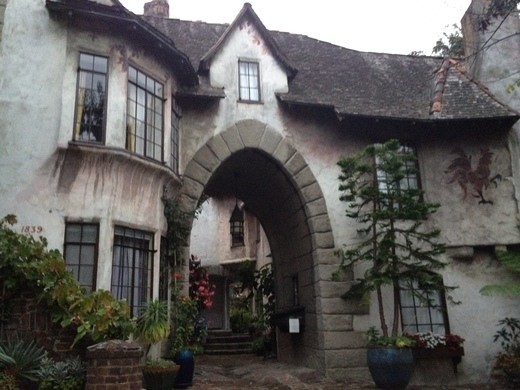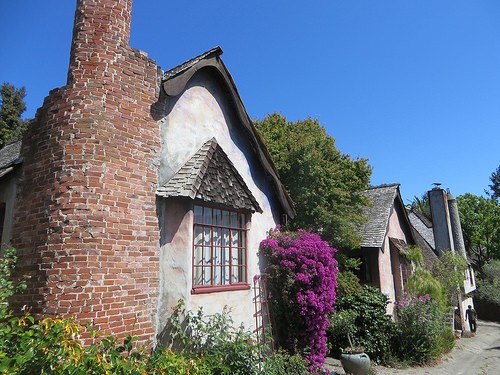 Backstory and Context
Thornburg Village apartments opened in 1927, but an observer could be forgiven for thinking the homes had occupied Spruce Street since the Medieval period. The apartments incorporate a number of European influences, with French Normandy elements most prevalent. But with traces of both Mediterranean and Scandinavian design elements, the overall result is a whimsical, playful style often called Storybook or Fairy Tale. The Storybook style was popular in California in the 1920s and 1930s.

The apartments were designed by William Raymond Yelland, who was known for his use of the style in numerous structures in southern California. The Village is characterized by arches, cobblestone sidewalks, gables, and thatched roofs. Yelland was apparently influenced by his time in France during World War I.

A year later, an addition called the Norman Towers opened with apartments of two and four rooms. In time, that addition became known as Normandy Village. In 1936, the apartment complex was purchased by David and Rebecca Roth, who made subsequent additions in the 1940s and 1950s. The original Thornburg apartments are considered so desirable that tenants will often move into the newer additions until one of the original residences becomes available.

Thornburg Village is a City of Berkeley Landmark and was added to the National Register of Historic Places in 1983.
Sources
Whiting, Sam. Towers, Turrets, and More: Normandy Village evokes rural France--in Berkeley. sfgate.com. October 10, 2004. Accessed June 28, 2017. http://www.sfgate.com/bayarea/article/Towers-Turrets-and-More-Normandy-Village-2718577.php.


Additional Information