Cloyne Court
Introduction
Designed by John Galen Howard, Cloyne Court originally functioned as a hotel that served faculty, students, and visiting families. For a number of years, it served as a co-op for university students. The building is listed on the National Register of Historic Places.
Images
The courtyard of Cloyne Court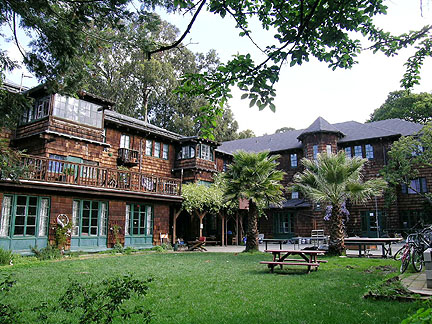 Backstory and Context
Cloyne Court was built in 1904 by John Galen Howard, who designed a number of buildings in and around the campus of UC Berkeley. The building was originally a hotel which catered to students, professors, and visiting scholars. The hotel was operated by James and Margaret Pierce, who managed the hotel until 1946, when it was sold to the University Students' Cooperative Association.

Cloyne Court served as an all-male cooperative until 1972, when 62 new female students moved in. The cooperative, which is the largest in the United States, is democratically run by students, with each resident committing a certain number of hours of work per week on tasks in and around the building.

For many years, Cloyne residents had a reputation for hard partying and a decidedly rules-free environment. In 2010, however, a resident of Cloyne--who refer to themselves as "Clones"--suffered extensive brain damage as a result of a drug overdose. His parents initiated a lawsuit which was settled out of court in 2014. As a result of that settlement, Cloyne had to substantially change its culture, adopting a substance free stance and re-branding itself as a more academic environment. All prior Cloyne residents, with the exception of one, were required to move out.

The building currently houses approximately 140 students and is listed on the National Register of Historic Places.
Sources
Thompson, Daniella. Cloyne Court Hotel. Berkeley Landmarks. Accessed July 02, 2017. http://berkeleyheritage.com/berkeley_landmarks/cloyne_court.html.

O'Connor, Lydia. North America's Largest Housing Co-Op Loses Battle at UC Berkeley. HuffPost. March 17, 2014. Accessed July 02, 2017. http://www.huffingtonpost.com/2014/03/14/cloyne-co-op-berkeley-_n_4968092.html.


Additional Information