CenturyLink Field
Introduction
This stadium opened in 2002 as Seahawks Stadium. The name has changed in relation to sponsorship deals and was known as Qwest Field before changing its name to Centurylink Field. The stadium is home to both the Seattle Seahawks of the National Football League and the Seattle Sounders of the United Soccer League and later the Major League Soccer. Seahawks fans refer to themselves as the "12th Man" - a reflection of the pride they feel as fans for filling the stadium with noise when opponents are attempting to coordinate their offense. Texas A&M University had long used this same moniker and previously secured a trademark with the phrase. The two franchises secured a five-year deal in 2016 that allows the Seahawks to use this phrase in return for $140,000. Despite its reputation as one of the loudest outdoor stadiums, having once set the record for stadium volume, CenturyLink is one of the smaller stadiums in the NFL with a capacity of only 67,000 fans.
Images
CenturyLink Field in Seattle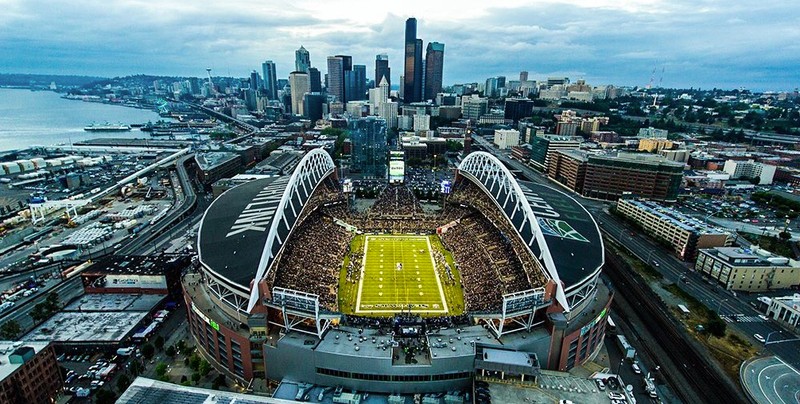 12th Man flag regularly flown at Seahawks games. In 2016, the Seahawks struck a deal with Texas A&M to use this trademarked phrase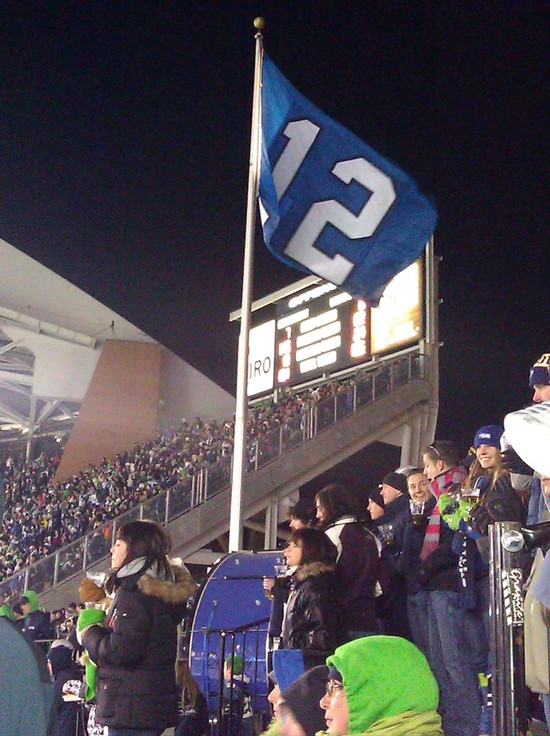 Backstory and Context
After obtaining the option to purchase the Seattle Seahawks in 1996, Paul G. Allen launched a public campaign to build a stadium and exhibition center. In 2002, Paul G. Allen's vision of a new stadium came to fruition. Seahawks Stadium changed its name to Qwest Field on June 2, 2004. The stadium would change its name one more time after the acquisition of Qwest by CenturyLink on June 23, 2011, the stadium would receive its current name of CenturyLink Field.

The first sporting event held in this stadium was soccer exhibition on July 28, 2002. This double-header featured the Seattle Sounders who beat the Vancouver Whitecaps 4-1 and the Seattle Select Women who fell to the Vancouver Breakers 4-3. The stadium has hosted the 2010 and the 2011 U.S. Open Cup tournament finals with the Sounders winning the championship of their league in front of record-breaking audiences. The first cup win was a 2-1 victory over the Columbus Crew while the second was a 2-0 victory over the Chicago Fire. The first American football game was played later that fall with a preseason game verse the Indianapolis Colts. The Seahawks crowd has broken the Guinness World Record twice for crowd noise at an open stadium. The current record belongs to Kansas City.

The stadium is owned by local taxpayers and it is used to hold a number of events such as concerts and Supercross races. Musical acts such as Taylor Swift, Snoop Dogg,The Rolling Stones, and Metallica have preformed here. The largest crowd for any event was a concert by the British group U2 in 2011. Including those on the field, there were over 70,000 fans in attendance.

Sources
"About CenturyLink Field." Seattle Seahawks. December 19, 2016. Accessed July 07, 2017. http://www.seahawks.com/gameday/centurylink-field.


"Ranking the best and worst NFL stadiums, from No. 1 (Lambeau) to 31 (Soldier)." USA Today. October 16, 2015. Accessed July 07, 2017. http://ftw.usatoday.com/2015/10/best-worst-nfl-stadiums-capacity-rankings-lambeau-field-soldier-field....

"Seattle Sounders FC Earn Second Consecutive Lamar Hunt U.S. Open Cup Title in Front of Record-Setting Crowd at Qwest Field." Seattle Sounders FC Repeats as Lamar Hunt U.S. Open Cup Champions with 2-1 Win against Columbus Crew - U.S. Soccer. Accessed July 07, 2017. https://web.archive.org/web/20101009132755/http://www.ussoccer.com/News/Lamar-Hunt-U-S-Open-Cup/2010....
"Sounders Beat Fire In US Cup Final." MyFox Chicago. Accessed July 07, 2017. https://web.archive.org/web/20111021013151/http://www.myfoxchicago.com/dpp/sports/chicagofire/apx-ml....

MCNERTHNEY, CASEY. "Qwest field gets down and dirty for supercross." Seattlepi.com. Accessed July 07, 2017. http://www.seattlepi.com/sports/article/Qwest-field-gets-down-and-dirty-for-supercross-1171063.php.
ROUSE, JO'EL STEVEN. "Sounders christen Seahawks Stadium before 25,515." Seattlepi.com. July 28, 2002. Accessed July 07, 2017. http://www.seattlepi.com/default/article/Sounders-christen-Seahawks-Stadium-before-25-515-1092351.ph....


Schwab, Frank. "Seahawks take back the Guinness World Record for crowd noise at 137.6 decibels." Yahoo! Sports. December 03, 2013. Accessed July 07, 2017. https://sports.yahoo.com/blogs/nfl-shutdown-corner/seahawks-back-guinness-world-record-crowd-noise-1....
Additional Information