Civic Stadium, Eugene, Oregon (1938-2015)
Introduction
Civic Stadium opened in October of 1938 at a cost of $18,000 and served as the home to South Eugene High School and the semi-professional baseball team, the Eugene Emeralds, for many years. The wooden grandstand, the hand-operated scoreboard and the view of the moonrise were just a few of the other features that made this stadium special. Recognizing its historic value, residents attempted to preserve the historic stadium prior to a 2015 fire. Today, local organization have raised millions of dollars to convert the former stadium complex into a municipal park with a variety of sports facilities.
Images
A view of Civic Stadium prior to its destruction in 2015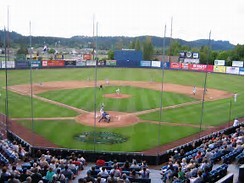 The aging stadium required significant maintenance following the loss of a regular tenant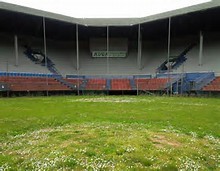 Civic stadium fire of 2015
Backstory and Context
Civic Stadium was an outdoor athletic stadium located in the "old" downtown area of Eugene. It was opened in 1938 by the Eugene School District and leased to area teams throughout the year. The stadium was made possible by the support of the federal Works Progress Administration (WPA) and was added to the National Register of Historic Places in October of 2008.
Civic Stadium was originally built for high school football and baseball for nearby South Eugene High School and served this primary purpose until 1969. In 1969 high school football moved to the nearby University of Oregon's Autzen Stadium. At that time, Civic Stadium served as the home of the Eugene Emeralds, a short-lived team that joined the Pacific Coast League (PCL) in that same year and played games at a larger venue. The Emerald's moved back to Civic Stadium in 1974 and made it their home field through the 2009 season.
Before the departure of the Emeralds in 2009, Civic Stadium was one of the ten oldest active minor league baseball fields in the United States. It had a seating capacity of 6,800 and was noted in its early years for having a lighting system for nighttime games. In 2009, the stadium was designated as surplus property and it remained mostly unused and inactive for several years.
Without a tenant or regular games, the stadium fell into disrepair. During these inactive years, a local group formed called the Friends of Civic Stadium restore the historic venue and to find alternative tenants. Finally, in 2015, the Eugene Civic Alliance raised over $4million to buy the stadium from the Eugene School District. Before plans for the stadium could be solidified, the stadium was destroyed by Arson in June of that year. Although the stadium was delisted from the National Register of Historic Places in 2016, there are still hopes, and efforts being made to redevelop the historic venue as a youth sports complex.
Sources
Shattuck-Smallwood, Nancy (August 29, 1989). "Civic Stadium puts 50 on the scoreboard". Eugene Register-Guard. Oregon. p. 1E.
Harvey, Paul, III (December 10, 1968). "Baseball not new for Civic". Eugene Register-Guard. Oregon. p. 3B.
Additional Information