Bill Russell Statue
Introduction
This statue honoring Bill Russell, one of the most dominant professional basketball players of his era, is located near Boston's City Hall. Rather than placing the statue near the Old Boston Garden, this statue of the Boston Celtics center is in a place generally reserved for political leaders and activists. In many ways, the fact that Russell's statue is located near a civic building is appropriate given his civil rights activism, particularly in the 1960s for integrated schools in Boston. Russell led the Celtics for thirteen seasons but was still despised by many white Celtics fan because he challenged residential segregation and spoke about about racism. Although few could deny that Russell was the best player for a Celtic team that dominated the 1960s, few Celtics fans wore his jersey during the years that Russell led the team to a total of eleven championships.
Images
Bill Russell's statue is located in the city square in Boston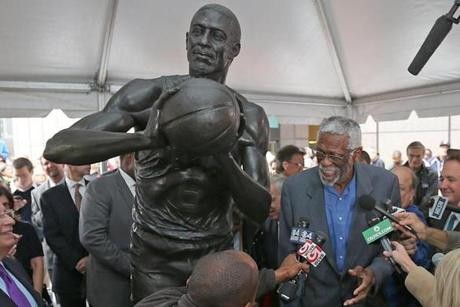 Red Auerbach was the first one in the NBA that showed his support for Russell. The two had a life long friendship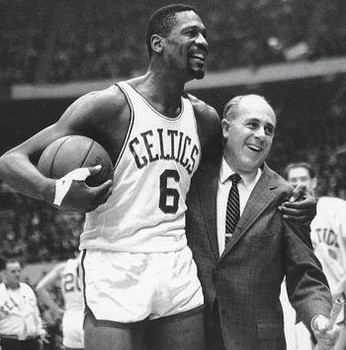 President Obama awarded Russell with the Presidential Medal of Freedom in 2011.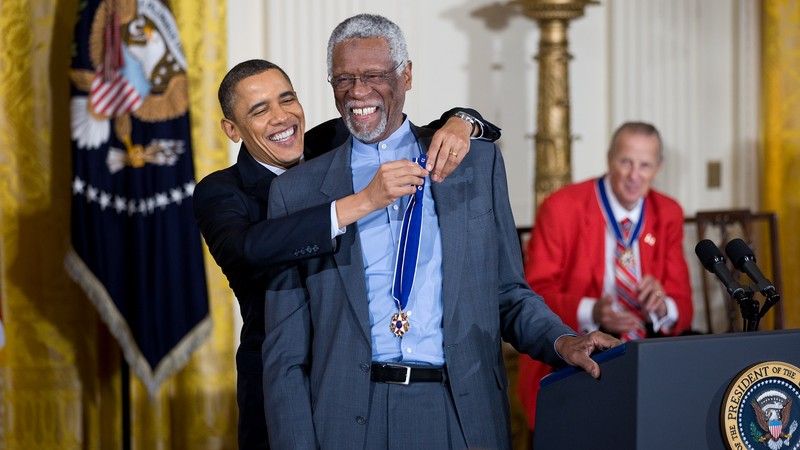 To learn more about Russell's career and legacy, consider this book by sports historian Aram Goudsouzian.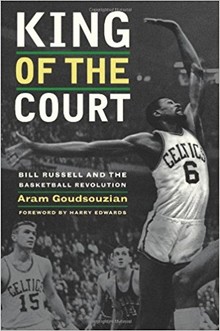 Backstory and Context
Bill Russell was born on February 12, 1934 in Monroe, Louisiana. At the time when Russell was growing up in the Deep South, racial tensions were high and Russell's father moved his family to Oakland, California in search of better opportunities. Young Bill Russell experienced tragedy early in his life when his mother passed away after developing a serious flu illness when he was just 12 years old. Russell also battled various illnesses as a young man but overcame each bout and dedicated himself to his studies.
Russell recalls developing a passion for sports despite being the opposite of athletic as a young man. Russell worked hard at basketball and eventually earned a spot on the McClymonds High School team in Oakland. The former non-athletic child secured an athletic scholarship in 1952, but only after being a walk-on player for the University of San Francisco basketball team. While at the University of San Francisco, Russell averaged 21 points and 20 rebounds a game and led his team to two consecutive championships in 1955 and 1956. After Russell graduated college, he helped Team USA win a gold medal at the 1956 Summer Olympics.
After college, Bill Russell was drafted second overall in the 1956 NBA Draft by the St. Louis Hawks. He as immediately traded to the Boston Celtics where he would be tutored by legendary Boston Celtics coach Red Auerbach. Coach Auerbach, the descendant of Jewish refugees who fled Russia, believed Bill Russell represented the missing piece to what he believed might become a championship team. In Russell's first year, the Celtics won the championship, beating the St. Louis Hawks in seven games. Russell would go on to win ten additional championships in his thirteen-year career. Seven of the eleven championships were against the Minneapolis/Los Angeles Lakers, sparking a fierce rivalry that would last for years to come.
Russell achieved many individual awards throughout his career. He won the league MVP five times, was selected on All-NBA Teams, NBA All-Defensive Teams, a twelve-time NBA All-Star and an All-Star MVP. In 2011, President Barack Obama presented Russell with the Presidential Medal of Freedom, the highest award a civilian can earn. Every year after the NBA Finals, the championship series MVP is presented with the Bill Russell Award.
Throughout his life, and during his career in Boston, Bill Russell experienced racial discrimination. In his early career, he and other Black players were denied service in a Lexington restaurant and denied overnight accommodations at a hotel in North Carolina. Russell and his other teammates refused to play in the exhibition games in those cities after the way they were treated. Russell experienced pervasive discrimination in Boston after attempting to purchase a home in what had been an all-white neighborhood. As Boston fans refused to support their team's greatest player, Russell found solace among African American leaders and activists and supported the Black Power movement. Despite the consequences, Russell vocally supported Muhammad Ali when he refused to register for the draft during the Vietnam War.
In later years, white Boston fans have come to celebrate Bill Russell, although he seldom receives the anything approaching the affection white fans express for Larry Bird, another Celtics great who led the team to multiple championships in subsequent years. In 2010, Bill Russell spoke out about his former coach, Red Auerbach. Russell pointed out that the Celtics under Auerbach were one of the few teams that would draft and start multiple African American players. When Auerbach retired in the late 1960's, he asked that Russell take his place. Russell became the first Black coach of the Boston Celtics as he served as both a coach and a player, leading the team to two consecutive championships in that role.
Sources
"Bill Russell." Biography.com. February 04, 2016. Accessed July 07, 2017. https://www.biography.com/people/bill-russell-9467384.

Zillgitt, Jeff. "Celtics legend Bill Russell receives Medal of Freedom." USA Today. February 15, 2011. Accessed July 07, 2017. https://usatoday30.usatoday.com/sports/basketball/nba/celtics/2011-02-14-bill-russell-medal-of-freed....

Watanabe, Ben. Bill Russell Statue Right Where It Belongs at City Hall. NESN. November 02, 2013. Accessed July 09, 2017. http://nesn.com/2013/11/bill-russell-statue-right-where-it-should-be-at-city-hall-location-befitting....


Additional Information