Private Pearl Elliott
Introduction
Private Pearl Elliott; Born 5 Jun 1892 – WV; Died 3 Oct 1918 – France; Co. M, 23rd Infantry Regiment, 3rd Infantry Brigade, 2nd Division – US Army
Images
Pearl Elliott - Soldiers of the Great War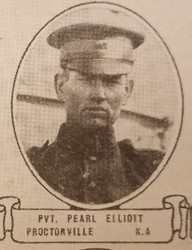 Backstory and Context
Pearl Elliott was born on June 5th, 1892, in West Virginia to Richard Winfrey Elliott. He lived in Proctorville, Ohio, and enlisted on June 27th, 1916, in Huntington. He was assigned as a Private, serial number 1558662, to Company B of the 2nd West Virginia Infantry. He was mustered into federal service with this unit on July 1st, 1916, and mustered out on March 27th, 1917. He was recalled into federal service on April 6th, 1917, and assigned to the Camp Shelby Replacement Draft (April) Infantry. He sailed for France from Hoboken, New Jersey, on the GREAT NORTHERN on May 2nd, 1918. He was transferred to Company M of the 23rd Infantry Regiment, 3rd Infantry Brigade, 2nd Division, US Army, and fought at Chateau Thierry, Aisne-Marne, Marbache, St. Mihiel, Limey, and the Meuse-Argonne. He was gassed on June 14th, 1918. He was fighting in the Champagne sector when, according to a comrade (Sergeant James Bonner of Company M), "Pvt. ELLIOTT was killed instantly on October 3, 1918 by a piece of shrapnel which hit him in the head." He was originally buried in an isolated grave that was not found until 1925. His father had previously written, "owing to the poor condition in health of my wife and myself I kindly request that the body of my son be left in France. My wife is in such poor health I fear she would be overcome by grief." He was therefore reburied in the Meuse-Argonne American Cemetery on April 16th, 1925. His stepmother (who had raised him since he was 6 years old) was given the opportunity to visit his grave via the Gold Star pilgrimages offered to mothers and widows of soldiers buried overseas, but she declined because of her health, writing, "I would love to make the trip if I was able [as] I thought as much of the Boy as I did my one." 
[From In the Service of Their Country - used with permission of the author]
Sources
Woodard, Benjamin. In the Service of Their Country: The Story of the Soldiers from Cabell County, West Virginia, Who Gave the Ultimate Sacrifice in the Great War. Sixth Printing. Benjamin Woodard - Lulu, 2019.
Image Sources
Soldiers of the Great War - Photo courtesy of Eric Baker

Additional Information